The Chair
Lewis Gibson
Unicorn Theatre
–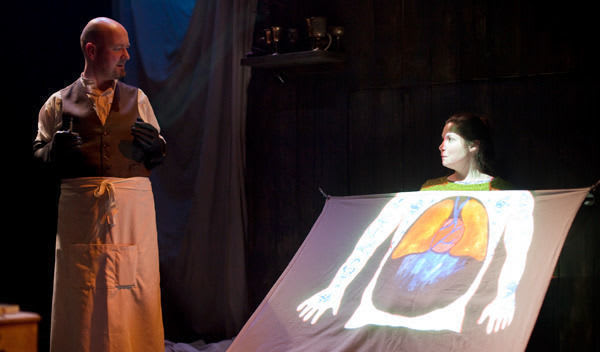 Here's your chance to join the sailors ashore in Cardiff's Tiger Bay on a trip to the barber.
Down a dark passage, you duck through a doorway and take a seat to wait for your turn in the chair for a trim. He will shave you, cut your hair, pull a tooth or even operate on you for Owain Sawyers is an old-style barber surgeon. He's had years as a mariner on the posh P & O line, a renowned reputation and a long line in stories.
It is his stories as much as his cheap haircuts that his customers come for. They are strange and they are spooky. "How much is true?" his listeners may wonder but it's not so much the stories as the way that he tells them.
Owain is in the middle of shaving a foam-faced customer with his cut-throat razor as a record plays on his old horn gramophone. There is a storm building outside and the rumble of thunder developing an ominous atmosphere.
After the shave and a quick comb-over to complete the haircut, it is "open up wide," and Owain asks for some help from one of the "customers" and picks up his pliers. Ouch! It's a painful extraction for the man in the chair and a bloodied tooth is dropped into the box that the helper is holding.
"Now who's next?" The young audience is braver than I am and the chair is soon once again occupied. The Chair is a show that is audience involving—no child gets harmed in the process I assure you—with volunteers eagerly forthcoming and it is easy to feel part of the action in the mysterious environment that Louie Whitemore has created.
It's a cavernous shed where the wind finds fissures to blow through sounding like "a call from Hell". Its shelves are lined with souvenirs and trophies from Sawyer's travels: cases of insects, ancient artefacts, model sailing ships. A stuffed stag's head and misty, fly-spotted mirrors hang on the walls. They all have their story and Owain is ready with some of them; but first he must set out a bathtub and buckets to catch the rain as it comes dripping plip-plop through the roof.
The Chair is the concept of writer Lewis Gibson who also directs and has composed the music and devised the atmospheric sound effects into the bargain.
Some of these seafaring yarns may stretch credulity as Owain tells of encounters with a mysterious tiger and a strange flood in New Orleans, a reawakened pharoah's daughter met when shipwrecked in Egyptian in search of the missing half of an ancient artefact and of his time as a Maharajah's chief advisor but they are packed with exciting atmosphere.
As Owain, Gary Lagden not only becomes the character but he is a fantastic storyteller, his Welsh accent changed into those of each character as he voices them, his timing building tension, drawing his audience in and suddenly startling them.
It's a lovely performance that is aided enormously by Christopher Preece as Lars, a Norwegian paying off a debt by working for Sawyers, who is a dab hand on the mouth organ and on the squeeze box or tinkling the keys of the piano a Spanish captain gave him.
One customer becomes the object of an anatomical lecture, maybe meant to be gruesome as it exposes organs but I suspect the young audience might have liked something more gory. They certainly liked the ghostly apparition that is key to Owain's tale about mirrors, with its moral message and echoes of Faustus and Dorian Gray.
This is a production in which the careful creation of atmosphere provides a special experience. It is aimed at seven years old and upwards and though schools will find themes they can develop in the classroom it is more concerned with giving its audience enjoyable thrills than anything deeper.
That anatomy lesson may not entirely hold them but for the rest it is an hour in which it is fun to be just a little bit frightened and they loved it.
Reviewer: Howard Loxton