The Chairs Revisited
Eugène Ionesco
Vagabond Productions
Pleasance Dome
–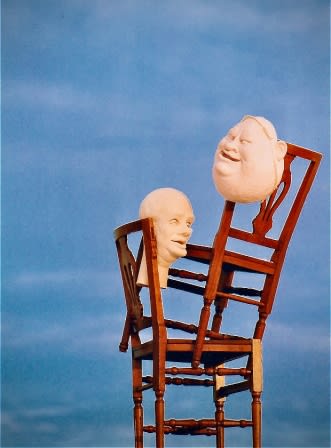 Eugène Ionesco's The Chairs is a French play from the Theatre of The Absurd, first performed in Paris in 1952.
Two characters—an old man and an old women—are isolated on an island. Who they are or how long they have been there is unknown, but they fill their time every evening playing out a grand scenario where the old man tells a story about inviting many guests to a grand unveiling of his ideas and the old woman plays along with it, greeting each guest in turn and putting out an increasingly bizarre amount of chairs to accommodate them.
They hold imaginary conversations with the guests and each other; at one point, the old woman performs a cancan for them, as they wait for 'the orator' who will speak for the old man and reveal the message he needs to broadcast.
Vagabond Productions has performed this play before, so I suppose that's why the title is 'Revisited'. The two actors playing the couple seemed well suited to the roles, eccentrically dressed, and have a nice rapport with each other. The performance starts off a little slow and laboured, but once the actors get into their stride and the pace quickens, the humour really starts to come through.
Both actors work extremely hard to create the scenario of the imaginary guests arriving by turn and are especially believable by the time the performance reaches its climax.
The original play has an orator appearing in the flesh. There is a twist in the ending here which for me, although clever, did not really feel suited to the feel of the rest of the piece.
A good attempt, and if you have never experienced absurdist theatre and would like to, this is a good place to start.
Reviewer: Suzanne Hawkes