The Cherry Orchard
Anton Chekhov
Arcola Theatre
–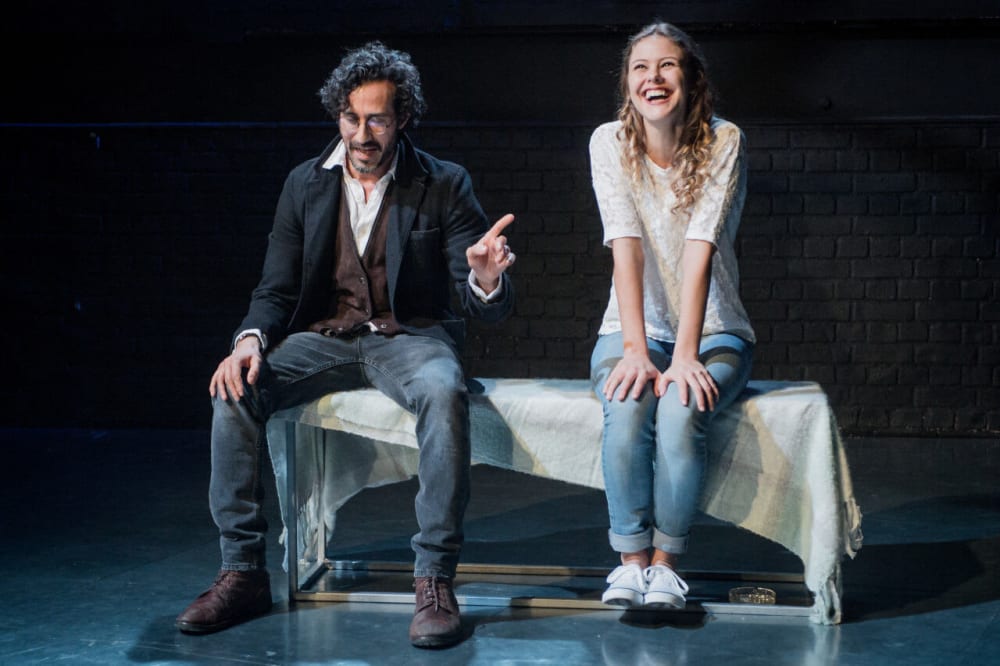 This new production of The Cherry Orchard at the Arcola Theatre may mark the hundredth anniversary of the Russian Revolution but director Mehmet Ergen offers little sense of place or history.
While the fourth wall remains intact, in the small space of Studio 1 we might have been made to feel as if we were sitting in the nursery or garden of Madame Ranevsky's ancestral estate, eavesdropping on lost souls from a century ago as socio-economic forces bring upheaval to a group of aristocratic solipsists who are blind to their own tragic predicament.
Instead, the minimalism of the design (Iona McLeish) and the modern-ish costumes (Emma Marguerite Lynch) weaken our sense of an identifiable, lamented 'past'. Just a few cloth-draped chairs and a towering white bookcase—later the object of the feckless, foolish Gayev's (Jack Klaff) extravagant paean—alleviate the brickwork and black flooring. And, despite the slender tree that springs up within and through the empty shelving, spreading a wintery canopy of tracery, in the light of this visual coldness it's hard to believe in a past of beauty and pleasure. Thus, the elegiac grandeur of the characters themselves is diminished.
Lopakhin's natty footwear and sharp suits are an index of his ambition and social self-consciousness. Ranevsky's daughter Anya bounces into the garden in jeans and sneakers. The (alarmingly aggressive) tramp's beanie and parka wouldn't look out of place on a present-day teenager. The production is the final play in the Arcola's REVOLUTION season, which has investigated world's on the brink of profound change, and Ergin's point is presumably that today we too face such revolution and upheaval.
Brexit, Trump, a series of unpredictable elections to come in Europe: facing such uncertainty it's hard to disagree. But, I don't think that Chekhov intends us to take Ranevsky at face value when she snaps at Lopakhin's account of a play he has seen, "people shouldn't be looking at plays in the theatre. They should be looking at themselves." We may share a predicament with Chekhov's fictional narcissists, but we are not living in their milieu.
Initially, music—a classical piano concerto, elegant chamber music—is used to resurrect the grace and formality of a bygone era. But, Neil McKeown's sound design doesn't sustain the motif. Moreover, the dance that commences the third act should be a half-hearted affair, but in this production it's a jazz-inflected whirl with too much spangle and sparkle. David Howe's lighting is disappointingly unimaginative. And, there's just no sense of expanse: although at the start the characters stare into the hinterland at the glories of the cherry orchard, this attempt to convey spatial majesty is soon abandoned, or forgotten. The cherry orchard loses its symbolic potency and becomes just a verbal motif reminding us of Lopakhin's aspirations.
We begin in the nursery and, despite the sparseness of the set, some nonsensical details intrude, such as the outsize children's toy motor car which is hastily shoved in the bookcase drawers. One could imagine a toy train, symbolising the delayed locomotive bringing Ranevsky home, a presage of the impending destruction which industrialisation might bring. But, the toy car seems merely to suggest that the adults are stuck in childhood—infantile and unwilling to take responsibility for the lives that they are mourning.
Sian Thomas's Ranevsky arrives decked in fur and a stole but the series of brightly-coloured, tightly-fitting dresses which she subsequently adopts do not sufficiently convey her narcissistic isolation or her alienation from reality: the interiority which shields her from pragmatic perceptivity. Ranevsky cannot believe in change so she does not acknowledge it, wilfully detaching herself from worldly matters, and her gauche incredulity should both frustration and inspire pity. But, Thomas is more soap opera than social realism—all exaggerated facial gestures, raised eyebrows, deep frowns, chewed lips. Thomas does try to capture some of Ranevsky's recklessness, but there is little sense of the guilt and grief at the death of son to counter her irresponsibility. The transitions from overheated melodrama to cold retreat require more emotional reach in both directions.
As the bustling entrepreneur, eager and anxious to take over the crumbling estate, Jude Akuwudike began convincingly as Lopakhin, a combination of brisk energy and thoughtful self-awareness. But, while he had some gravity, Akuwudike's Lopakhin did not seem sufficiently angry when spoke of his past subjugation; and, when he has triumphed and achieved the purchase, he seems less pleased to have destroyed the social fabric than delighted in his own arrogant triumph.
Any trace of dignity is lost: Cockney brazenness—"Oh-rev-war … is that how you say it?"—outweighs the self-knowledge that in claiming his heart's desire he has destroyed it. The delicate, painfully comic exchange with the emotionally repressed, key-wielding Varya (Jade Williams), who futilely anticipates his proposal of marriage, lacks the requisite tragic tension.
As a swarthy, slouching Trofimov, Abhin Galeya effectively balances his political idealism and his idealized love for Pernille Broch's dewy-eyed Anya (whose naïve broad smiles and bright eyes were not particularly engaging). Galeya is one of the few among the cast who convey the inherent inconsistency of Chekhov's characters: by turns withdrawn then demonstrative, this Trofimov ranges from angry eloquence to pained inarticulacy, with the requisite patina of irony. Such transition between moods creates the rhythm of the play; without them, the pace feels slow, the drama cumbersome.
Ergen does have a good instinct for Chekhov's comic vein—and he is aided by some terrific performances in the minor roles. Simon Scardifield as Epikhodov, the accident-prone, short-trousered estate clerk, can break a chair, drop a guitar or step on a hat-box with paradoxical choreographic precision. Similarly, as Firs, the ancient family retainer, Robin Hooper's haughty, deaf business provides much comic satisfaction. It is hard not to feel a lump in the throat when, left behind in the country house, he falls leadenly to the floor, succumbing to cold and callousness as the first of the cherry trees crashes to ground—to the percussive thud of axe on tree, and tree on ground.
Yet, while Ergon taps into Chekhov's buffoonery, he neglects the playwright's poetry. There is humour, but not heartbreak. And, while in Chekhov it is not always possible to distinguish between the two, some inappropriate audience guffaws at moments of extreme pathos suggested that something was amiss. At times we were offered slapstick, rather than farcical tragedy.
Most problematically, the ensemble realism was weak; I remained aware that I was watching actors act, conscious of both the characters' artificiality and the actors' self-consciousness.
Indeed, we might have been watching the good citizens of Frinton-on-Sea facing the arrival of a fish-and-chip shop, rather than a group of blind narcissists unaware that their world is on the brink of profound upheaval.
Reviewer: Claire Seymour