The Cherry Orchard
Anton Chekhov
Bristol Old Vic and Royal Exchange Theatre
Royal Exchange Theatre
–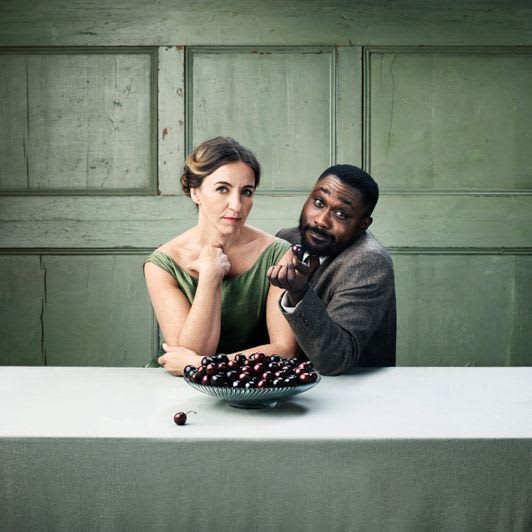 Anton Chekhov's story of a debt-ridden Russian aristocrat faced with selling her family home and its substantial cherry orchard probably isn't everyone's cup of tea—it's long, it's full of protracted philosophical conversations and there isn't a great deal of action. But this Bristol Old Vic and Royal Exchange co-production breathes life and warmth into the classic, with strong performances and modern touches.
This is a surprisingly stripped back, conventional staging that allows the text of Chekhov's final play to take a starring role. Rory Mullarkey's translation successfully bridges the gap between past and present, incorporating more contemporary phrases with the playwright's beautiful meditations on love and loss.
The cast perform impressively all round, but both Rosy McEwen and Kirsty Bushell stand out: the former as the strong and proud Vavara Mikhailovna, fighting to mask her feelings, while Bushell is outstanding as the emotional heart of the production, the volatile protagonist Lyubov Andreyevna Ranyevskaya.
Bushell shifts naturally and effortlessly from giddy laughter to painful grief in seconds, and this duality is reflective of Chekhov's play: to the playwright a comedy, to Stanislavski—its first director—a tragedy. This production carefully treads the line between the two, with ample laughs provided by its more minor characters. Estate clerk Yepikhodov (Jack Monaghan) is clumsy to a slapstick degree, knocking over a small table and failing to fix its drawers back in place after several attempts, while Boris Borisovich (Julius D'Silva) is a flamboyant caricature of a decadent aristocrat.
The Cherry Orchard's themes of love, loss and change may have been inspired by Chekhov's life and times—a metaphor for the fading power of the Russian aristocracy and the imperial regime—but apply equally to today. Student Pyotr's impassioned speeches about freedom and equality could easily be uttered by the more politically active young people in contemporary Britain. Dunyasha, the young servant, is portrayed sympathetically as a victim of Yasha's cruel treatment.
Each character suffers in some way and contributes to the general melancholy, though Lopakhin's unrequited love for Ranyevskaya is not communicated as clearly as the promotional copy for this production suggests.
Ultimately, the tragedy of The Cherry Orchard is most poignant in the simple things: the regular appearances of Grisha, Ranyevskaya's dead son, within scenes, the aged butler Firs being forgotten and accidentally locked in the empty house, or the ominous sound of axes chopping down the orchard trees. It's a subtle, finely balanced production that is both moving and entertaining.
Reviewer: Georgina Wells