The Cheviot, the Stag and the Black, Black Oil
John McGrath
National Theatre of Scotland, Dundee Rep and Live Theatre
Live Theatre, Newcastle
–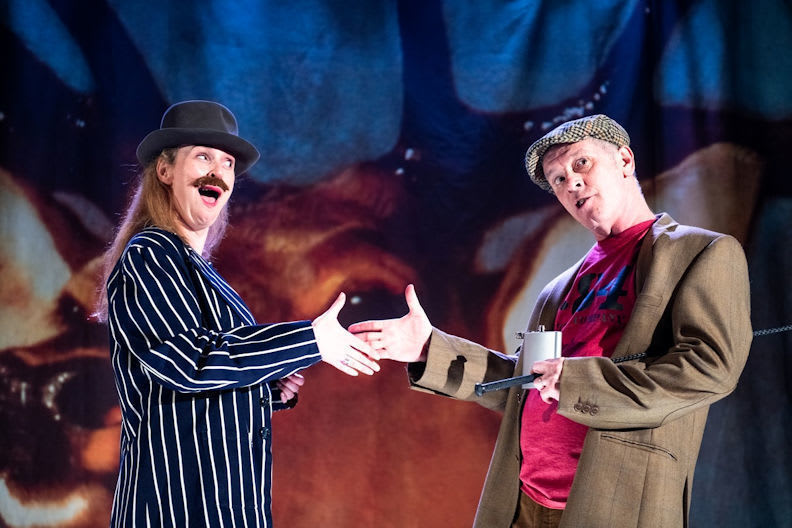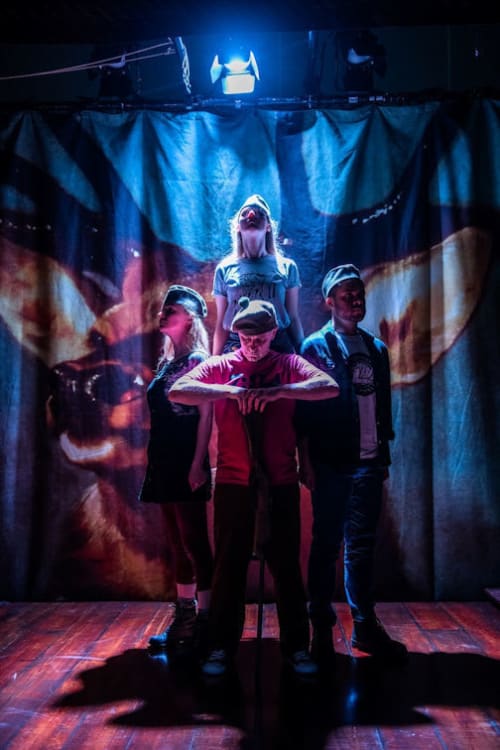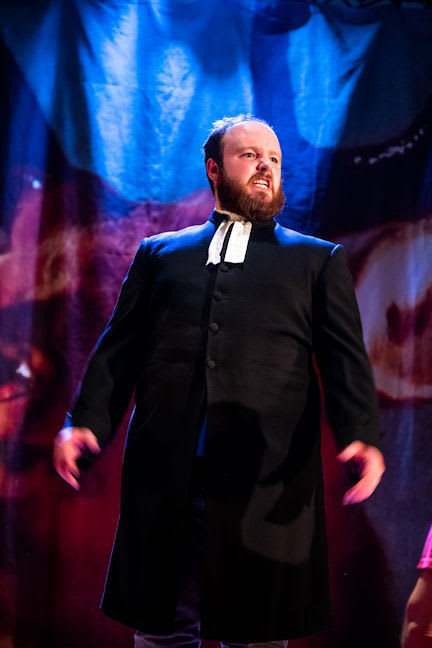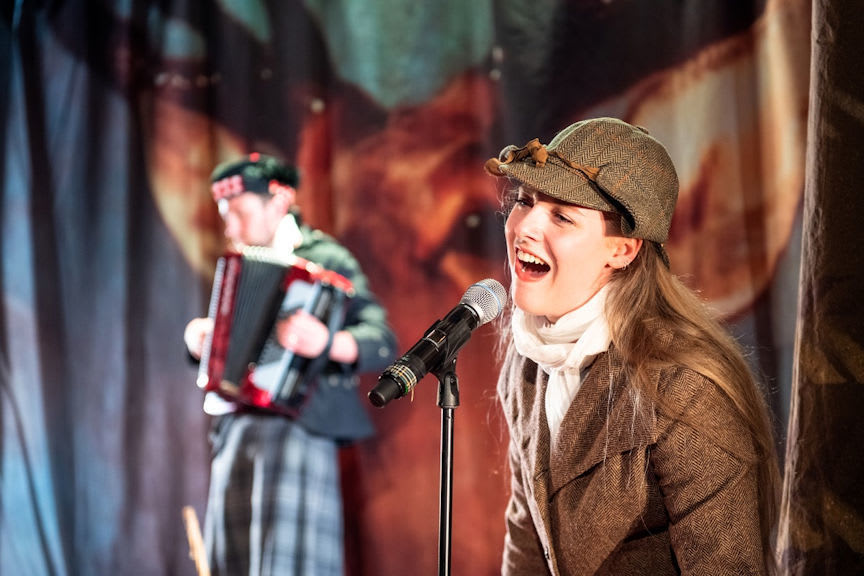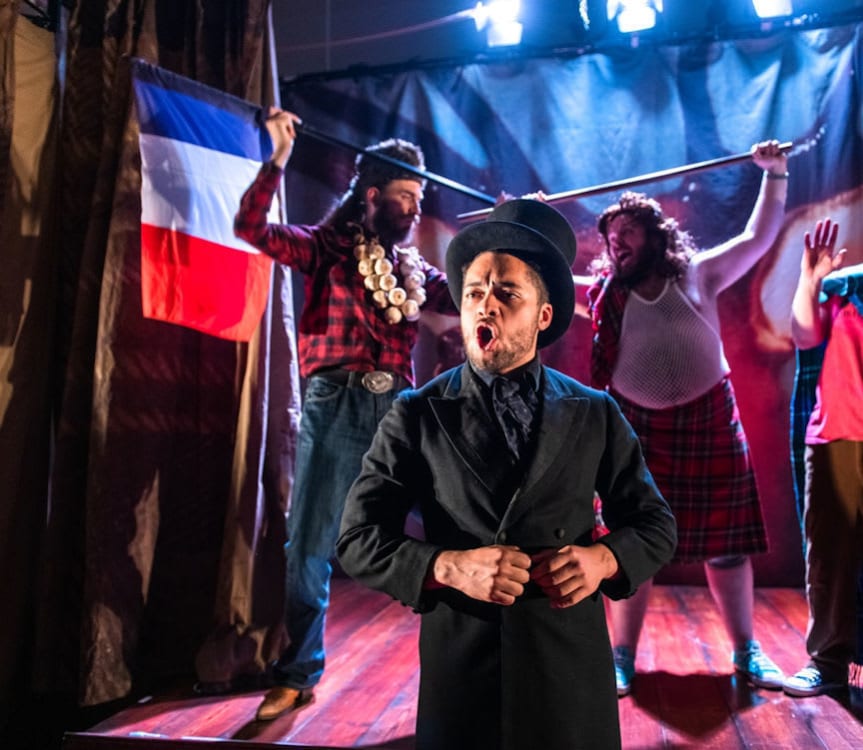 When the house opens and you walk into Live's auditorium you would be forgiven for wondering if you've come to the right place. There's a proscenium arch—very rough and ready but a proscenium arch nonetheless—and house tabs—things never seen before at Live in all the years I've been going. And there's a happy band of Scottish actor-musicians standing and sitting where the first row of cabaret seating tables normally are.
"If you know the words, join in the singing," they tell us, but it's not a Scottish song they play but "The Blaydon Races", the Geordie National Anthem. Much lusty singing from the audience! Then they announce that we're going to have a Ceildidh and they drag people from the audience into that narrow space and somehow manage a dance which weaves amongst the tables.
Next a Scottish song—"These are my mountains". Please, everyone, join in. What? You don't know the words? OK, here's a song sheet! Cue for more lusty singing!
Are we in the wrong place? Is this 7:84's famous agitprop history of Scotland or have we somehow walked into a pantomime?
Actually, it's both. I saw a production of the show at the Edinburgh Fringe around 10/15 years ago and I was left with an overwhelming sense of unrelieved doom and gloom. To be fair to the company, that was probably because the show had to be cut to fit in with Fringe time-slot rules and they decided to focus on the politics.
But this production is different. It's fun. Director Joe Douglas has gone back to how playwright John McGrath saw theatre: it should be, he believed, a good night out (the title of his seminal book on theatre) for everyone; theatre which conveys an important, even vital message whilst entertaining in the way which most appeals to the specific audience; theatre which comes to the people where they live rather than bringing them into a special building.
This revival of his 2014 Dundee Rep production has been touring village halls throughout Scotland but even here, in a "proper" theatre, the creative team has reproduced that barnstorming atmosphere. And it is so, so enjoyable—and fun. There are elements of panto ("It's behind you" even makes an appearance); there's singing along and waving your arms in the air; there's loads of music and gags and over-the-top caricatures but there's also deep seriousness, a sense of tragedy being played out before our eyes, and some hauntingly beautiful but very sad Gaelic songs. You don't need to understand the language; it's all in the music and the performance.
But all of this is a means to an end, to convey the destruction of a whole way of life, the eviction of thousands of people from their homes and the total changing of a landscape so a small group of the already very rich can make huge profits. But it's not just about the Highland Clearances to make room for hundreds of thousands of sheep or the opportunity for the wealthy to kill stags for fun, it's about how the proceeds from North Sea Oil somehow failed to benefit the people of Scotland or the UK in general (unlike, for example, Norway) and Douglas and his team have brought it up to date with references to climate change and renewable energy.
This is a true ensemble piece: the actors are playing the music, singing the songs, changing the set, talking directly to the audience, making us feel not just welcome but part of what is happening. There's not a weak link but then there's no star either; the company are indeed a true ensemble.
We were informed that one member, Alasdair Macrae, won't be performing during the Newcastle run and his part, musical and acting, will be taken by other members of the ensemble. And you couldn't tell. Everything went smoothly—a real testament to the quality of this company.
We come away having had a "good night out", having laughed and cried, but most of all we come away despising what greed and the lust for yet more money did to people who had no power but were just living their lives as best they could; despising, in fact, the wealthy, the capitalists for their total lack of humanity—and who could help but look at our current situation as a nation through the lens of The Cheviot, the Stag and the Black, Black Oil?
The Live Theatre performances are the only ones in England.
Reviewer: Peter Lathan