The Chimes
Adapted from the story by Charles Dickens, writer David Willis, composer Conor Linehan
Judith Roberts, in partnership with Chapter
St John's Waterloo
–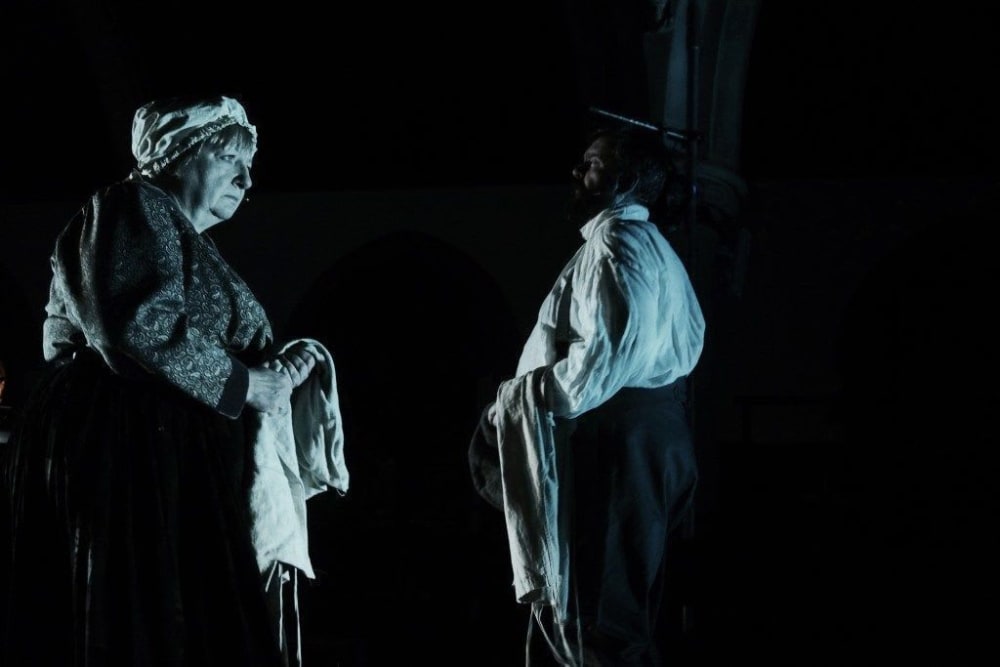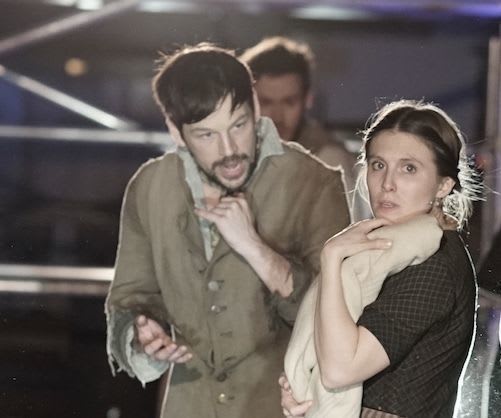 The Chimes, published in 1844 a year after A Christmas Carol, was a sharper response to the extreme poverty of the time, a picture of hardship set against fake philanthropy that was inspired by a young woman's attempt to drown herself and her baby that became a cause célèbre.
This adaptation, already seen in St John's Church in Cardiff, is performed by a professional cast augmented by men and women from the local community at each venue who have experienced being homeless. It keeps very close to Dickens's original, though before it starts the sound of devotional music played on an organ is mingled with snatches of speeches on the problems of poverty by today's politicians and later an economist adds references to banker's bonuses to his nineteenth-century theorising.
The Chimes is the story of Toby Veck, a messenger who offers himself for hire on the steps of a church. He hears messages in its chiming bells. "Toby Veck, keep a good heart," they tell him, but he is beginning to believe what he reads in the newspaper and the upper classes say: that the indigent poor are undeserving, their condition their own fault for they are born bad.
Original subtitled "A Goblin Story of Some Bells that Rang an Old Year Out and a New Year In", these bells have goblin attendants who, like the Christmas spirits of A Christmas Carol, show Toby a tragic future of hardship, degradation and prostitution before restoring his faith in the goodness of which people are possible.
Discouraged by the advice given by the well-heeled, Trotty's daughter hasn't married Richard, the young man she was to wed on New Year's Day—he's become a drunkard. Trotty and Meg took in Will, young man the gentry planned to send to prison, and his little niece. The grown-up little girl is on the game now; Will has become a revolutionary firebrand.
In the 1840s, Dickens's stories and journalism drew general attention to the problems of poverty and sought to raise awareness and a sense of responsibility. Do they still do that job? A Christmas Carol today often becomes a sentimental nostalgia fest rather than rattling Marley's chains as a threat. Dickens was looking back to the old tradition of good cheer and giving (not today's personal presents) rather than upholding equality. The Chimes gives a much more critical picture of haves and have-nots but how many people today would see themselves in Dickens's top-hatted bigots?
This production's opening montage of political platitudes points the way but the broad strokes of Dickens's characterisations don't give them recognisable faces. Dickens's first readership might have recognized the similarity between what his Alderman Cute says about suicides and a real-life campaign led by Lord Mayor Sir Peter Laurie; it does not hit home so directly today.
This bleak story gains here vitality by breaking into song to present some information and action, though despite excellent diction the church's acoustic sometimes blurs what seem sharply rhymed lyrics. Conor Lineham doesn't offer go-home-humming tunes but music that fits purpose and it is well sung.
Judith Roberts's direction makes good use of the playing space—a traverse down the church's centre with a scaffold at either end, one become the church tower—with a few wooden crates the only setting as steps or to sit on. Professional and community actors command the space equally, only the size of the role suggesting which is which.
Lucy Benson Brown adds personality to a Meg who would otherwise be too good to be true, while Matthew Jure's Trotty is almost annoyingly meek and self-denigrating but warms into life with his daughter. You can see why Meg falls for Gruffydd Evans Richard but he then has to switch to the drunkard—we don't get much in-between story.
Fergus Rees is a likeable Will and what a pity Dickens doesn't tell us anything about his political development. The top-hatted toffs (Rhys Parry Jones, Dafydd Emyr and Fergus Rees again) are played as though seen through the awed eyes of those they think below them, slightly over life-size, in well-judged contrast.
It is an honest adaptation, true to Dickens, but walking back to Waterloo past those sleeping rough in the tunnels around IMAX makes one face today's realities.
Reviewer: Howard Loxton