The Christmas Grump
Susan Mulholland
Northern Stage
Northern Stage, Newcastle
–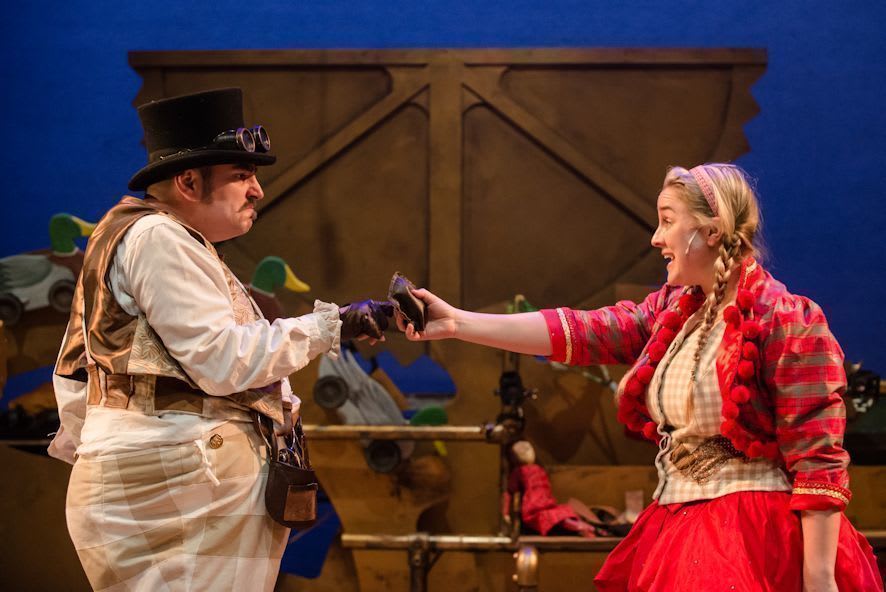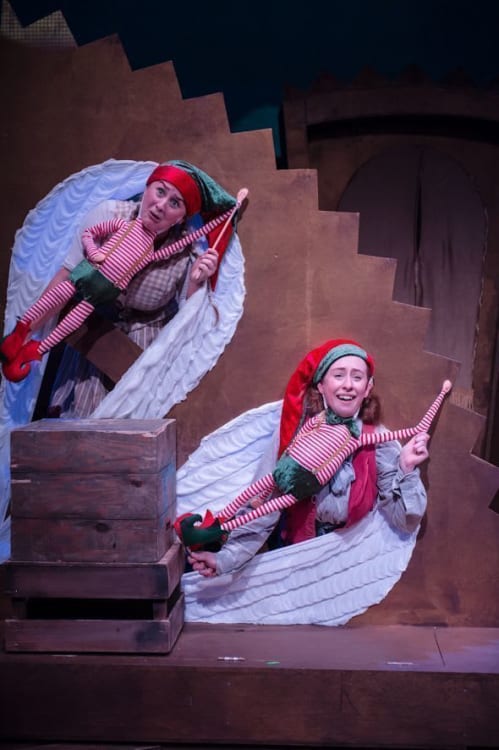 They've done it again! The creative (and how appropriate that word is) team of Nothern Stage's Christmas show for the under-6s—writer Susan Mulholland, director Mark Calvert, designer Andrew Stephenson and composer Katie Doherty, with their sound and lighting support—has set the standard by which all other Christmas shows in the region will be judged and, as ever, the rest will struggle to equal—let alone beat—it.
This is a team which knows its target audience inside out, knows what pleases it and incorporates all those things which kids love, from (mildly) rude words—"You pumped!" got them off to a great start—to shouting at the tops of their voices, from participation in songs to slapstick comedy, from a story which the little 'uns can follow to characters they can really relate to.
But where sophistication is needed, they provide it. I was sitting next to a young local actress who had never seen the under-6 show before and she loved it—and said something very significant about one of the reasons these shows are always so successful: "I can't believe how high the production values are for a one-hour show for little kids."
The Christmas Grump owes its basic storyline to A Christmas Carol but Mulholland's take on the classic tale is squarely aimed at the age group and features cowboys, pirates and elves—hardly Dickensian! There are three "supernatural" episodes, reflecting the three Christmas Ghosts, and it ends with a big turkey dinner...
(That's not a spoiler. It is a Christmas show after all and everything has to come right in the end.)
...and everyone having a very happy Christmas—ever after.
Adults are not forgotten. There are comments which will go over the kids' heads, but not in the panto innuendo style. The three elves (more of the great Northern Stage puppets which have made an appearance in any number of under-6 shows over the years) crying in unison "We're doomed!" immediately calls to mind Dad's Army and there are a number of references to actress Alice Blundell as "very tall for a seven-year-old" which got the adults chuckling.
It's a cast of four. Ruth Johnson and Alice Blundell play the two seven-year-olds who are determined to break into Mr Scratchit's Toy Emporium and release Christmas which his meanness keeps captive in there. Scratchit himself is played by Michael Blair and his daughter Katie by Alexandra Tahnée.
The four of them take the play by the scruff of the neck and inject huge amounts of energy so that the audience, from the youngest to the oldest (that was me, I think), was swept along from beginning to end.
For me—and, I suspect, for a lot of parents—Northern Stage's under-6s play is an essential part of Christmas and has been for many years. If you've got kids of that age (or can borrow one or two) (or even if you haven't and can't), there is no better way to begin the Christmas season.
Reviewer: Peter Lathan