The Circle
Somerset Maugham
Orange Tree Theatre
Orange Tree Theatre
–

Listing details and ticket info...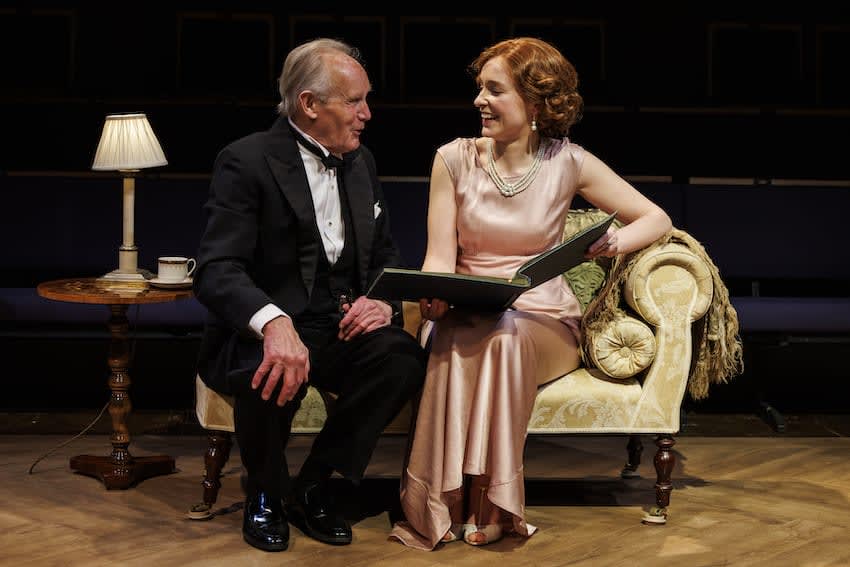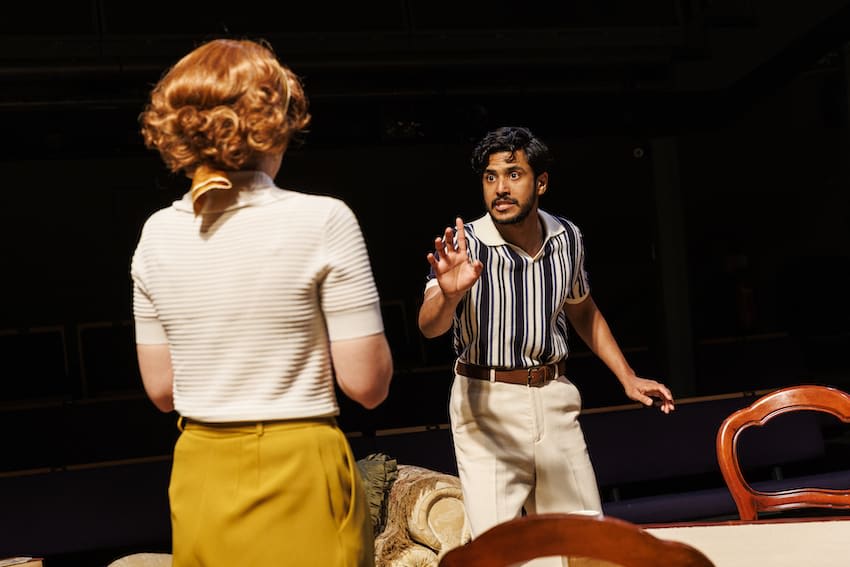 Written just after the First World War and premièred in 1921, The Circle is is a well-made play of its period set in an upper-class Dorset drawing room and Tom Littler's production (his first for the Orange Tree since taking over as Artistic Director) necessarily treats it as a period comedy with formal attire for the gentlemen and elegant, beautifully cut gowns for the ladies (designer Louie Whitemore).
It is the country house home of Arnold Champion-Cheney, a Member of Parliament in his mid-thirties with aspirations to higher office, and his bride of one year, Elizabeth. When he was a small boy, Arnold's mother Catherine deserted him and his father to run off to the Continent with his father's friend Lord "Hughie" Porteous. In addition to that scandal, the subsequent divorce ended the political careers of both Porteous, who had been tipped as a future Prime Minister, and Arnold's father Clive (though he claims it gave him a welcome excuse to get out of politics).
Now they are back in England and, captivated by romantic ideas of a passionate elopement and thinking that her husband should meet his mother, has invited them to visit. It is a reunion that is interrupted by her former husband Clive, who lives in a cottage on the estate. He turns up demanding lunch despite a promise to keep away.
There is another house guest already, Edward Luton, a young man who, after serving in the war, is about to return to his rubber plantation in Malaya and pays her much more attention than her husband, whose time is taken up by politics and his obsession with antique furniture. Elizabeth is drawn to him too. Is history about to be repeated?
Her mother-in-law and Lord Porteous aren't the romantic, white-haired couple she had imagined. Thirty years together, still not accepted in British society but living abroad among other divorcees, has taken its toll. Former society beauty Lady Kitty is a frivolous woman who dyes her hair, wears frocks meant for much younger women and is lost without lipstick to boost her confidence and add allure (Botox being far in the future). Porteous is an irritable old man with ill-fitting false teeth who regrets what he has missed out on. They have become a bickering couple trapped in their relationship.
Jane Asher gives Lady Kitty a bright surface with which she seems to be trying to delude herself as much as others, but it is hiding a painful reality. Porteous doesn't try to hide things; he is always grumbling. Nicholas Le Prevost makes him insufferable yet gains a glimmer of sympathy, and there's an occasional hint of the romance they once had.
Arnold's father observes their situation sardonically. Clive Francis makes him a gentle old buffer, perhaps his former wife's arrival opens old hurts, but he certainly doesn't welcome the idea that they might get together again; he is quite happy with giving his attentions to a succession of young ladies.
This is a trio of excellent, well-judged performances. The younger generation seem much more superficial. MP Arnold is pretty boring, but Pete Ashmore manages to make him funny too with his obsession for placing furniture and ornaments (especially a female nude statuette). There is little to learn about Elizabeth except that she is not very bright and is bored. Olivia Vinall gives her charm and vitality, a young women who knows more about romantic fiction than real life. It isn't surprising that she finds finds Chirag Benedict Lobo's good-looking Teddie Tutton attractive. Interestingly, here he is not the white colonialist planter as played by then juvenile Leon Quartermaine in 1921 but a young South Asian, a reminder of the young non-European men from the Empire who fought for the UK in the Great War.
Maugham's treatment of divorce and infidelity and satirical attitude to contemporary mores upset some of its early audience. Attitudes to divorce have shifted somewhat in the past century, but Lady Kitty's contention that women who aren't married to their partners are in a difficult position may still be true. (Did Maugham feel this applied to him and his homosexual lover when compared to divorce from his wife Syrie?) Political careers might now survive such things, but The Circle is set in a different time, though there's plenty that still seems relevant and plenty to laugh at in Tom Littler's lively staging.
Reviewer: Howard Loxton