The City and the Town
Anders Lustgarten
Matthew Linley Creative Projects and Riksteatern, in association with Hull Truck
Stephen Joseph Theatre, Scarborough
–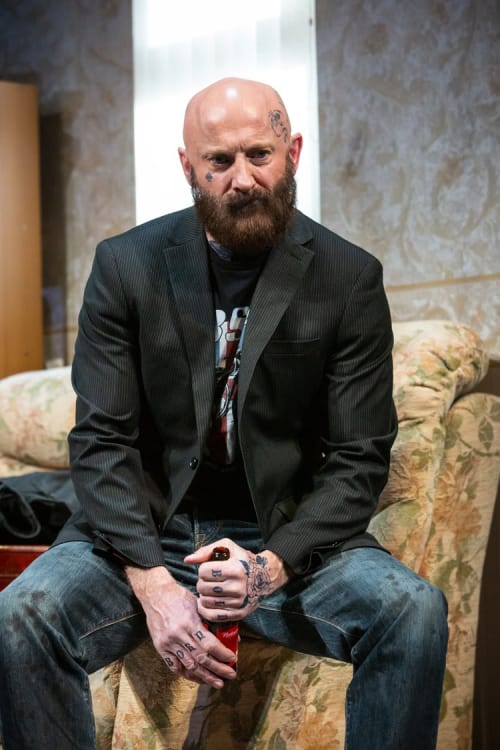 Magnus and Ben are not the first brothers brought to a reckoning by their father's death—witness any number of plays, films or books.
In activist playwright Anders Lustgarten's The City and the Town, the siblings meet up on the morning of the funeral after 13 years apart, and their conversation inevitably dances around Magnus's anger at having been left behind to care for his father, while Ben became a corporate lawyer.
As an uneasy truce breaks out, they begin to tidy their father's dishevelled home and box up his books. It is then that 'trigger' names such as Suella Braverman or Jordan Peterson crop up in the brothers' conversation, alongside terms like 'Great Replacement', 'aliens' and 'swamped'. Matters here take a sharp turn to the right in a play so contemporary it could have been peeled straight off that day's front pages.
But even then, Lustgarten subverts expectations, especially with the post-funeral arrival of a third character, Lyndsey, an old flame of Ben's. She becomes the catalyst for any number of chemical and physical reactions between the brothers, in a play that warns against moral certainties.
It is an intricate and dramatically-direct three-hander, stoked up with realism but delivered with all the forethought of the theatre of ideas. In this case, that the rightward drift of working class politics might just be the fault of a neglectful liberal elite. Discuss!
Magnus (Gareth Watkins), Ben (Samuel Collings) and Lyndsey (Amelia Donkor) are more than competent and director Dritero Kasapi bottles up all the action—and reaction—within Hannah Sibai's living room set design. A movement or fight director might just have smoothed out the moments of confrontation, but that is a minor quibble in a play with a forceful and urgent warning.
It's been staged by Matthew Linley Creative Projects and Sweden's national touring company Riksteatern, in association with Hull Truck, and is to be translated and recast for a Swedish tour in the autumn.
Reviewer: David Upton