The Class Project
Rebecca Atkinson-Lord
Arch 468 presents a Theatre of the Mill commission
The Albany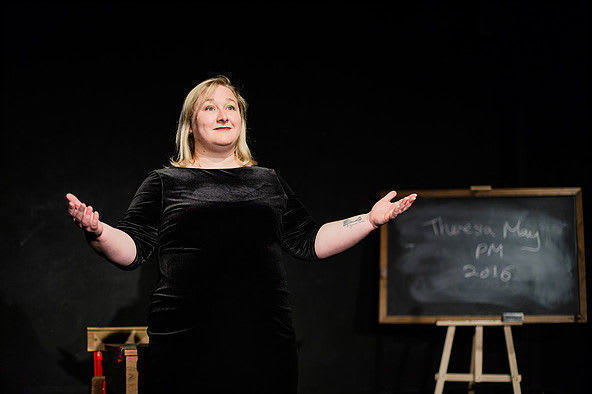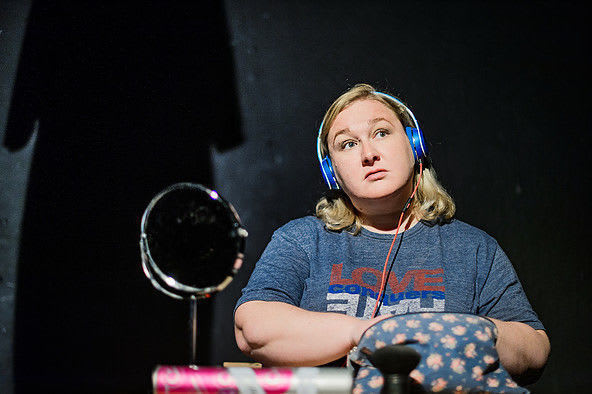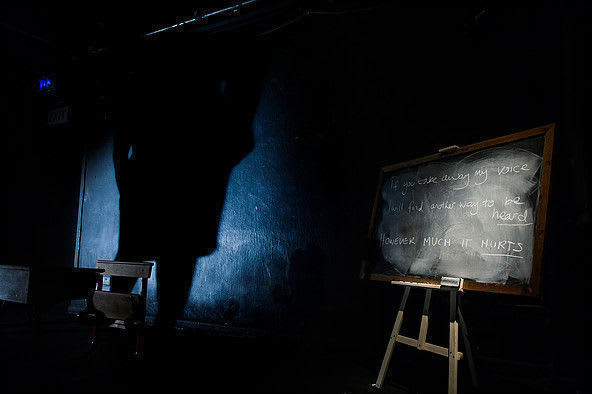 Are you working class, middle class, a toff? Has your life been upwardly mobile, gone downhill? How true is that truism you can take the girl out of the Black Country but you can't take the Black Country out of the girl?
Actually Rebecca Atkinson-Lord isn't really Black Country, for, though she starts off laying claim to being from Dudley, it's actually Wolverhampton she comes from but the rest of what she tells us in this exploration of what makes class and what effect it has is fact, most drawn directly from her own life.
She starts off simply chatting with her audience as they take their places: genuine chat, relaxed and friendly. Is this the real Rebecca? Or acting? It certainly doesn't seem like performance and there's a definite change in presentation when she starts the "proper" show singing "The Dudley Boys", an early 19th century song celebrating local riots against the Corn Laws.
This leads into the wonderful story of rioters who, when prices have risen so that may were starving, seized a store of grain then took it to the town square where they sold it to the townsfolk at what they considered a fair price. They then took the empty sacks back, folded them neatly and placed all the money on top of them. Now that's something to be proud of. Especially when you follow it with writing Margaret Thatcher's name on a blackboard to a sound bite of her 1987 "no such thing as society" speech.
It seems clear where she is coming from (in both senses), even more so when you hear that her mum, against her own interests, voted Tory 'cause Labour was working class and she considered herself a cut above that.
Things move to another level as she describes how, after a long time without seeing them, she visited her parents (now living in Crete in Iraklion) and recorded them, herself performing what they told her. It is an intriguing picture: a mum who became a head teacher and a dad who became an artist but they have still kept a working class mentality. What is class? It goes up on the blackboard with different definitions.
Feeling state schools had let her elder sisters down, they sent Rebecca to a private school where they gave her elocution lessons. Now which is the real woman? The one with the RP vowels or the woman with what she calls the Wolverhampton whine? Time now for chalking up Tony Blair and playing a clip from his 1998 "education, education, education" speech.
In not much more than an hour, a beautifully structured script that's half-chat mixed with acting out and a bit of blackboard instruction covers a wide range of ideas about class, society and citizenship and the contribution that origin, accent and upbringing affection your potential and place in the pecking order. (Theresa May in 2016 on citizenship on the blackboard and a soundbite.)
There is a caustic comment on the way Parry's setting of Blake's "Jerusalem" turned it into a patriotic anthem, precise data on how accent affects acceptance and employment and a continuous questioning of how adopting a different voice affects us.
Atkinson-Lord claims that how we shape our vowels affects the way we think. In our "natural" voice, our minds work one way; when we match voice to profession and the society, we move into another mindset.
As part of the action, she parallels that voice transformation by applying her make-up and grooming her hair as she talks to us, then shedding her relaxed informal wear to wriggle into a tight black cocktail dress: one in which she's not comfortable. It's a (too) neat way of pointing the parallel.
She leaves us with a final thought on the blackboard: "If you take away my voice I will find another way to be heard. HOWEVER MUCH IT HURTS!"
There is much here to think about, entertainingly presented by a charismatic performer. It's a show worth looking out for and there is a hint that there might even be a longer version in the future.
The Class Project can be seen at Theatre in the Mill, Bradford 27/28 October 2017.
Reviewer: Howard Loxton