The Clothes They Stood Up In
Alan Bennett, adapted by Adrian Scarborough
Nottingham Playhouse
Nottingham Playhouse
–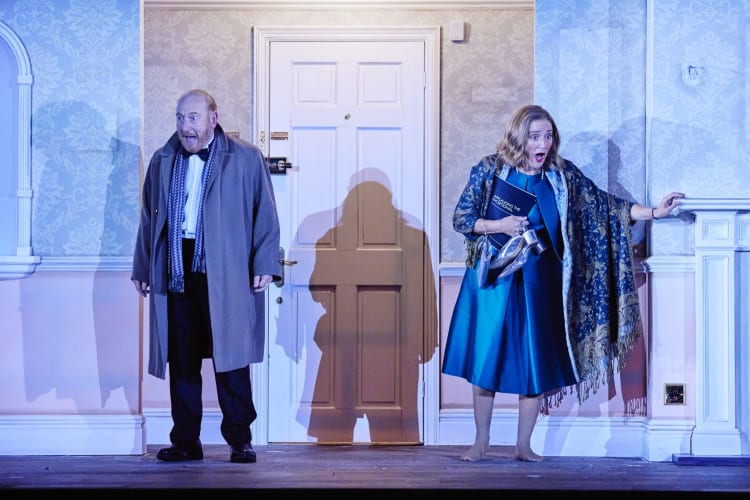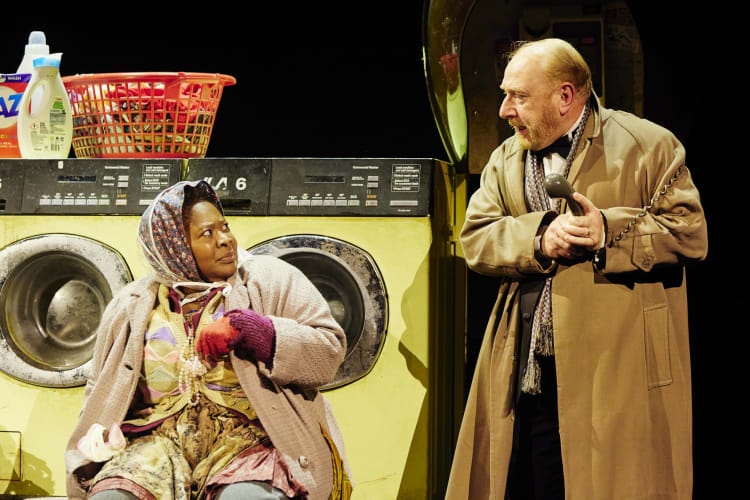 Alan Bennett's output over the past decade can hardly be described as prolific. Yet the 88-year-old remains busy; so much so that when Adrian Scarborough told him he should turn his novella The Clothes They Stood Up In into a play, the great man suggested Scarborough should do it.
Scarborough, noted for his appearances in the television series Gavin and Stacey and Killing Eve, took his time adapting the work. The pandemic allowed him a couple of years to make tweaks to it and on reading the script Bennett was happy for it to go ahead.
Scarborough admits that he felt slightly embarrassed "standing on the shoulders of a giant"—but he should have total confidence in his writing abilities, if the reaction on press night of The Clothes They Stood Up In is anything to go by.
Bennett is renowned for taking mundane situations and turning them into tragicomedies. His sparkling wit, authentic and observational use of dialogue and a propensity for the absurd are crucial elements of The Clothes They Stood Up In which Scarborough skilfully retains in his script.
The play features the Ransomes, a middle-class couple who take their married life for granted. On returning from a night out at the opera—Mr Ransome found the acting distracting because "none of them knows what to do with their arms"—they go home to find their flat has been stripped bare. They've taken everything including the carpets, a picture of Winchester Cathedral and even toilet paper.
Scarborough himself plays Maurice Ransome, the dour solicitor who is a creature of habit and likes things done in a particular way. He constantly puts his wife in her place, saying they've been "burgled", not "robbed", and criticising her continued use of the phrase "I mean".
It's a commendable performance from Scarborough. He shows Ransome to be stuffy, disinclined to change and desperate to retrieve what he's lost without considering whether his possessions actually enrich his life. Scarborough's lack of self-control when things do not go his way and his struggles to get up off a beanbag are particularly funny.
Sophie Thompson is magnificent as Rosemary, the put-upon wife whose apparent ditziness hides a clever brain. She can convey so much with a facial expression as she realises that the burglary may turn out to be a blessing in disguise. A scene in which she stiffly tries to bounce on her toes and de-stress when urged to do so by a counsellor is hilarious.
There are only three other actors yet they play multiple roles and differentiate between the characters so successfully that you imagine the cast is far bigger.
Ned Costello shines as an educated young constable, an assertive insurance assessor, a swaggering, self-confident storage company employee and a fitness fanatic. Charlie de Melo delightfully switches between a couldn't-care-less police sergeant and Mr Anwar, a kind, selfless convenience shop owner who encourages Rosemary to believe in herself. And Natasha Magigi excels as a woman in a laundrette who refuses to believe that Maurice's being burgled is an emergency, the counsellor and a telephone operator whose stick-to-the-rules attitude inflames Maurice's anger.
Nottingham Playhouse artistic director Adam Penford directs with skill and pace while Robert Jones designs a set on different levels which means scene changes are especially quick.
I found the exposition as to how the Ransomes came to be burgled isn't totally satisfactory. But it's a fascinating story that's been expertly adapted for the stage and performed with gusto. Let's hope a tour follows.
Reviewer: Steve Orme