The Comedy of Errors
William Shakespeare
Royal Shakespeare Company
Lydia and Manfred Gorvy Garden Theatre, Stratford-upon-Avon
–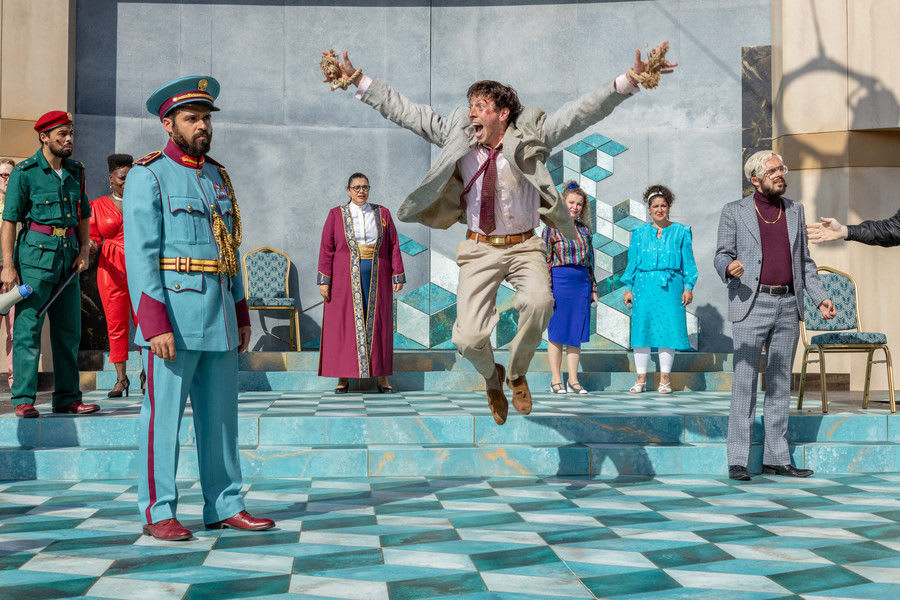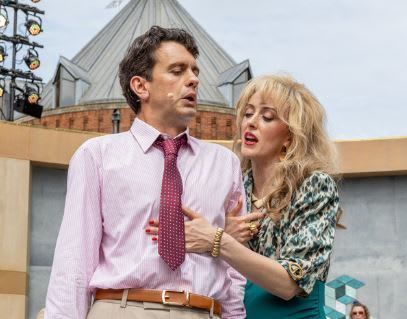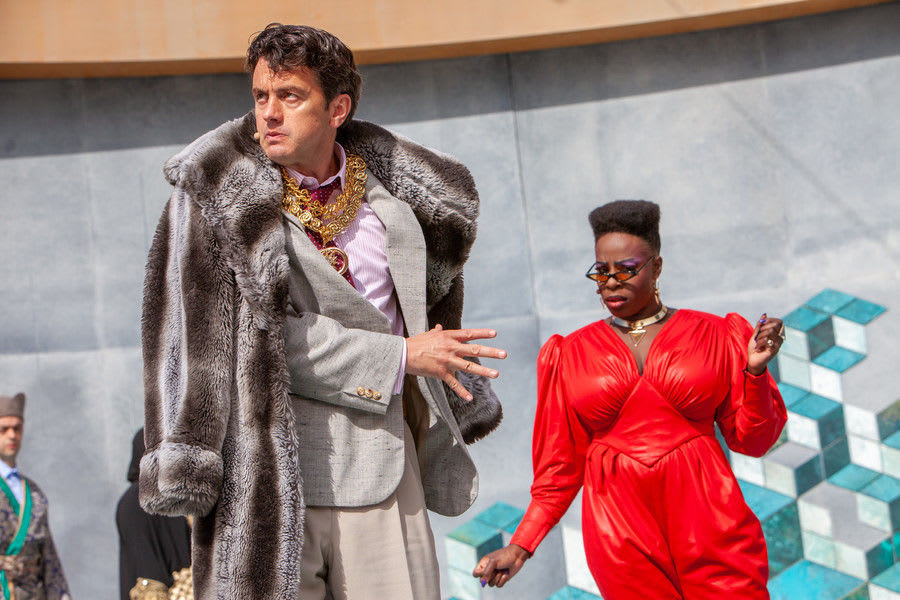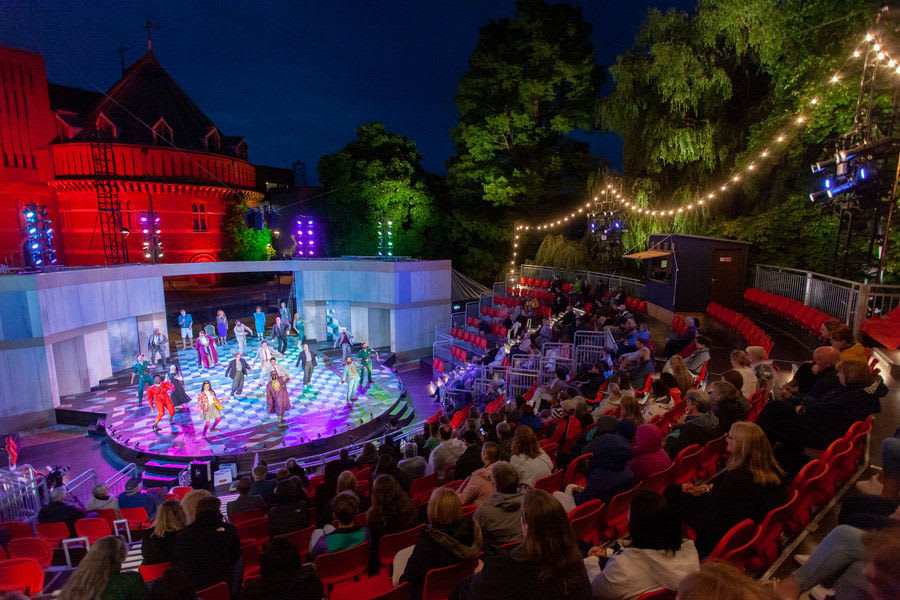 "This is a fairyland," says Dromio of Syracuse, witnessing wonders and the blessings heaped upon his master after a long period of lonely wanderings.
Relishing a long-hoped-for return to the RSC, and sitting in the splendid, if temporary, open-air arena that bears the names of its generous donors, with the improbable, pinnacled, fantasy architecture of the Swan Theatre in the background, I could share his feelings.
The Comedy of Errors had been due to open in 2020, but it happened also to be an appropriate piece to mark the company's reopening, director Phillip Breen writes, because "families are reunited after a long period apart" and "the madness in the play comes from the characters' isolation."
True enough, but on a more banal level, there could be no better restorative than Shakespeare's funniest play.
After what must be the longest rehearsal period in RSC history, it's no wonder the show is slick, the performances zing and the climactic scenes are in the laugh-your-socks-off category.
Leading the charge are Rowan Polonski and Guy Lewis as the Antipholus twins, identical in appearance but different in character.
Polonski is the smooth, confident entrepreneur of a decidedly Middle-Eastern Ephesus, where he is about to open a swanky new tower-block, but who is so bemused by events that he is driven literally hopping mad. His capers across the stage, in the clutches of Riad Richie's officer, are a highlight of the show.
Lewis is terrific too, timid, pigeon-toed in embarrassment as riches and sexual favours are showered upon his uncomprehending head.
The Dromios, Greg Haiste of Ephesus, Jonathan Broadbent of Syracuse, are more alike, matching each other often in gesture and gruff tone of complaint at their quick-fisted masters, peering out as if through glasses that make the world more, not less, confusing.
A few changes were needed to adapt the production to the open-air setting, but no-one had considered that the leading lady, Hedydd Dylan, as Ephesus Antipholus's wife Adrianna, would be pregnant by the time of the delayed season.
That happy occurrence works coincidentally well, underlining the 18-months-married stage couple's relationship. Dylan gives a storming performance, with a bravura aerobics exercise to boot, shared with an amazingly lissom Avita Jay as her sister Luciana.
Among a strong supporting cast, Toyin Ayedun-Alase as the courtesan struts like a predatory bird, in a dress that spells red-for-danger, Alfred Clay does his boogaloo as a New Age Dr Pinch and Baker Mukasa is tremendous as the goldsmith Angelo, almost a scene-stealer, getting laughs whenever he is on stage.
The show belongs to the actors, but is helped along by a few directorial gags, a horrified, ancillary crowd witnessing the action, a squirty sanitiser and an incidental but riotous routine exposing a waiter's bald pate. Musical accompaniment is provided by a vocal quartet capable of startling instrumental effects.
It's so good to be back.
The show tours to Nottingham, Canterbury and Bradford in October and November then transfers to the Barbican Theatre, London.
Reviewer: Colin Davison