The Comedy of Errors
William Shakespeare
Globe on Tour
Shakespeare's Globe
–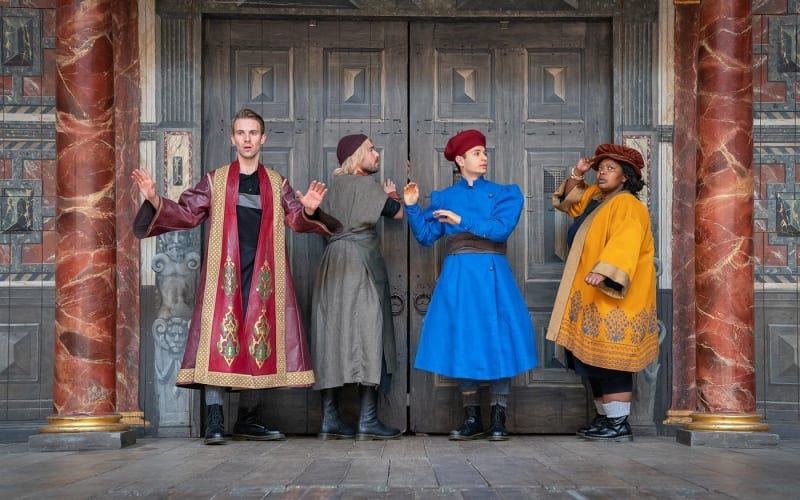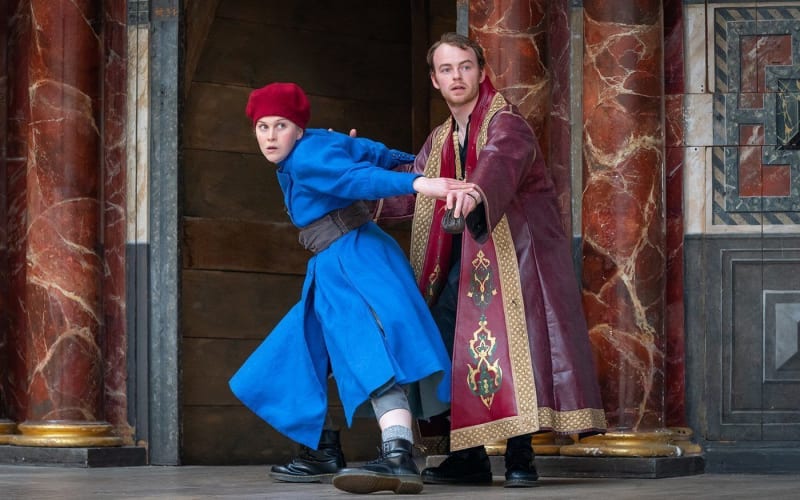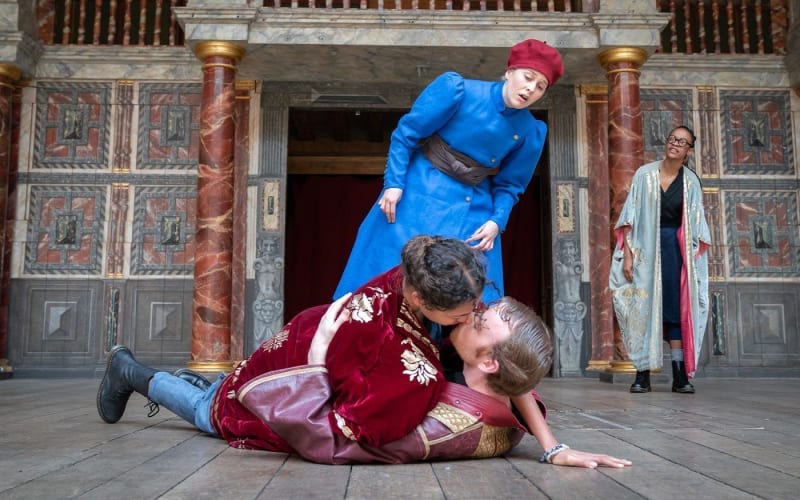 This is a production presented by the Globe Touring Ensemble which is taking three plays (this, Twelfth Night and Pericles) around Britain and overseas, each play having just a handful of performances at the Globe itself.
All are directed by Brendan O'Hea. With a cast of only eight and no scenery, they are touring much like early modern companies such as Shakespeare's. Casting is gender and colour blind and with only eight actors there is multiple role play so it says much that in a play in which identical twins cause confusion you are never in doubt whom they are playing.
Though its title announces a comedy, this is a play that opens as tragedy: Syracusan merchant Egeon is under arrest and a sentence of death if no one pays his ransom. He is travelling in search of his wife and son who went missing in a shipwreck years ago and that boy's twin who also went off on the same quest and is now in a town where past conflict makes him an enemy.
It is a long exposition but Mark Desebrock as Egeon handles it clearly and it sets up the story, for not only are both boys in town (one a long term resident the other newly arrived on his search) but they have identical names and identical servants (also twins) and so strong is the genetic inheritance that they have identical wardrobes.
Tragedy is left behind: it will be sorted out happily later. Suspend disbelief, there's a total shift to fast-moving farcical frolic with even masters and servants mistaking the twin they don't know for the one they grew up with.
Evelyn Miller is Adriana, wife to Ephesian Antipholus, a very sparky lady who unknowingly goes to bed with the other one, Colin Campbell's playful Syracusan, who actually finds her sister, Mogali Masuku's Luciana, more to his taste. Andrius Gaučas is a rather more arrogant local Antipholus and both brothers have attitudes to women we wouldn't accept now that if things didn't move so fast might stop you laughing. Beau Holland and Eric Sirakian are the twin Dromios, audience favourites; the Syracusan's account of the Ephesian cook who claims he's her husband may be outrageously non-PC but Holland makes it hilariously funny.
Though the show is topped and tailed with a musical number, O'Hea's production concentrates on the text; it isn't overloaded with physical comedy, though characters do get roped up in a tangle that matches the plot one.
The characters may find things confusing but this is a very clear piece of storytelling and clearly spoken. The strength of the playing of this pared-down production held a house packed with groundlings engaged despite being rained on.
Reviewer: Howard Loxton