The Confessions of Gordon Brown
Kevin Toolis
Many Rivers Films
Ambassadors Theatre
–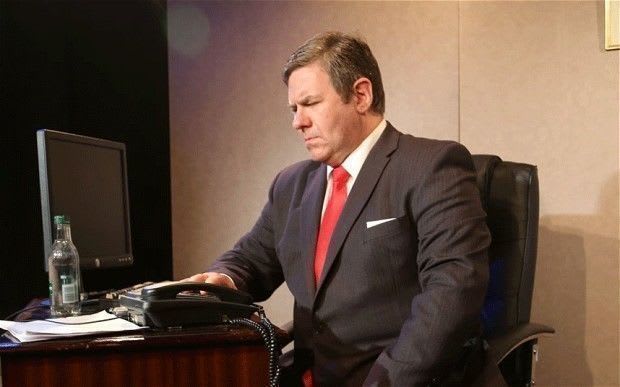 In the four years since Gordon Brown's electoral defeat, his name has—perhaps inevitably—been associated more with the 2008 global recession than any of New Labour's important successes when in power.
BAFTA-winner Kevin Toolis's one-man play offers a speculative insight into the thought processes of a man deemed 'incapable' by the press and 'unlikeable' by the electorate. His focus hones on ideas of hope and promise, both in terms of the message given during Brown's inaugural speech as well as the promises afforded to Brown himself during discussions of Labour's leadership.
Ian Grieve skilfully captures Brown's mannerisms, especially the dropped jaw and ponderous stare. His impatience and short temper are also prevalent alongside his strong desire to affect change. Grieve depicts a man struggling, a man who is determined to achieve great things but finds himself restrained by official duties with foreign dignitaries. It's a balancing act fpr which Tony Blair had a natural knack.
The tumultuous relationship between Blair and Brown is brought to the fore—one unplanned moment springs to mind when Grieve dealt with an audience member's mobile ringing by shouting, 'If that's Tony Blair, you can tell him to f**k off."
In spite of a fine performance from Grieve, this stream of consciousness delivery feels confusing at times due to the shifting time frames. It could be an attempt to portray the unorganised nature of Brown's cabinet? Moreover, the production doesn't quite sit right at the Ambassadors with a distinct lack of intimacy and some dodgy lighting decisions.
A key issue is that it's not entirely clear what Toolis is trying to say. Whether Brown was as 'incapable' as purported or merely a victim of circumstance remains to be seen and this piece doesn't really shed much light on either. The script could certainly do with some trimming as there's an unfortunate drop in pace toward the play's conclusion.
Whilst no doubt interesting, if you're looking for a slice of British politics, go and see Handbagged.
Reviewer: Sean Brooks