The Corn is Green
Emlyn Williams
National Theatre
National Theatre (Lyttelton Theatre)
–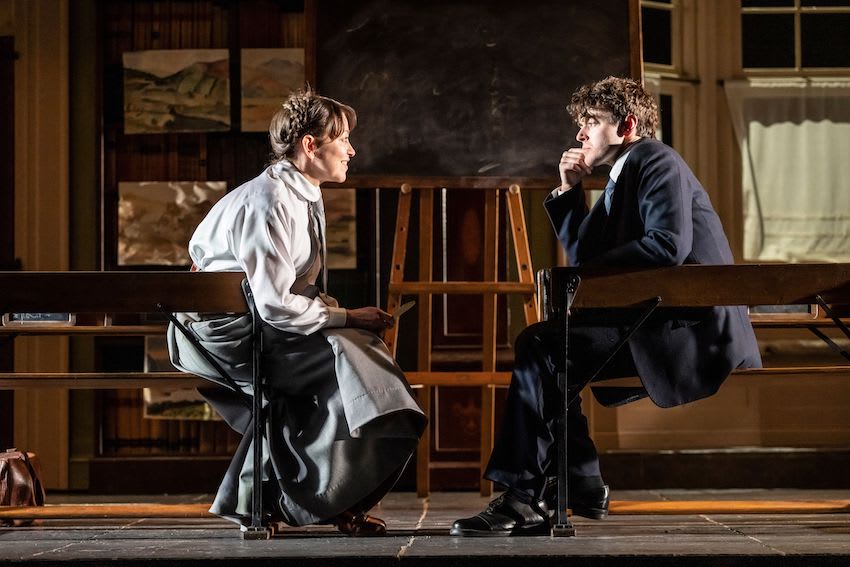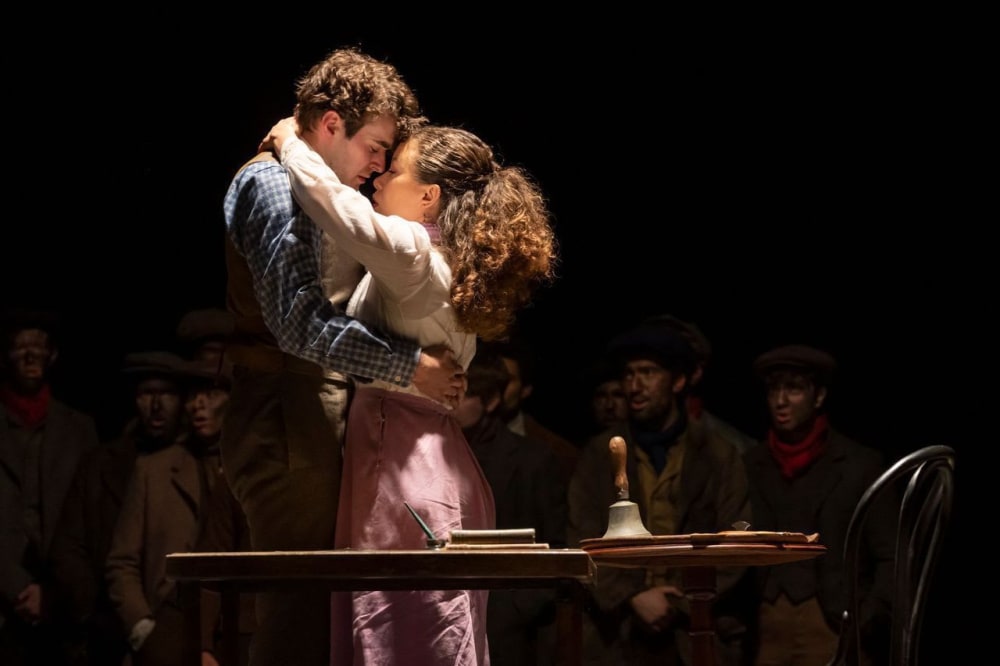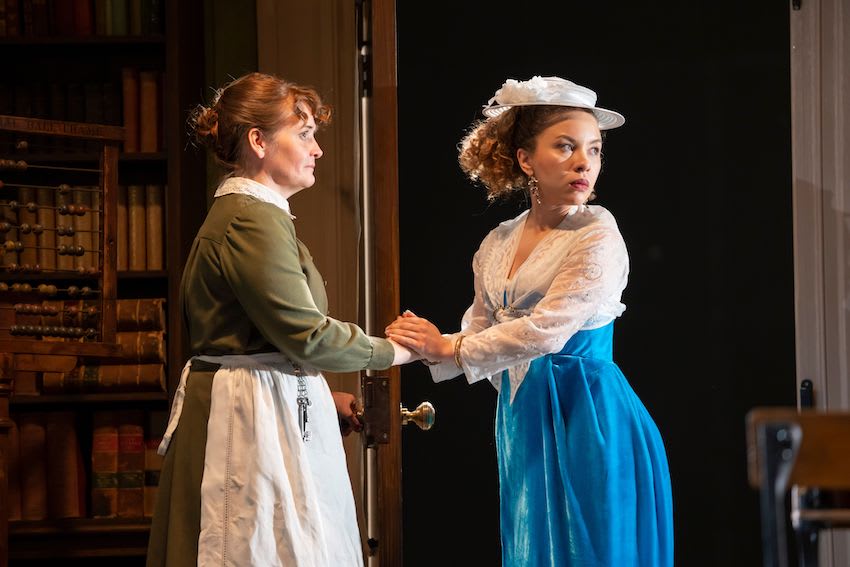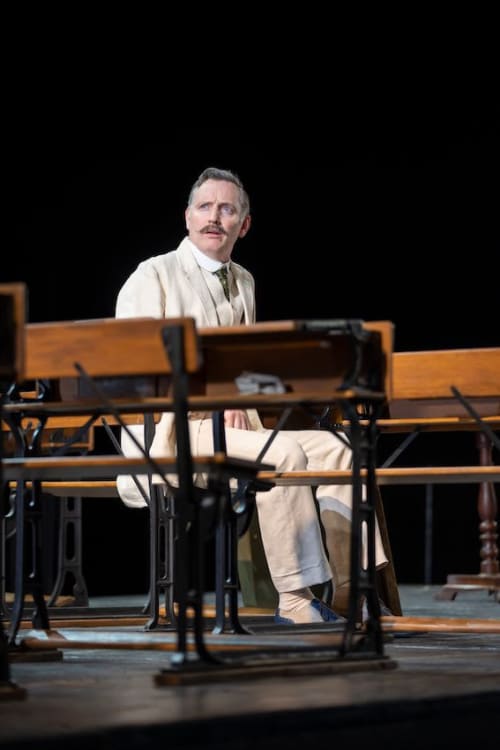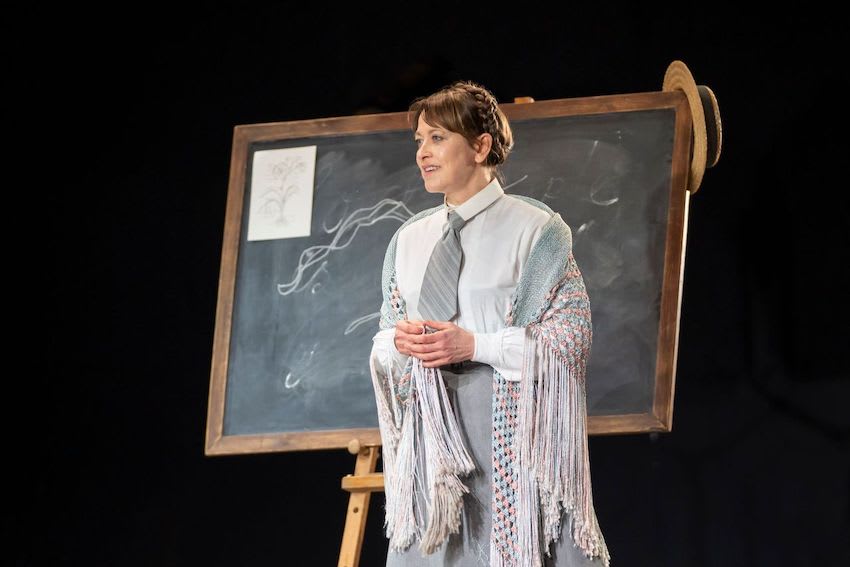 When thirty-something spinster Miss Moffat (Nicola Walker) inherits a house in a Welsh village and some money, she decides to leave London and her social work there and move to Glansarno where she will start a school.
Despite reimbursing the pay pupils lose by missing work in the pit, where boys start work aged twelve, things don't go well and she is about to give up when she discovers one particularly talented boy and seeks by her tutelage to change the lad's life.
It is a play about how education opens up opportunity written when the school leaving age was still only 14 and six years before secondary education became free.
The story has parallels in author Emlyn Williams's own life, though the situation is more extreme and it takes place decades earlier. Director Dominic Cooke reflects this by making Williams a part of his production. Smart in formal dress, he bursts out of a fashionable party remembering his roots and the jazzy dance music gives place to a male voice choir as Welsh pitmen surround him and he settles at a typewriter to begin his play.
Williams (Gareth David-Lloyd) is a presence on stage throughout delivering the play's stage directions (like Shaw, Williams describes things in meticulous detail), sometimes directing the actors and speaking key lines in unison with his alter ego, Jonathan Hawkin's John Owen. This becomes basic theatre: a bare stage with no set and no props; actors, their words, costume and sound effects, essential furniture brought on as needed.
Local solicitor's clerk John Goronwy Jones (Richard Lynch) and gentlewoman Miss Ronberry (Alice Orr-Ewing) have been getting the house ready for its new occupants' arrival. They and the local landowning Squire (Rufus Wright) have a shock when Miss Moffat arrives. They thought L C Moffatt meant Lieutenant Colonel. It is a play about expectation of gender as well as class. Jones may have been to a grammar school but he is still subservient, while Miss Ronberry, who can see no further than finding a husband, is desperate to be seen at her best by the squire. Add Mrs Watty (Jo McInnes), Miss Moffatt's cockney maid, rescued from a shady past, with her daughter Bessie (Saffron Coomber) and it is a multilayered microcosm of society with the coal-besmirched men down the mine at the bottom.
If these characters fit the stock lower orders of the 1930s West End, with the Squire a comic caricature, Cooke's introduction of the author is a constant reminder of the reality behind this contrived dramatisation.
Strangely, when designer Ultz switches to a full stage set after the interval, it seemed less real, the presence of the chorus of miners too artificial and the twist in the plot too contrived to add drama, but it is saved by a cast that plays with conviction and by a keen sense of comedy.
There isn't much depth to most of the characters; even Iwan Evans playing Morgan Evans, the boy at the heart of the story, gets little to build on as his curly-haired charm competes with his fondness for his flask. Pert Bessie becomes a new woman her own way, the Squire exudes ignorance and vanity, the pit boys are lively and even the scene changes have a comic touch with a miner and a society lady waltzing across as the cast bring on a full class of school desks.
At the centre is Nicola Walker's Miss Moffat. She gives us a woman insistent on controlling her own life, outspoken and proud of her independence but her feelings showing through in small things. Her tongue-in-cheek impression of subservient womanhood as a play to win the Squire to her will is a highlight, as enjoyable to watch as Miss Moffat herself seems to find it.
Yes, this play has dated and, though no doubt dear to its author, not his best work, but Emlyn Williams has been off our stages for too long and, despite its faults, this is still a good night in the theatre.
Reviewer: Howard Loxton