The Coronation of Poppea
Claudio Monteverdi et al (libretto translated and adapted by Tim Albery and Laurence Cummings)
Opera North
The Lowry, Salford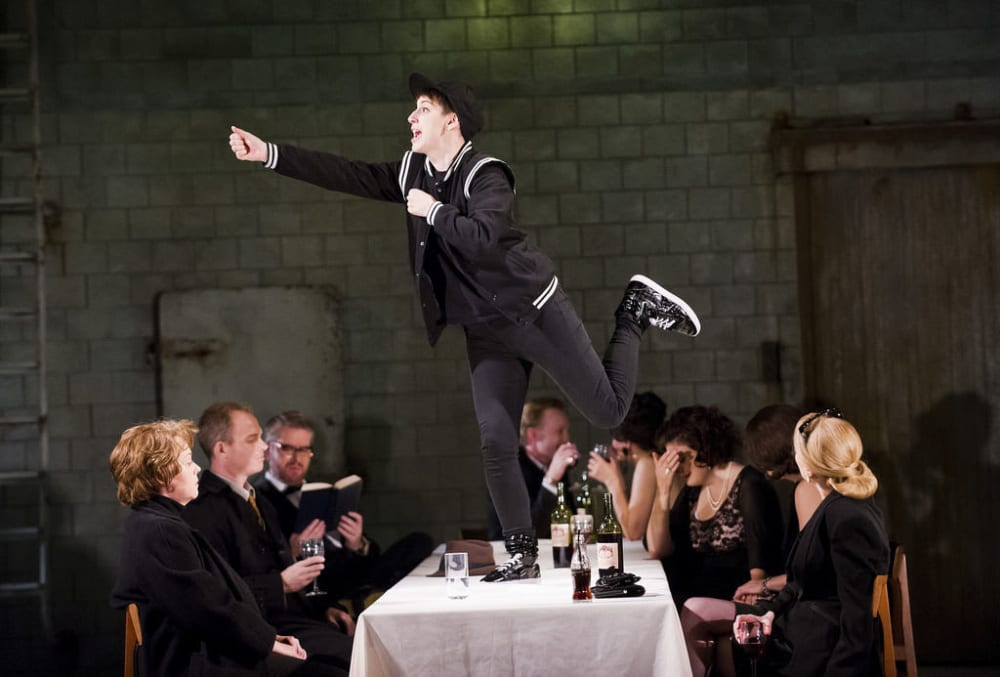 It may seem paradoxical for a reviewer to assert that an operatic production, in which the music itself is often functional and only occasionally inspired, nevertheless provides a memorable evening of emotional and intellectual engagement. Such, however, is the case with this production of Monteverdi's The Coronation of Poppea.
Normally, whenever I read a review of a theatrical event suggesting that the director is the star, I reach for my gun (metaphorically speaking). Here, though, Tim Albery delivers an object lesson in how to direct opera, drawing persuasive, honest and committed performances from a sizable cast, not one of whom disappoints. Hannah Clark's interesting set is utilised in imaginative and story-enhancing ways, without ever resorting to the meretricious.
The Coronation of Poppea is a simple tale of the triumph of wickedness over good. The ambitious, sexually adept Poppea uses her wiles to coax the Emperor Nerone (Nero) into banishing her rival, the incumbent Empress Ottavia and Ottavia's decent but vulnerable allies, Drusilla and Ottone.
Along the way, the sole voice of reason, the philosopher-tutor Seneca, is "obliged" by the Emperor to end his life according to Roman custom (the one involving a warm bath and a sharp blade). In other words, this 17th century piece, based on historical fact, is a potent concoction of sexual chemistry, political intrigue and the brutal exercise of absolute power. Lovely stuff for an opera!
With hints of Venice in the backdrop, the main elements of the set are intriguing: a plain tiled cellar with a long, morgue-like metal table, an ill-boding built-in fridge and warehouse-style sliding door. The sartorial elegance of the cast of characters notwithstanding, we soon begin to feel we are in one of those subterranean cells in which "confessions" are extracted, blood-spilled and sluiced away, and unfortunate citizens "disappeared" at the whim of the powerful.
We open with three deities: the mature, yet weary goddess of Virtue (Claire Pascoe) being teased, first by the stylish, sophisticated goddess of Fortune (Ciara Hendrick) and then by Beasty Boy, Cupid, god of Love (Emilie Renard). The matter at issue is which of them truly controls the lives of mortals. Let's face it, in the Roman world, Virtue is a no-hoper, but neither is Fortuna the imperatrix of this particular mundi. Love will triumph, but at such a cost.
In Monteverdi's day, of course, the castrato was considered the apotheosis of vocal music. These days, the anatomically intact (one trusts) countertenor takes these rolls (here, both Nerone and his predecessor as Poppea's lover, Ottone—ably played by Christopher Ainslie). It might seem peculiar to the modern ear to have an emperor and his lover so closely pitched, but it works wonderfully.
To begin with, Nerone's boyish tones make him seem all the more in thrall to Poppea's well-honed sexual charms. Later, having a hissy fit when his advisor and former tutor Seneca gainsays him, Nerone almost screeches, 'I'm angry, angry, angry!' The emperor is a tempestuous, spoilt and wilful child—his ridiculous outburst chimes all the more chilling as he reminds Seneca 'the power is mine.'
In recitals, the countertenor is often required to aim for the angelic. There is some of that here (especially is a beautifully rendered closing duet with Poppea) but Nerone is also, by sudden turns, spiteful, enraged, lustful and, most disturbingly, tender and loving. James Laing rises imperiously to these challenges, commanding the stage with unchallengeable authority.
Sandra Piques Eddy is a near perfect Poppea. It is no small praise to say she delivers the vocal performance of the evening, given there are such strong challenges on all sides from this cast. The crucial (and well judged) reworking of the story—heightening the capricious barbarism of Nerone—lands the burden of a significant dramatic arc in Poppea's lap. She opens exuding sexual confidence then, in achieving her goal of becoming empress, comes to realise that she has married a monster—and yet, perhaps, a part of her actually loves this childish brute? It's a wonderfully layered portrayal, exquisitely sung.
James Cresswell's baritone Seneca delivers a model of stoicism and enunciation—not a single word is lost. Fiona Kimm, as Poppea's nurse is in fine voice, adding wry humour with a persuasively grouchy argument for why it's better to be born a lady and die a servant, than vice versa, as will be her own fate.
Malcolm Rippeth's lighting design is yet another strength of this production; enhancing the experience with constant variety and subtlety, whilst always alive to the mood of the moment.
Final plaudits must go to musical director, Laurence Cummings and his seven fellow musicians—an excellent ensemble and their presence on stage contributes intelligently to the disconcerting juxtaposition of suave culture with naked barbarism.
This is undoubtedly the outstanding production of Opera North's fine season.
Reviewer: Martin Thomasson