The Country Girls
Edna O'Brien
Chichester Festival Theatre
Minerva Theatre, Chichester
–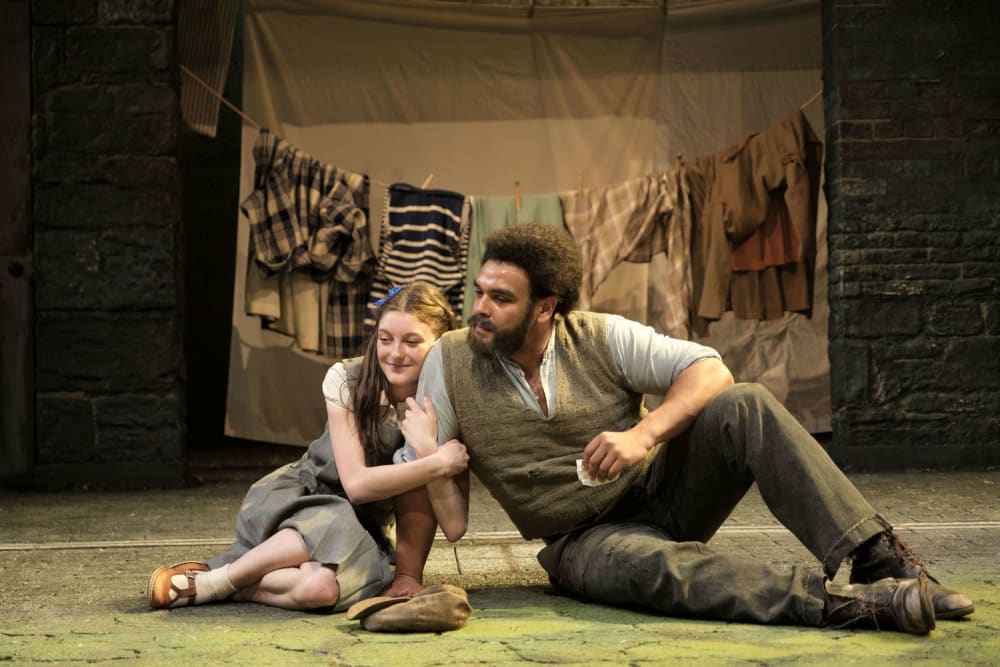 The story here by-passes the primary school years of these two country girls when Baba took great delight in tormenting her friend Kate, and it begins when the two teenagers are about to set off to a convent school, one having won a scholarship and the other's father paying her way, the dominant Baba insisting that it's so much better when you can pay.
Somewhat surprisingly, the girls are still friends and, in this semi-autographical story, we follow them through their teenage years, sympathising with their misery at the strict and unbending rules which the stony-hearted nuns are pleased to impose on them. Finally, unable to stand the regime any longer, they manage to get themselves expelled and set off on a life of independence, or as independent as it could be for a woman in the Ireland of the late 'fifties.
Taking only three weeks to write, O'Brien's novel was published in 1960 and was a huge hit in London and New York, but the 'sixties hadn't begun to swing in Ireland and her book was not only banned by the Irish censor but actually ritually burned by her own parish priest in a gesture of condemnation and revulsion. It seems strange in today's world that the book caused such a furore. It is simply the innocence of two teenage girls and their blossoming sexual awareness, but to the Ireland of that time it was scandalous, bringing shame and disgrace not only to her own community but to the whole of Ireland itself. Even her parents were appalled and shamed.
The girls are perfection. Grace Molony, hardly out of school (and I hope she did well in her A levels), exquisitely lives Kate as if born to the role, and her thoughts and feelings are perfectly in tune with those of the character, while Genevieve Hulme-Beaman is equally adept as Baba, a teenager going a little wild at finally having freedom from scholastic and parental restraints. My only complaint with both was that their delivery was rather rushed and I couldn't easily hear all the dialogue. It could be the Irish accents—or possibly my hearing.
The novel is written in the first person with Kate telling her story, but from page to stage, instead of an insight into teenage excitement mixed with apprehension in the change from child to woman, it is a little disappointing having become a catalogue of events, interesting in themselves but not so introspective and passed over very quickly.
Each event is a little story on its own, from odd-job man Hickey (Bailey Patrick) to Baba's parents (Chris Garner and Melanie McHugh), the two men whose intention is to have a fling on the side and, most importantly, Valery Schatz as Mr Gentleman, the older man with whom Kate falls in love and who lets her down in the end, leaving a sadness, but a hope for the future.
Snippets of Irish songs dip into the action and Richard Kent's set design converts easily, with imagination, to whatever is required of it. It is a pleasant enough evening's entertainment, yet on the whole Lisa Blair's production is disappointingly disjointed and rather unsatisfying.
Reviewer: Sheila Connor