The Country Wife
William Wycherley
Chichester Festival Theatre
Minerva Theatre, Chichester
–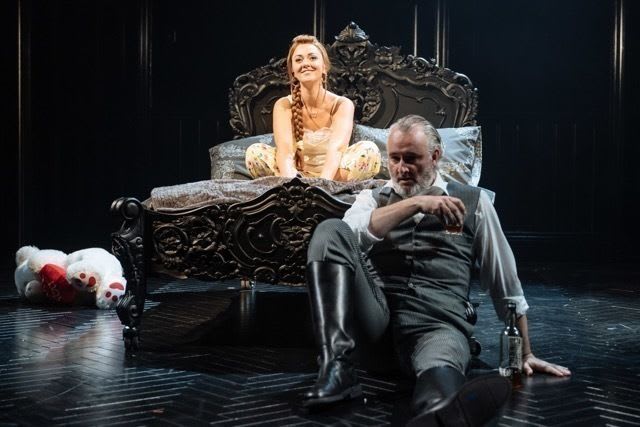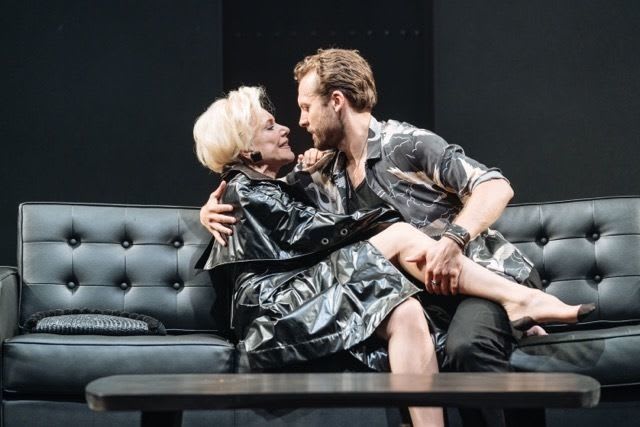 Who knew a Restoration Comedy written in 1675 could hold such surprises. The beginning had everyone reaching for their tickets and programmes to make sure they were in the right theatre as the cast explode onto the stage in a frenzy of wild, and sometimes suggestive, dancing to the strong, compelling, driving beat of Grant Olding's music.
This musical theme, gently and with less emphasis, continues throughout the production as the cast unobtrusively 'dance' the scene changes performing them slickly, smoothly and with great speed, while the black back 'wall' swings into reverse, changing the venue but still providing three doors, all very necessary to the plot.
As they exit through the doors, characters to be revealed later, our 'hero' Horner (Wycherley named his characters to suit their purpose) is found alone crashed out on a sofa, empty bottle on the floor, but we soon discover that his real problem is not the demon drink but his desire to seduce as many 'respectable' London society women as possible and if he feigns impotence, and has this 'confirmed' by a 'Quack', any gentlemen would be happy to have him socialise with their wives.
Pinchwife, (excellently portrayed by John Hodgkinson) newly returned from the country and now married, seems not to have heard the rumour and becomes insanely jealous at every tiny suggestion that his beloved might stray even taking to locking her in her boudoir and threatening her with a knife.
In the hands of Susannah Fielding, wife Margery is the sweetest, loveliest and most delightfully innocent country girl, hardly more than a child. Her expressions of doubt and uncertainty when forced to write a strong rejection letter to Horner give way to asserting her independence before doubt and apprehension creep in. She may be naïve but she's no fool. The fleeting emotions crossing her face are a very comical pleasure to watch, and it's very engaging the way that in all innocence she insists on telling the truth.
Soutra Gilmour must have had great fun with the costume designs which are modern dress and, except for Margery in yellow, mostly on a black theme but with more than a touch of exoticism here and there, particularly that of Sparkish which suits his flamboyant character which Scott Karim plays up for all he's worth, while Lex Shrapnel has Horner more of a 'Jack the Lad' and Belinda Lang's Lady Fidget hides her sexual longings under a haughty, superior (but every elegant) exterior.
Amazingly, although the dialogue is 17th century, it has adapted well and doesn't sound in the least strange in modern dress, and the asides to the audience are fun.
The play is well written and cleverly funny without overdoing the jokes, and there is a lot of humour in the script, with innuendoes and double meanings, although it's not at all necessary to understand them all to enjoy the show.
At the end, Horner is alone again. Were all his machinations and seductions all that he thought they would be? He may have cuckolded a lot of men, but did this make him happy? Wycherley was pointing out the folly and decadence of his society, but was it so very different from the 'swingers' of the 1960s constantly swapping partners?
Jonathan Munby's most excellent brilliant production ends on a very high note with The Dance of the Cuckolds where everything is now sorted, even if not to everyone's satisfaction. A truly great and inventive revival—I loved it!
Reviewer: Sheila Connor