The Cow Play
Ed Harris
Pluck Productions
Rosemary Branch Theatre
–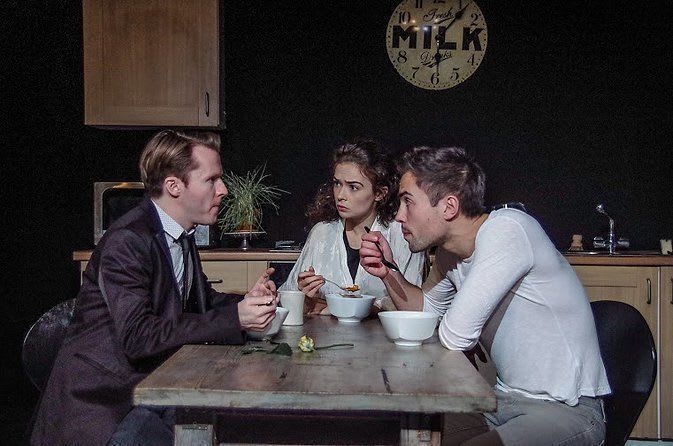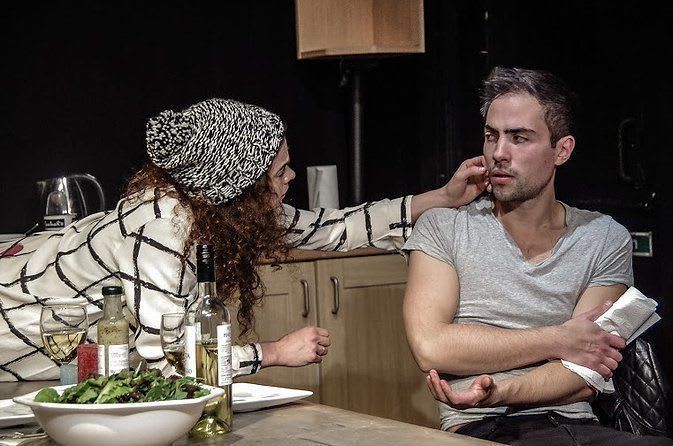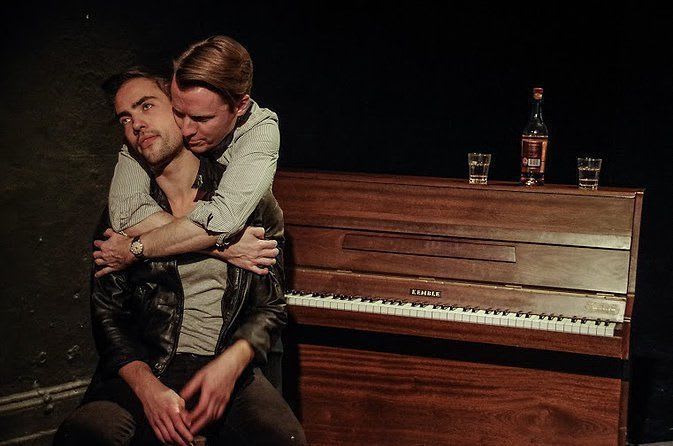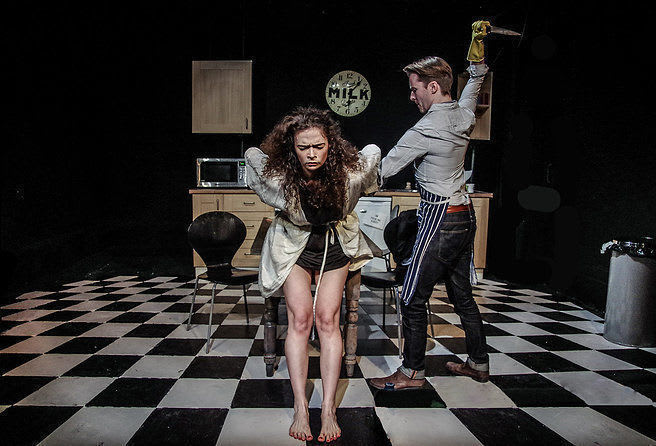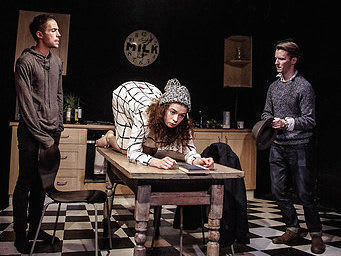 The inaugural production of a new company, this is a play that can be taken either as intriguingly surreal or as an analogy on various levels.
Holly and Owen are a pair of romantic young lovers who have recently started living together. Played by E J Martin and Philip Honeywell, they are a good-looking couple devoted to each other.
They already have their own idiosyncratic ritual when Owen comes home from work involving flowers and (literarily) doggy adoration, but there is a shadow of insecurity on their happiness. Holly had been going to a shrink to sort out her depression. She's not seeing her presently but Owen thinks she should, especially when she asks if he will still love her if she turns into a vegetable.
A would-be pianist and composer, Owen has put his career on hold, doing a routine job to concentrate on his relationship, but his old mate Thom (Neil Chinneck) tells him he's wasting his talent and keeps coming up with opportunities to work in music. They would mean leaving his domestic nest behind to tour and that would suit Thom whom Holly seems to have supplanted. There is a homoerotic hint that he wants to split them up and have Owen for himself.
That triangle is one part of the play along with questions about what takes precedence, career or private happiness? Add in the surreal. Holly is changing; but not into a vegetable. Something strange is happening to her body. Are her ears larger? Are those lumps on her skull? Are her internal organs becoming compartmented?
She has started eating grass and she is definitely growing a tail. Will books from the library help her sort it out? How will Owen cope? How will Thom react to strange requests?
On one level this could just be about the difficulty of adaptation in any relationship, the reordering of other priorities and friendships, coping with illness and disability but, as Holly's condition changes, it is seems particularly analogous with the challenge presented by diseases such as Parkinson's and Alzheimer's.
Ed Harris combines perceptive human observation with a streak of humour but his play also becomes extremely moving. In Bryon J Thompson's direction, these elements blend smoothly together drawing fresh performances from her cast. She uses the simple kitchen setting to give a significant formality to certain moments and uses scene changes to add elements to characterisation and detail to Holly's bovine development.
Reviewer: Howard Loxton