The Crown Jewels
Simon Nye
Simon Friend Entertainment in association with Adam Kenwright, Trafalgar Theatre Productions, Jenny King, David Adkin and JAS Productions
Garrick Theatre
–

Listing details and ticket info...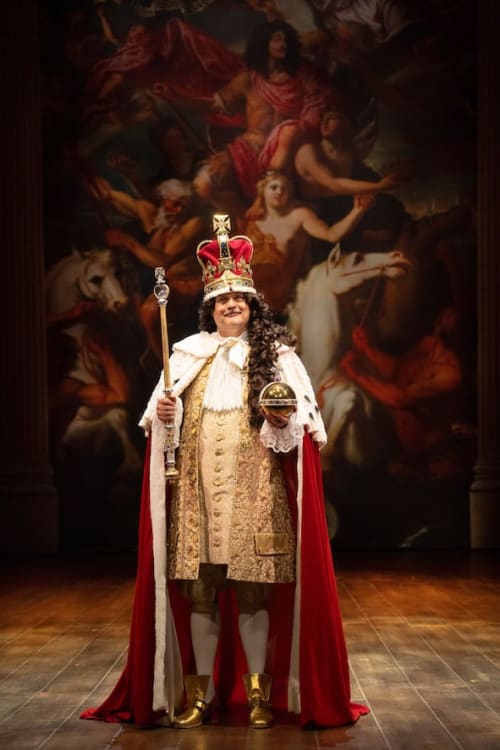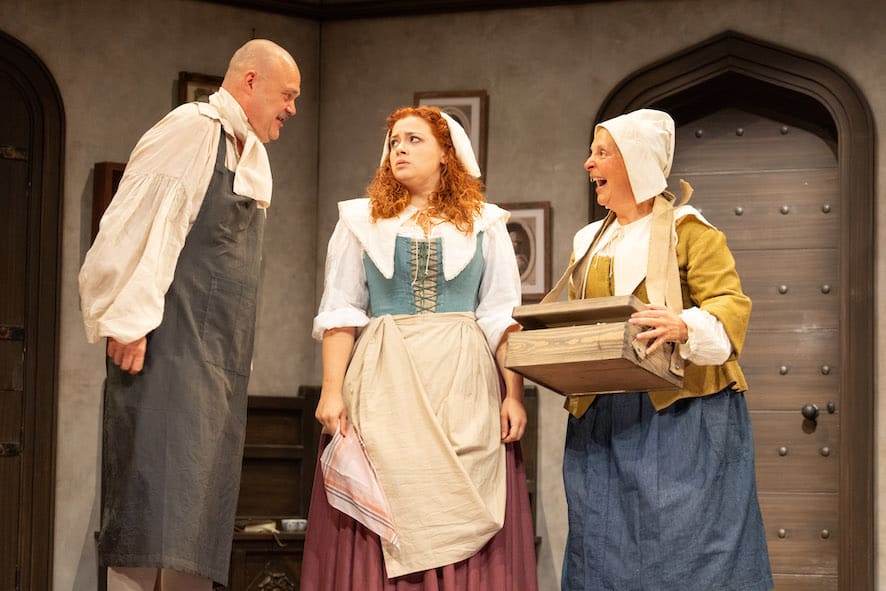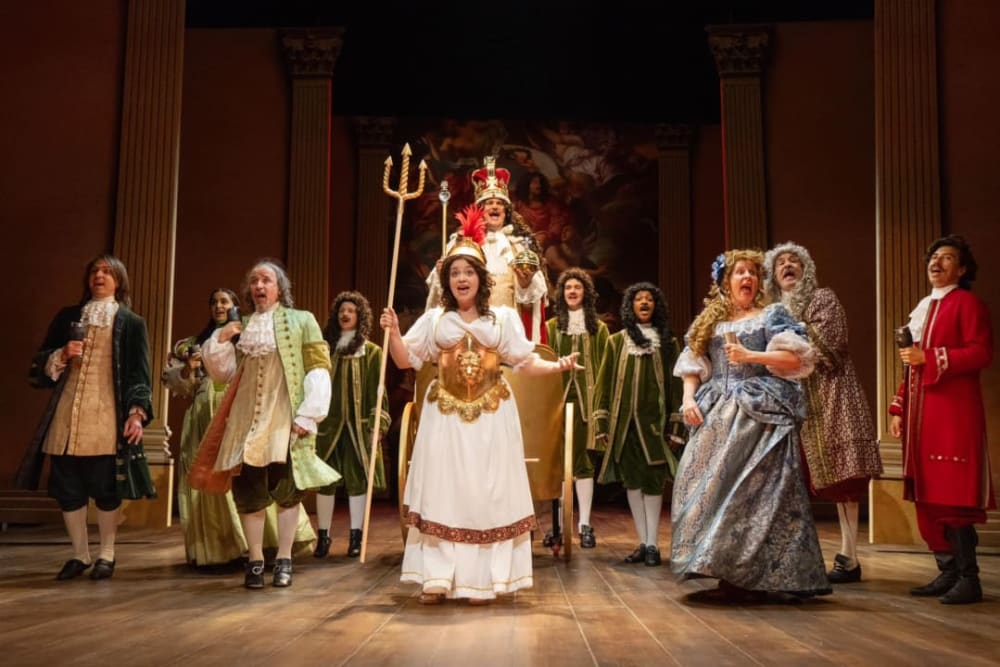 The Crown Jewels are in this case the royal regalia remade and reassembled after the restoration of the monarchy for the 1661 coronation of King Charles II. Ten years later, the King is looking forward to wearing them again to celebrate ten years since his crowning, while elsewhere, Colonel Thomas Blood and his associates are planning to steal them. The jewels themselves are in the Tower of London under the guardianship of Talbot Edwards who, for a consideration, will happily let people view them.
At first, attention alternates between Blood (Aidan McArdle), plotting and carrying out his attempted robbery, and King Charles (Al Murray), who eyes the ladies, rehearses the speech he will make at the upcoming ceremony and engages in changes with his court (the audience) until at last the Colonel is brought before his monarch.
The action begins in the king's bedchamber where a Lady of the Bedchamber rouses Charles from slumber and sings a pean in his praise while brandishing the royal chamber pot. Among the attributes she mentions is his size: "six foot two when fully erected".
It is a great start, for she is played by Carrie Hope Fletcher who knows how to deliver a number while her obvious double entendres are a foretaste of what is to come. The robbery has already happened by now; the action switches back to Blood and his son Tom (Joe Thomas), religious fanatic Captain Perrot (Neil Morrissey) and actress Jenny (Dedun Omole when I saw it) are preparing for visit to the Tower.
That allows Murray and Fletcher to change character and costume by the time the plotters arrive there, becoming Talbot Edwards and his daughter Elizabeth, where they are found with Mel Giedroyc's Mrs Edwards, who has been busy baking pastry regalia replicas as souvenirs for royal jewel tourists. Everyone except Blood doubles in this show, adding an extra entertainment element, Giedroyc having fun as a heavily accented French noblewoman.
Murray's King Charles is a stunning display by someone who knows how to play with an audience with a great running gag with inferences to England's Dutch enemy, but away from the court, things are chaotic. This feels like one of Ernie Wise's dramatic sketches in the Morecambe and Wise shows, full of "Acting", funny walks and silly laughs, which is great in small doses but over a full evening begins to get tedious. Fortunately, every now and again, Carrie Hope Fletcher gets another song (composer Grant Olding) to lift things.
You probably already knew about Colonel Blood's theft but did you know what happened afterwards? You may find that surprising, and it could be told more clearly, but with the Bedchamber Lady elevated to royal favourite attired as Britannia, everything ends very upbeat to send you home laughing.
As the performers remind you by waving a placard, "This is a True Story!" Playwright Simon Nye (mainly) sticks to the facts, and if you need convincing, the programme gives the real history in lively detail.
Reviewer: Howard Loxton