The Crucible
Arthur Miller
Selladoor, Queen's Theatre Hornchurch, Les Theatre de la Ville de Luxembourg and Matthew Cundy Productions
Everyman, Cheltenham
–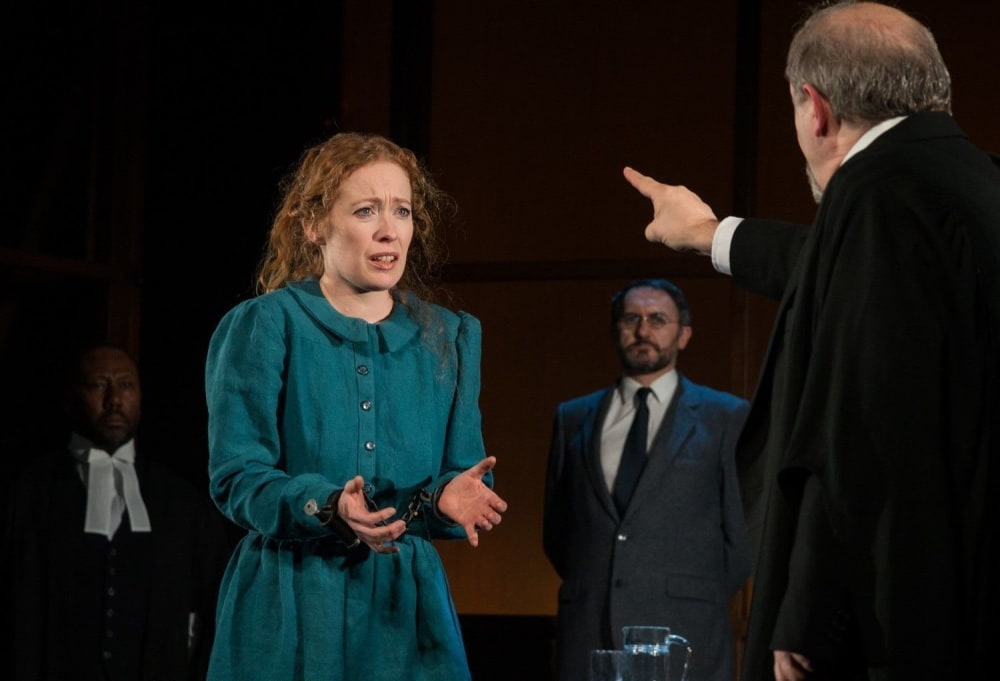 Salem, Massachusetts, 1692. The settler community is in the grip of mass paranoia after foolish girls have invented tales of possession by the devil to escape being accused of the terrible sin—of dancing.
Fuelled by jealousy and greed, the witch-hunt gains terrifying, irresistible momentum as defence witnesses are branded agents of Satan. And confronted by the increasingly absurdity of the charges, Jonathan Tafler's Judge Danforth almost gleefully proclaims the impossibility of reprieving seven accused of witchcraft because 12 have already been hanged for the same crime.
Arthur Miller started to write his great play on the very evening in 1952 that his friend, film director Elia Kazan, gave the names of associates with left-wing ties to the House Un-American Activities Committee. Ever since, its flame has burnt in defiance of McCarthyism, and across the world—as Miller put it—as a warning of tyranny on the way or a reminder of tyranny just past.
Director Douglas Rintoul has accordingly set the piece in a timeless zone of rustic jackets and homespun, with projected stage directions and a set that advertises its artifice. This is not the 17th century; this is a statement. Alternative facts? Draw your own conclusions.
Discarding the work's Puritan dress somewhat reduces the sense of menace in this society of crushing conformity, particularly in an opening scene too often lost in a gaggle of accents.
But happily, early misgivings are soon overcome in this terrific production of searing intensity.
Even though the outcome is known, or otherwise predictable enough, this is edge-of-the-seat stuff as Eoin Slattery's John Proctor rages at the unjust court with white-hot intensity.
Lucy Keirl as Abigail conjures the Evil One with such spirit as to send a shiver down the spine, and Charlie Condou wrestles in agony with his own devils as the Reverend Hale.
Augustina Seymour could not have given a more perfect picture of petrification as the terrified young Mary Warren had she been turned into a pillar of salt, but the poor girl also had to play Rebecca, "26 times a grandma". Economy, of course, but a pity for the UUACA (Union of Unemployed Actresses of a Certain Age).
Time flew, although the evening show does not end until 10:40. Might Mark Goucher, the Everyman's new chief exec, think about changing the theatre's unusually late normal starting time of 7:45 in future?
Reviewer: Colin Davison