The Cunning Little Vixen
Leoš Janáček after stories by Rudolf Tesnohlidek
Opera North
Theatre Royal Newcastle
–

Listing details and ticket info...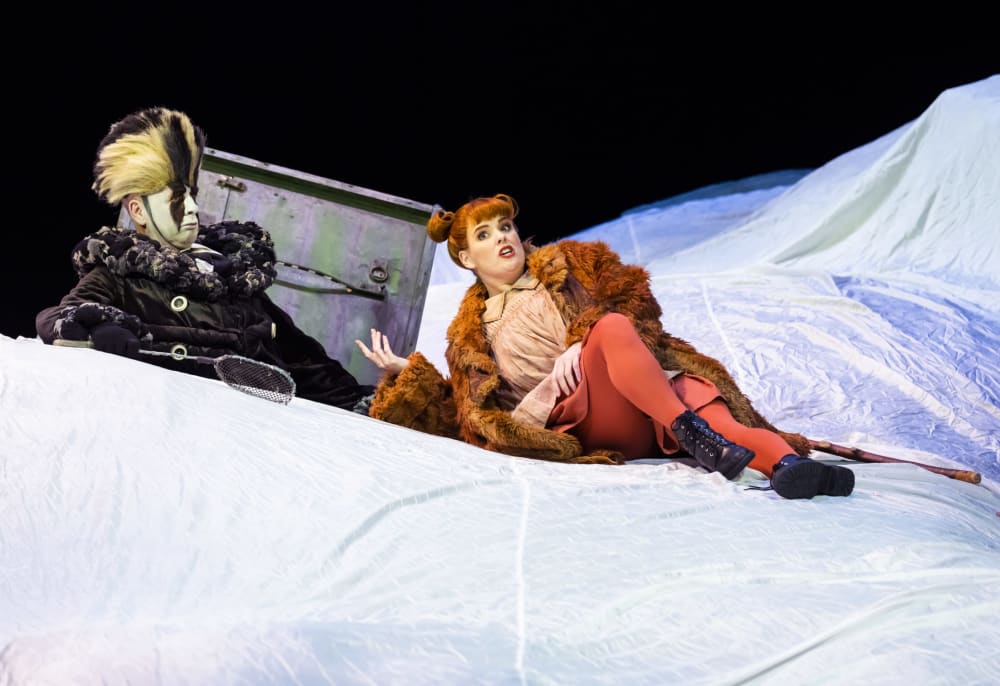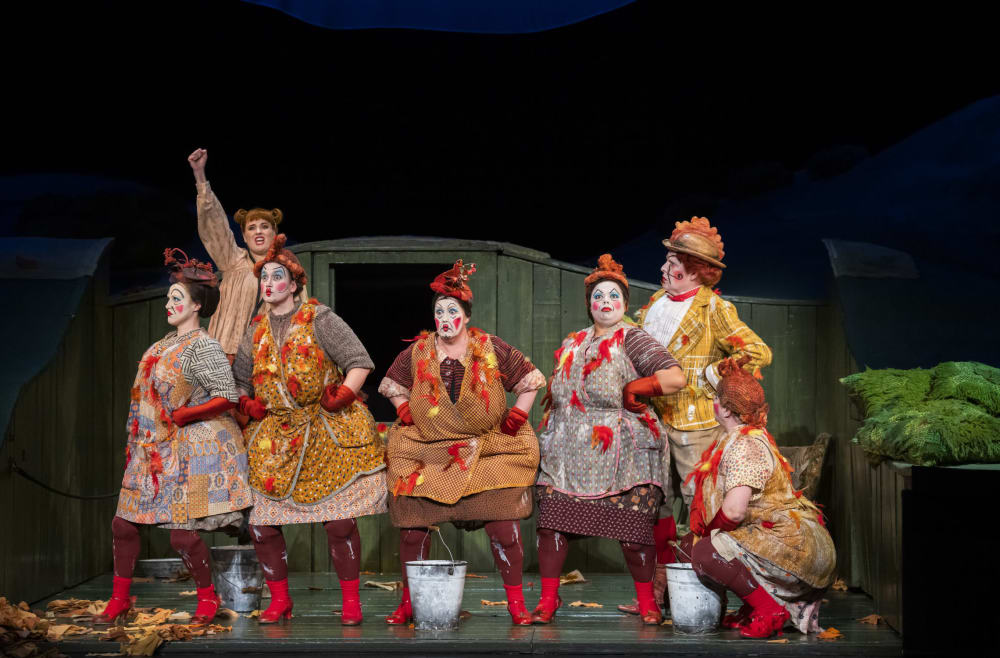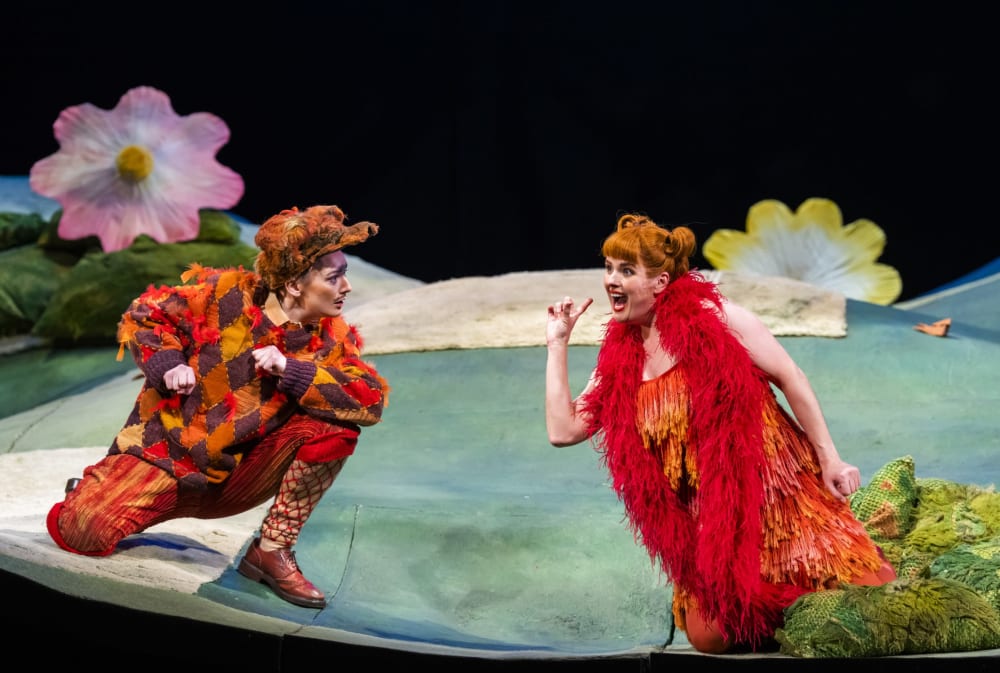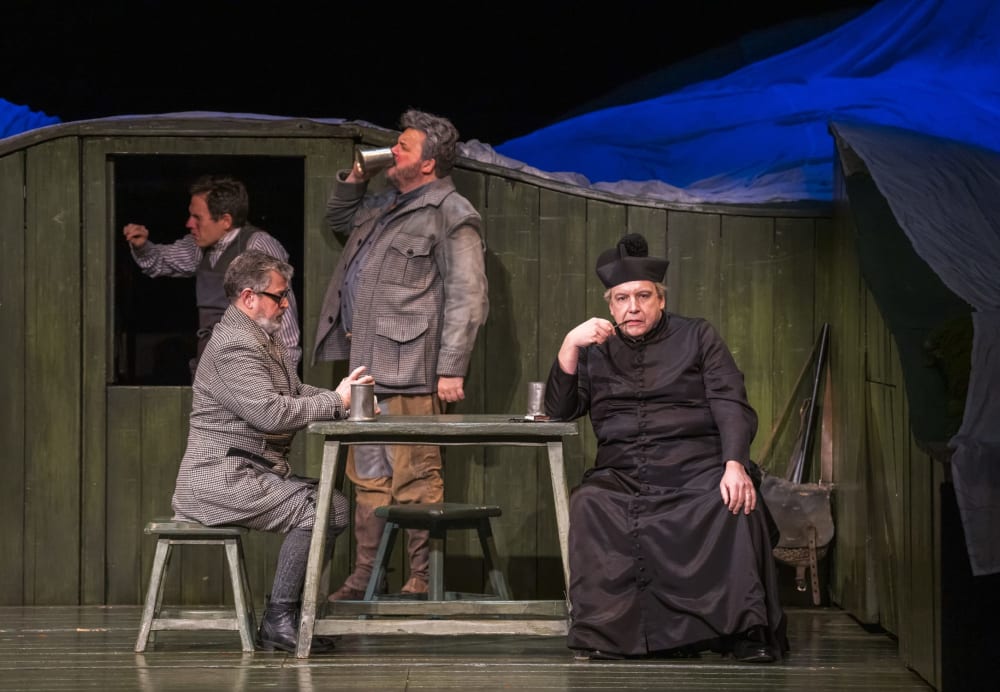 Opera North, based in Leeds, has a long relationship with Theatre Royal, Newcastle and is famed for its high quality, accessible productions and its commitment to touring and education. It was a delight to see them back, opening their stay with Leoš Janáček's The Cunning Little Vixen.
This production first premièred in 1980 but feels new and is fresh, lively and both funny and moving, more an opera comique with dance.
The central character is a little female fox, a vixen taken by a thoughtless forester from her home in the forest, beautifully evoked by set and costume designer Maria Bjornsson, to be the family pet. Naturally, things don't work out well and Vixen Sharp Ears's longing for freedom is poetically evoked in a dream sequence with Spirit Vixen, danced by Lucy Burns. Sharp Ears eventually escapes after being bullied and hit and, in a brilliantly funny visual and musical close to act 1, she takes her revenge by killing the hens.
We follow Sharp Ears's life in the wild, a world full of insects and animals, sharing her many adventures, the meeting with Fox and the family of cubs they have. It's contrasted with the sad and humdrum life of the forester and his neighbours, the schoolteacher, the parson, the hunter. Again the set for their world is evocative, drab and closed in; it's a pointed metaphor.
It doesn't end quite as happily as we might hope, for the vixen is eventually shot, but the final scene added later by Janáček is an extraordinary, moving and philosophical scene where the forester, sung by Richard Burkhard, muses movingly about his life, the passing of time and aging.
Directed by Sir David Pountney, the ensemble are really strong and committed and well-rehearsed by associate director / choreographer Elaine Tyler-Hall. Vixen Sharp Ears, played by Elin Pritchard, is an exceptional singer and mover, with a charisma that holds the stage. A role model of feminist energy, playfulness and cunning. Special mention to the delightful child who dances rabbit and to all the cubs.
First performed in 1924, Janáček was inspired by a comic strip in his local paper and The Cunning Little Vixen is a surprising mix of real radicalism and a powerful comment on nature and animals, their freedom and joy and the drab regrets and sorrows of the human race. Written when he was in his late sixties, the text is often profound; I found the screens on the sides were really useful helping me catch the nuances.
Musically, it is wonderful, full of time changes, quirky instrumentation, Czech folk tunes and clear motifs; all brilliantly played by the orchestra led by conductor Andrew Gourlay. It's a gem of an opera and a great introduction to to this genre too.
It's only on today, but the week includes a ravishing Tosca and Ariadne auf Naxos.
Reviewer: Dora Frankel