The Curious Incident of the Dog in the Night-Time
Simon Stephens, based on the novel by Mark Haddon
National Theatre
Leeds Grand Theatre
–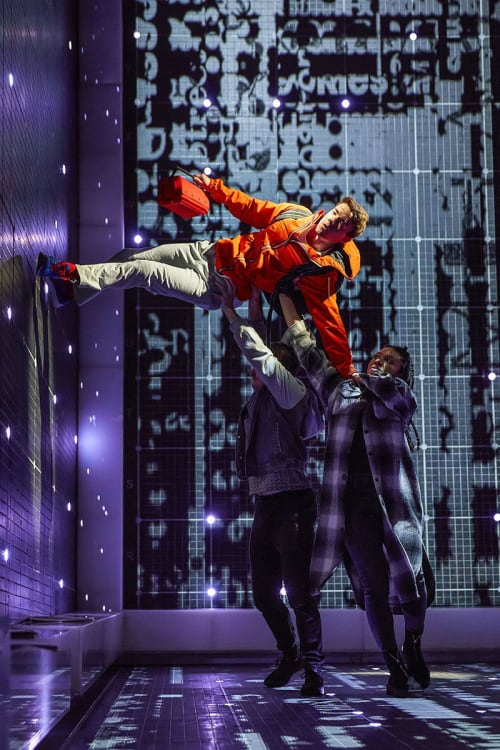 Let's cut to the chase: The Curious Incident of the Dog in the Night-Time is totally brilliant. I loved it the first time I saw it on tour in 2017, and I loved it just as much this time round.
Now celebrating its tenth anniversary, having swept up awards on both sides of the Atlantic (including seven Laurence Olivier awards and six Tonys) and playing to delighted audiences all over the world, The Curious Incident of the Dog in the Night-Time is a gold-plated theatrical phenomenon. The fact that the show has managed to avoid being overshadowed by Mark Haddon's towering novel is a testament to its many dazzling qualities.
Haddon's original novel is a beautifully written, funny and often moving account of a neurodivergent 15-year-old boy named Christopher Boone who can solve complex mathematical equations with ease but often struggles to read social cues. One of the great virtues of the book is its first-person narrative—which allows us to understand the ways in which the real world leaves Christopher feeling confused and bereft—and this device is retained in Simon Stephens's sensitive and intelligent adaptation by adopting a play-within-a-play structure. This means that Christopher (David Breeds) often speaks directly to the audience, while at other times his memories are read aloud by his teacher Siobhan (Rebecca Root).
Christopher has a highly logical mind, ideal for solving complex puzzles. When his neighbour's dog Wellington is savagely murdered with a garden fork, he draws inspiration from his literary hero Sherlock Holmes and starts questioning his neighbours. His long-suffering father, Ed (Tom Peters), tries to prevent him from snooping, but Christopher's sense of fair play and justice is incorruptible.
However, Christopher's investigation takes an unexpected turn when he discovers that his deceased mother, Judy (Kate Kordel), is not so deceased after all, prompting him to run away to London to find her. Why did his father lie to him and who is responsible for killing Wellington?
The Curious Incident of the Dog in the Night-Time is such an overwhelming sensory experience that I hardly know how to begin unpacking it. Bunny Christie's audacious set transforms the stage of the Leeds Grand into a magical black cube in which the contents of Christopher's mind are projected on the walls via Finn Ross's kinetic videos. The performance space is light and agile, swiftly transforming into a range of locations.
During Christopher's escape to London—the show's most breathtaking sequence—the design elements merge effortlessly with Scott Graham and Steven Hoggett's virtuosic choreography to convey our hero's sense of being terrified and overwhelmed by an alien landscape he does not understand. Its most impressive moments, such as Christopher walking calmly on the walls, were exhilaratingly bold.
Christopher Boone is the kind of role that young actors dream of playing because it allows the performer to show off their full physical and emotional range; the character may not always know how to read other people's feelings, but he displays every conceivable emotion from blind terror to knee-trembling joy. David Breeds does a superb job of capturing Christopher's endearing blend of confidence and bewilderment, amply rising to the physical demands of the role.
Tom Peters brings more simmering anger and frustration to the role of Christopher's father than the previous performer I saw, but this feels entirely appropriate given the character's domestic strife. Kate Kordel imbues Christopher's mother with considerable likability and warmth whilst also conveying the exasperation of caring for such a demanding child. Rebecca Root gives a lovely, serene performance as Siobahn, Christopher's teacher and confidante, and there is strong support from the rest of the ensemble.
Playful, accomplished and often magical, The Curious Incident of the Dog in the Night-Time will win over the most hardened cynic.
Reviewer: James Ballands