The Curious Incident of the Dog in the Night-time
Mark Haddon, adapted by Simon Stephens
National Theatre
Sheffield Lyceum
–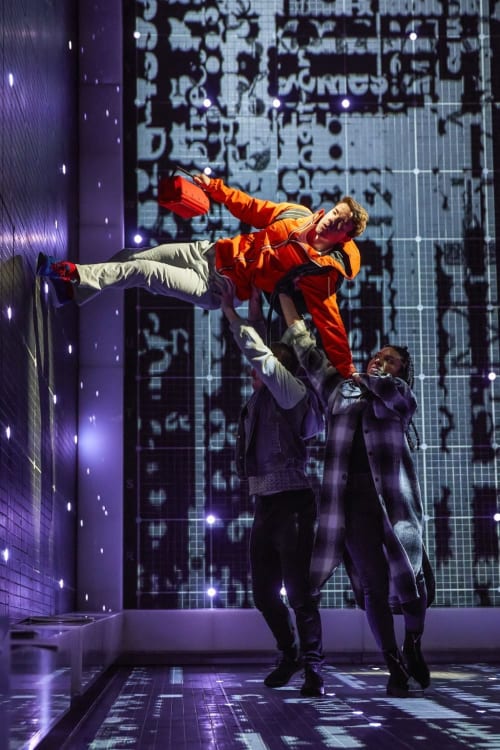 I must start by saying with enthusiasm that this acclaimed and well travelled production provides a thrilling experience in the theatre and begins to open up an understanding and sensitise an audience to what it is like to live with autism.
Mark Haddon's 2004 novel was adapted as a stage production by Simon Stephens in 2012, has travelled widely and has won international recognition.
The central character is Christopher, an autistic 15-year-old who lives with his father and attends a special school. He has extraordinary gifts. He is an instinctive and brilliant mathematician, his powers of memory and observation are well beyond the norm, he has a thirst for information which he retains and repeats effortlessly and he is particularly fascinated by space and the universe.
But as we get to know him, we begin to recognise the characteristics of autism. He lives a sequestered life, is reluctant to have contact with strangers, cannot deal with close physical contact and responds with agitated horror if he is touched. This is particularly difficult for his parents who would love to embrace him but have realised that this is out of the question and that only the slightest touch is acceptable.
The play starts with Christopher's discovery of a neighbour's dog which has been brutally killed in her garden. He determines to track down the killer, which initially means contact with the neighbours to gather evidence and gradually leads to a life-changing journey which requires great courage and resourcefulness and has unexpected outcomes.
David Breeds gives a remarkable and entirely convincing performance as Christopher. He captures the boy's sensitivity and distress in the autistic outbursts, his confusion when mixing with crowds on the journey and the resentment directed to his father as truths are revealed. This is also a very physical performance which enables him, with the support of the Ensemble, to represent aspects of the journey with impressive athleticism.
Rebecca Root is crucial as narrator and as the supportive teacher Siobhan. In reading passages from Christopher's diaries, she is able to give insights into his thought processes and view of the world.
Tom Peters gives a moving performance as father Ed. Initially, he seems rather cold and unencouraging, but we gradually discover how much he is struggling to deal with, and how much he cares for, his son.
Mother Judy played by Kate Kordel brings genuine emotion to her performance and, in a telling moment when she wants to throw her arms around her son, shows how painful it is that this can't happen.
The staging of the play, directed by Marianne Elliot, is particularly exciting. The box-like set allows all sorts of visual effects, projections of numerical sequences, station labels and other relevant images created by Paule Constable and Finn Ross, and the sound and music also make a vital contribution to the production.
Crowd movement is very effective in revealing Christopher's agitation during the train journeys and finding clever ways of representing objects, like the luggage rack that Christopher hides in. The whole cast makes an important contribution to these sequences.
In a programme note, Simon Stephens describes the play as "a play about travel". It isn't only about Christopher's journey and the many journeys the production has been on but the journey we as audience experience through watching it.
Reviewer: Velda Harris