The Curious Incident of The Dog In The Night-time
Adapted by Simon Stephens from the novel by Mark Haddon
National Theatre
Theatre Royal Plymouth
–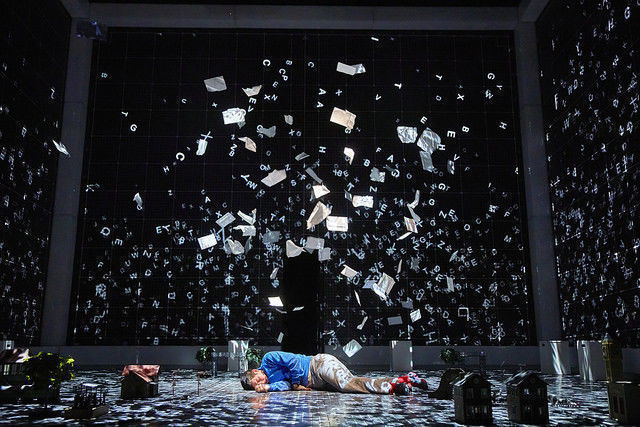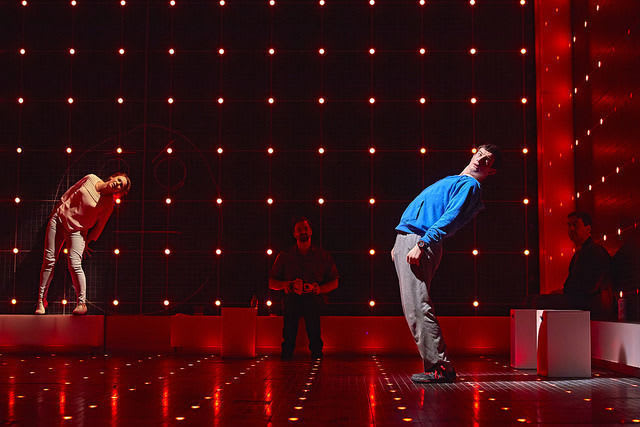 Stunning.
Intrigued as to how Mark Haddon's very special and much-admired book would translate to stage, Simon Stephens's adaption of The Curious Incident of the Dog In The Night-time transpired to be so much more than expected—in fact a joy.
Christopher Boone is a 15-year-old maths genius who is high on the Asperger Syndrome scale. He can function well but within the bounds of his special needs which means no touching, no lies, no loud noise, no yellow and no tunnels. He has no natural social understanding other than that taught to him and memorised, and his reactions to daily incidents can result in behavioural problems—fitting, guttural sounds and lashing out.
Scott Reid has this down to a tee. His childlike honesty, naivety and observation is exquisite with awkward digits and gait, clumsy body postures and repetitive mannerisms. He is most believable and endearing as the teenage sleuth on a mission to unmask the murderer of the neighbour's dog. His world is straightforward: defined by logic and time while the world around him is more complex, harbouring deceit, ambiguity, hurly burly and unfathomable mores.
Bunny Christie's set cleverly illustrates Christopher's viewpoint—a simple black and white graph/grid with startling bright lights, hidden cupboards and graphics on a sloping floor. Chalk drawings move the action between Swindon and London, school and home with Paule Constable's lighting and Finn Ross's video combining with Ian Dickinson for Autograph's cacophonic sound to recreate Christopher's experiences in persuasive detail.
David Michaels is long-suffering Ed, beautifully on point with the balance of love and frustration he feels toward his son and how he copes with the loss of his wife, while Lucianne McEvoy compellingly conveys therapist "I'm not your mother" Siobhan's calm and nurturing demeanour providing building blocks to cope with reality.
The more than capable ensemble populates the piece with useless headteachers, earnest do-gooders, neighbours, policemen and others illustrating the disconnect between Christopher and that which many would call "normal".
Space is used to great effect with the building of the railway particularly poignant while the clear Frantic Assembly influence is a delight. Scott Graham and Steven Hoggett's choreography changes the pace with dreamlike floating sequences and pressing crowds. Bodies used as props and towering lifts add dimension contrasting and emphasising plodding daily routine.
With mental health on the social agenda, this is a must-see and, judging by the numbers of schoolchildren sniggering at every ripe word (and there are plenty of them), firmly on the curriculum.
Despite now being in its fifth year, Marianne Elliott keeps it fresh although at times the sound could do with a tweak.
My only gripe… why oh why did Toby need to be a live rat? Surely we would have been perfectly happy with a stuffed toy alternative being swung around in that tiny cage.
And don't be too quick to leave your seats after the curtain call as a promise is—breathtakingly—delivered.
Reviewer: Karen Bussell