The Damned United
Anders Lustgarten from the David Peace novel
Red Ladder in association with Unity Theatre Liverpool
The Drum, Theatre Royal Plymouth
–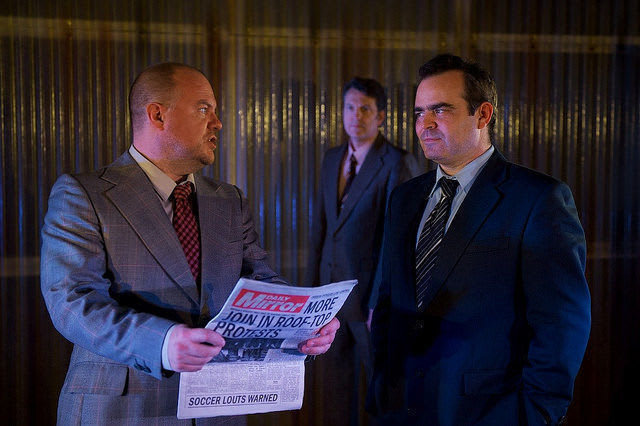 Adapted by Anders Lustgarten from David Peace's 2006 novel, Red Ladder Theatre's The Damned United is a concise portrait of mercurial Brian Clough and his ill-fated, short-lived tenure as Leeds United manager.
Interweaving Clough's meteoric rise from injured striker (251 league goals from 274 starts we are reminded) to footballing legend at Derby County with a hard-hitting, blow-by-blow account of his swallow dive to ignominy over 44 difficult days at United, there are few punches pulled as the ultimate own-goal is played out.
Luke Dickson carefully walks a fine line capturing the cadences of the belligerent Yorkshireman's speech, conveying his bullishness, his vulnerability and postures without straying into caricature. His absolute hatred of Don Revie sounds loud and clear as the motivation for leaving adulation at Derby to clean up the dirty tactics reputation of Leeds.
Flying the flag for "honesty and flair" in football, despising tyrant managers who bully their way to success by "sticking 10 men behind a ball", the arrogant Clough may command double the salary of the Archbishop of Canterbury but then, as he astutely points out, "the ground is full and the churches are empty".
Underplayed nuances and gestures subtly reveal the character of the man whose rollercoaster relationships with the fans, players, directors, the bottle and long-suffering sidekick Peter Taylor (David Chafer) are dissected. Taylor's loyalty is tested, Clough rides roughshod, using and abusing, but friendship prevails despite disparity in pay, heart attack and trips to Majorca.
Versatile Jamie Smelt dons a variety of hats and accents to play everyone else while players and directors are mannequins or vague shadows behind Nina Dunn's corrugated plastic backdrop onto which film of games, the terraces and interviews are intermittently projected.
There are a few moments of sympathy for the flawed and bullish protagonist, particularly when the toxic terraces chant invective after the death of his mother, but any sense of hubris is lost in the knowledge of the further accolades earned at Notts Forest.
An hour of incisive character analysis, a clever dual timeframe device but, I suspect, one really for die-hard football fans.
Reviewer: Karen Bussell