The Damned United
Anders Lustgarten, based on the novel by David Peace
Red Ladder Theatre Company and West Yorkshire Playhouse
West Yorkshire Playhouse, Leeds
–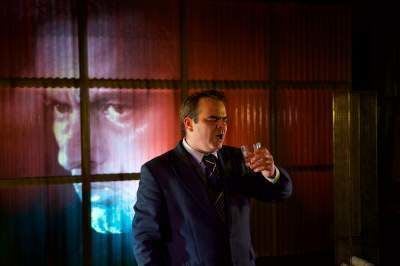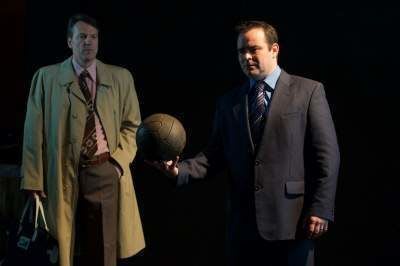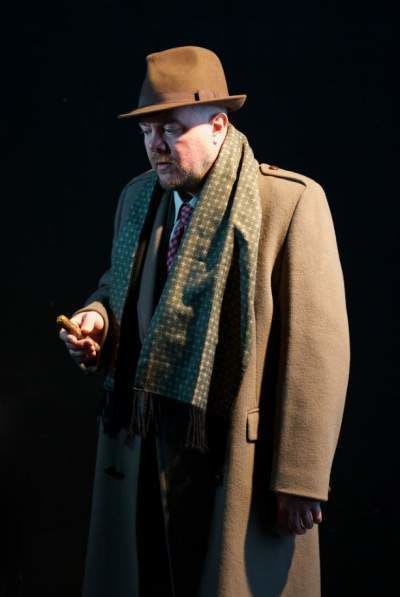 Adapted from David Peace's smash-hit novel from 2006, The Damned United mixes fact and supposition to explore the power dynamics of 1970s football—a time of big hair and even bigger egos.
Hailed as the "greatest manager England never had", Brian Clough was a footballing legend. In the 1971-72 season, he led Derby County to their first ever championship victory. In 1977-78, he did the same with Nottingham Forest. Both teams had been written off as no-hopers, but Clough inspired them to surpass everyone's wildest expectations.
However, The Damned United shows us a different side of Clough (Luke Dickson) by focusing on the bleakest period of his career: his 44-day tenure as manager of Leeds United Football Club. LUFC were the team to beat during the mid-seventies, but Clough—a stickler for good sportsmanship—was openly critical of their playing style and gamesmanship: they weren't known as "dirty Leeds" for nothing. He was also the arch-enemy of the team's manager, Don Revie.
When Clough replaced Revie in 1974, having slagged off the team for years, he struggled to win over the Leeds players, many of whom remained loyal to their former manager. The loss of his loyal sidekick and confidante, Peter Taylor (David Chafer), only added to his overwhelming sense of isolation.
Like the novel, playwright Anders Lustgarten interweaves Clough's downfall at Leeds with scenes from his golden period at Derby County, where he was a much-loved fan favourite. It's helpful to have some background knowledge of 1970s football, but not essential. For the most part, Lustgarten juggles the two time frames (Derby and Leeds) with finesse, and the production winds up being a compelling character study of a larger-than-life public figure.
Clough's bravado and chutzpah are the qualities that made him such an appealing and repellent character. This is the man who famously said, "I wouldn't say I was the best manager in the business. But I was in the top one." An adaptation of The Damned United will rise or fall on the quality of its Brian Clough, and this production is wonderfully served by Luke Dickson. I have little familiarity with the real Clough, so I can't attest to whether his performance is a good impersonation or not, but he is a magnetic presence on stage.
David Chafer's role as Peter Taylor is far less showy than Dickson's, but he offers an astute reading of a man who feels overlooked and under-appreciated. There's also good work from Jamie Smelt, who plays all the other characters in the play and skilfully delineates each of them. I particularly liked his performance as Leeds trainer Syd Owen, who delivers a damning verdict on Clough and his time at the helm of LUFC.
Nina Dunn's minimalist set design consists of a corrugated iron wall, which serves as a screen for various projections. The LUFC players are rendered as judgemental spectres, adding an interesting frisson of menace to the production. Dunn's projections lend another dimension to director Rod Dixon's tightly controlled production.
The Damned United is a lean, mean machine of a play that manages to chart Clough's rise and fall in a bladder-friendly 70 minutes. The fast pace gives the production energy and focus, but certain points of the play may have benefited from a slower, more reflective approach.
Reviewer: James Ballands