The Dance of Death
August Strindberg adapted by Rebecca Lenkiewicz
Arcola Theatre, Cambridge Arts Theatre, Royal & Derngate, Northampton, Oxford Playhouse and Theatre Royal Bath Productions
Arcola Theatre
–

Listing details and ticket info...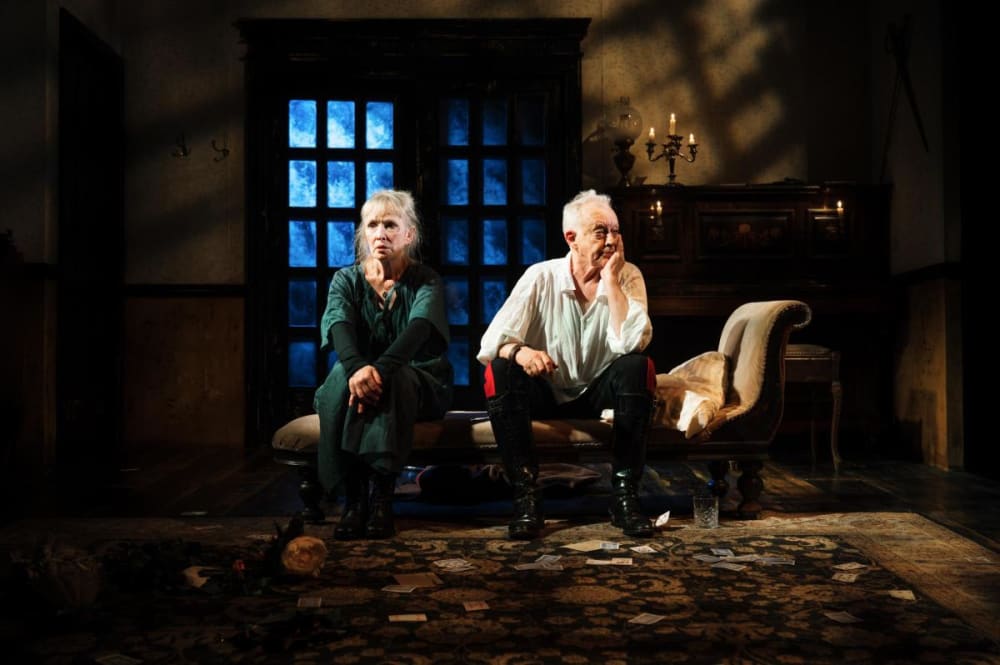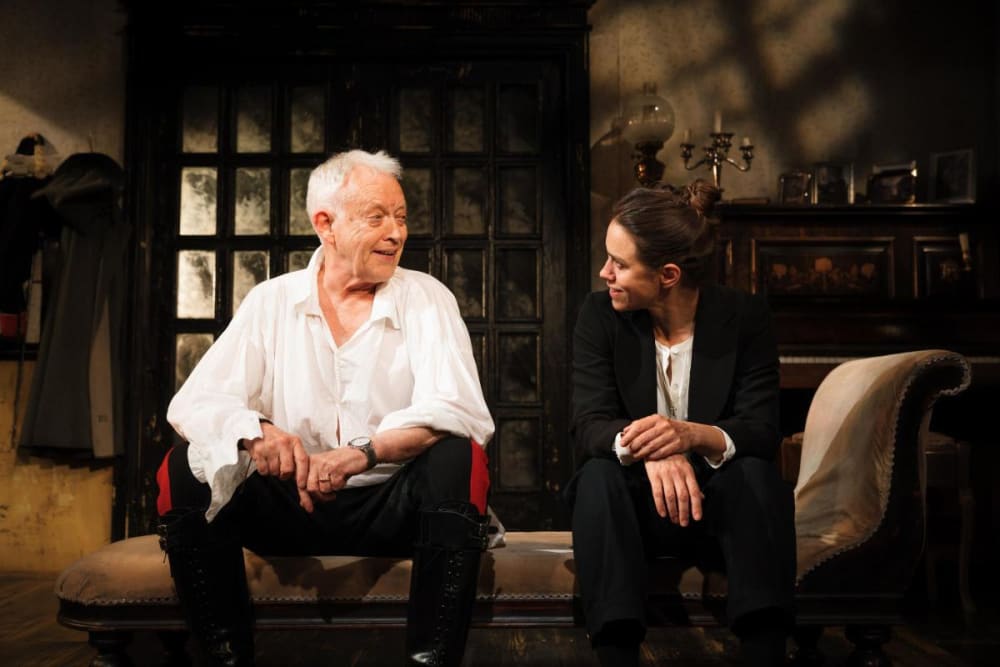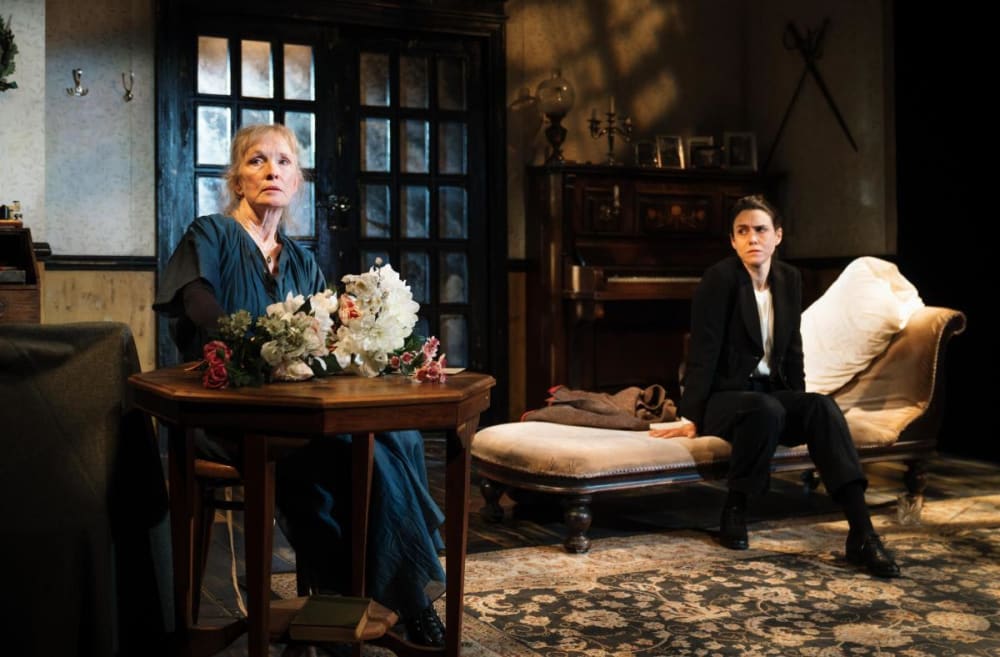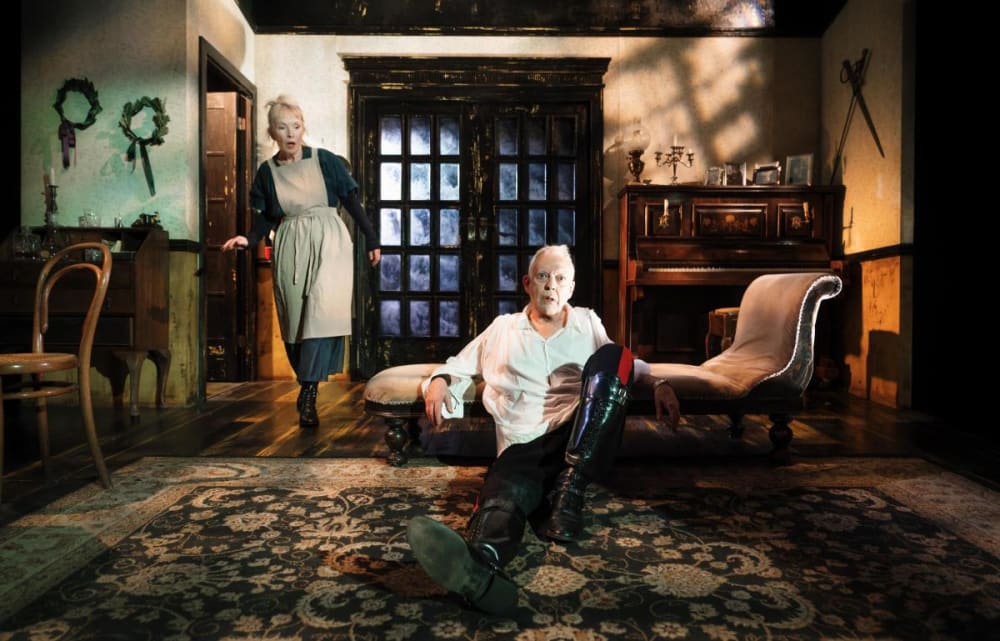 Edgar and Alice are trapped in a marriage, a marriage that once had its highlights but is now full of rancour. He is a military man, an army Captain stationed on a remote off-shore island where he is in charge of the garrison. She was an actress for whom it rankles that marriage brought an end to what she thought as going to be an acclaimed career on stage. But that was long ago, they are now coming up to its 30th anniversary.
They have driven their children away, lost their friends and alienated Edgar's superiors on the mainland so he won't get promoted and the artillery manuals he authored have long been superseded. While Edgar drinks with his subordinates and is polite to servants (according to Alice because he is terrified of them), she is bossy and rude. The play has hardly begun before she angrily tells their servant Jenny (Grainne Dromgoole) to go and not to come back; the girl follows instructions leaving them to cope without her.
Into an increasingly toxic situation comes Alice's cousin, Katrin (Emily Bruni); she is to be matron of a quarantine unit being set up on the island. At first, she is supportive without taking sides but begins an erotic relationship with Alice and realises Edgar had a role in her losing her children when she was divorced by her husband.
There have been a number of modern English versions of this play. This adaptation by Rebecca Lenkiewicz, commissioned by the Arcola, though set in period, uses today's language, including expletives, and has made a gender change: Katrin was Kurt in Strindberg's original. Perhaps this makes the loss of children more poignant, while a lesbian element (the physical expression of which Mehmet Ergen's direction seems to downplay) helps underline the opposition of the sexes in this particular domestic battle.
Edgar remains the Captain even at home: still in his boots and uniform trousers. Those boots help emphasis the strut that Hilton Macrae gives him, but his ammunition is now caustic comment and upsetting gameplay rather than physical violence. When is he telling the truth, when pretending? Is he really still fit or is he dying?
Lindsay Duncan shows us the exhausted desperation of a wife who has had enough, but though she may dream of life without him, hope when he collapses he really is dropping dead, you are aware that Edgar is all she's got.
The dance that the Captain performs gives the flavour of this production. Where Olivier, for instance, made this a flamboyant outburst of ego, Macrae makes it brief, very controlled and almost robotic. Though later he may wreck the room (the text has him throwing everything out of the window), this feel more like impotence than anger.
Strindberg's sardonic depiction of matrimony here seems more like slow torture than flying knives. He has often been labelled misogynist, but he doesn't take an obvious side here, in fact Alice may seem more hard done by. He's giving a warning rather than asking for empathy; it's a painful 90 minutes that could do with a few more laughs as it is starkly played out in contrast to the cosy domesticity of Grace Smart's setting.
Reviewer: Howard Loxton