The Dark
Nick Makoha
Fuel and Ovalhouse
Ovalhouse
–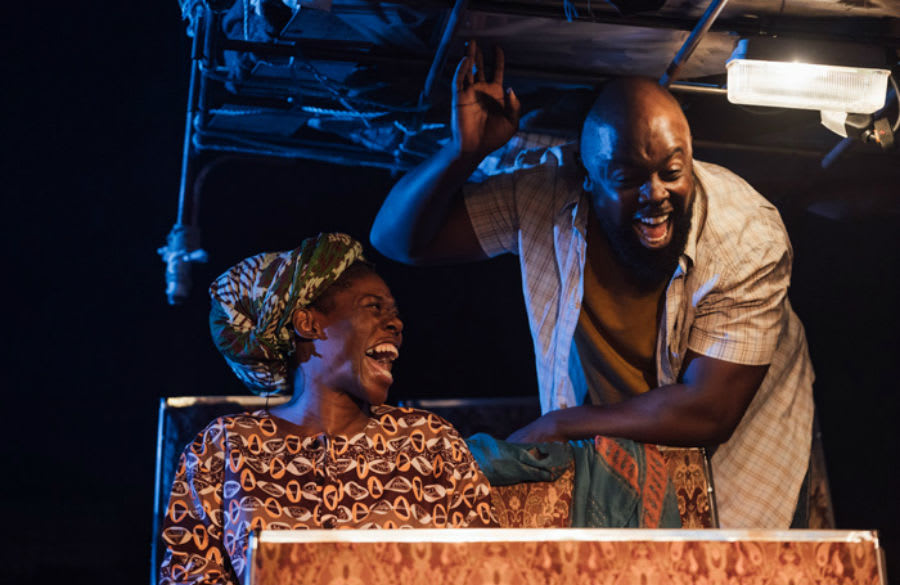 Uganda 1979 is a dangerous place to be as the regime of Idi Amin is being driven from power.
A woman climbs aboard a matatu, (minibus) hoping to get herself and her son to safety across the border. That scary journey by night, in Nick Makoha's play The Dark, is inspired by the writer's own experience as a child escaping the country with his mother.
The adult character Nick (Michael Balogun) opens the show from an office desk to one side of the stage. Above him on a screen is projected the time and location of the bus. To his left is the matatu, minus its sides, better to see the passengers. Above them, crammed into every space of the suspended roof, is their luggage.
Among the passengers is someone travelling to meet her future husband. Sitting next to her is "the pregnant biscuit lady".
Towards the back of the bus is a woman who has been secretly collecting evidence of atrocities and is simply moving to a different area.
En route, they are joined for a short stretch by Joyce, a local rebel activist who is impressed by how resourceful Nick's mother is in overcoming various obstacles to reach the border.
They face soldiers at a checkpoint deciding whether to confiscate the coach and while they are taking a short break, a child soldier suddenly steps out of the forest, gun in hand .
Akiya Henry and Michael Balogun give fine performances as they confidently play all the characters.
This tense, compassionate play makes you care what happens to the travellers and should be shown to all immigration officials as part of their training.
Reviewer: Keith Mckenna