The Dark Stone
Alberto Conejero
Stockwell Castle Productions and the Spanish Theatre Company
Cervantes Theatre, Southwark
–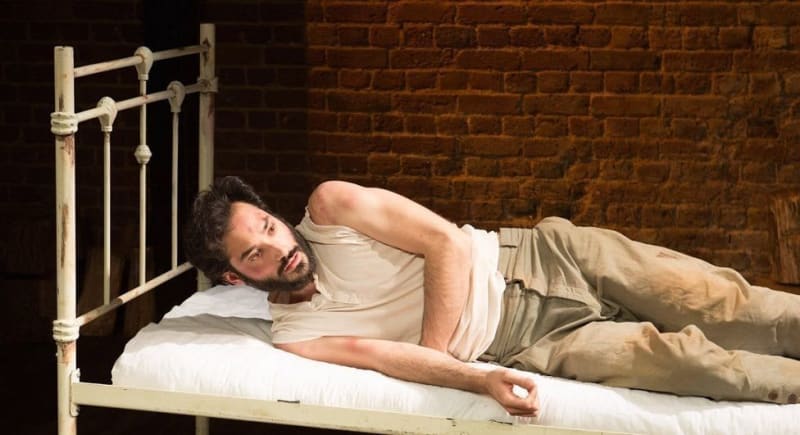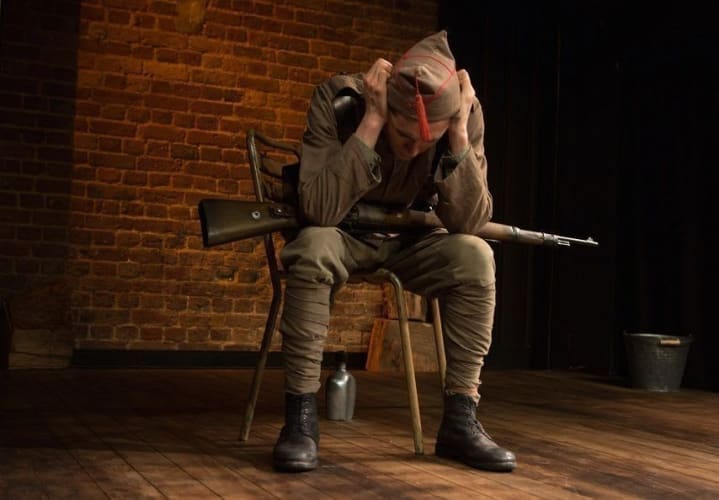 The seventeen-year-old soldier Sebastion (Santiago Del Fosco) sits in a darkened cell guarding the unconscious, bloodied prisoner Rafael (Jaime Menendez). It is his duty to report when he wakes so that interrogation can begin.
In a short monologue, he describes some recent harrowing events.
He had gone along with his mother and others to join a gathering in his village to celebrate the Italian planes that were flying overhead. According to local supporters of Franco in the Spanish Civil War, they were coming to help them. Instead, the villagers are sent running in terror as the planes drop bombs on the village. When he was found in the woods by Franco's soldiers, he was put in a uniform and told he is one of them.
The mood of the play is sombre and intense, emphasised by the grim austerity of a simple set consisting of bed and chair with the suggestion of light from a window on the bare wall at the back of the performance space.
He has been told not to speak to the prisoner but, when Rafael wakes bewildered and uncertain where he is, Sebastion finds himself drawn into conversation, especially when he hears that the prisoner was the secretary of a theatre company.
They are from very different backgrounds. The soldier supports Franco's side in the war and has never been outside his village. The prisoner supports the Republican government and is a man of the city and a close friend of the writer Federico García Lorca.
Both men are troubled and Rafael needs to talk about what is on his mind. There is something he needs to happen and he has only this limited time with a soldier to make that happen.
The situation depicted is believable but, despite the danger facing both characters, the play does not have the dramatic tension of ideas clashing or edge of the seat moments. Instead, it is simply a matter of the men edging towards revealing what is bothering them.
The actors give a confident convincing performance of a fluent text but the story itself seems too narrowly conceived.
Reviewer: Keith Mckenna