The Darkest Corners
Abbi Greenland and Helen Goalen (RashDash)
RashDash
Globe Road Car Park, Holbeck, Leeds
–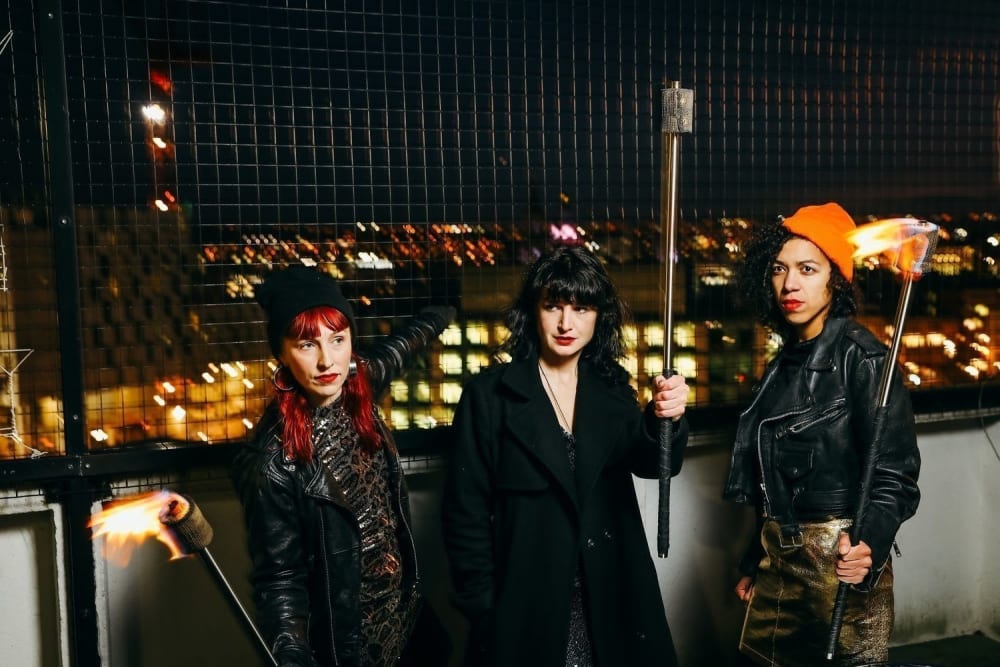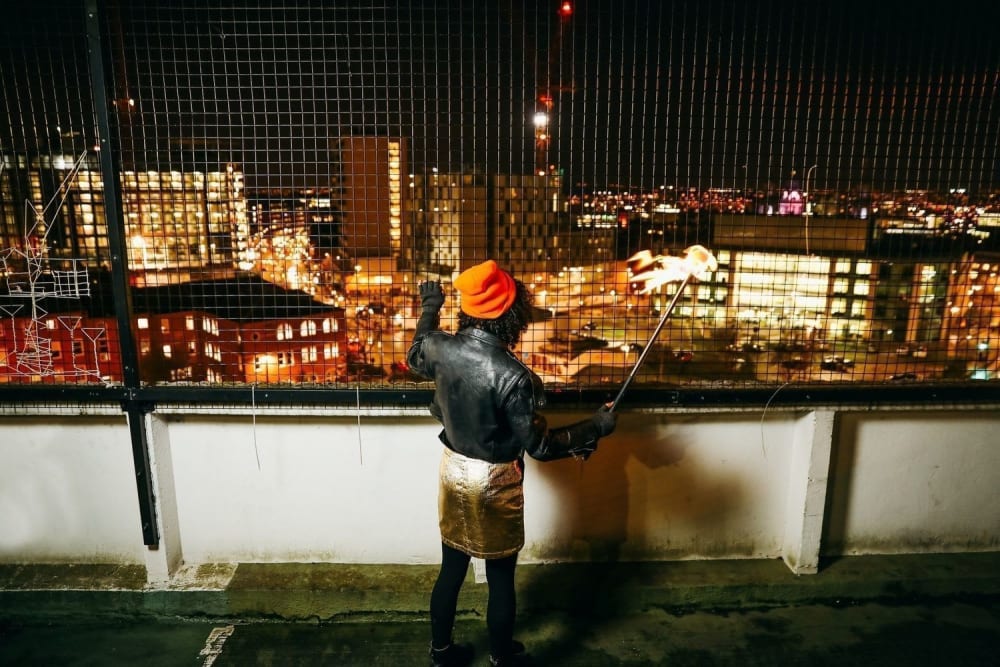 Early in RashDash's latest show, a question is posed in song form: "do you feel the fear?" In presenting the shadows and bogeymen which lurk in the corners of their minds when they feel at their most vulnerable, late at night and in the dark, these brilliant theatremakers present that fear in as joyful, raw and hopeful a way as might be imagined.
They have given themselves a much bigger canvas than, for instance, their recent studio piece Two Man Show, from which this is something of a logical progression—a sister show, perhaps. In fact, this is the largest stage on which they've ever worked: an empty car park in the Holbeck area of Leeds.
Onto this canvas they graffiti a vital, visceral, conflicted and urgent series of linked vignettes about the fears and dangers women face on a daily basis all around the world. It's a dizzying, challenging set of thoughts and scenarios, all backed by a combination of live band and atmospheric soundtrack, relayed via silent disco headphone technology.
So, while the performers—a powerful five-strong core ensemble plus band and special guests—are often far from the audience, their words and breath are brought intimately close to us. The headphone technology is not a mere gimmick, nor simply a technical solution to the size of the playing space: in a piece about anxieties and the inner monologues people run through as they are out late at night, it's a snugly fitting and elegant form.
It also allows us to enjoy at close quarters a remarkably strong, and varied, collection of songs. With RashDash, you never know exactly what format you're going to get; past shows have been like gigs, or even, in Two Man Show, an exploded essay on male-female relations. For me, The Darkest Corners is most like a concept album, and a brilliant one at that.
The topic of the show is provocative and difficult to talk about, as RashDash founders Abbi Greenland and Helen Goalen state openly from the start. They want to talk about violence. Violence by men. Violence by men on—violence against—women. The kind of attack that you hear about on the news, that your mother might have warned you of.
But they don't wish to incite the kind of prurient, scarifying rubber-necking which usually accompanies such stories, especially in the media. They want to kick it all down and start again, men and women shoulder to shoulder and supporting each other. Why can't we all walk through the city at night without fear of random attacks? Where do those fears come from and how can we make them go away? How can we interrogate them without reinforcing the cultural memes that fuel them?
If that sounds heavy-handed or worthy, RashDash are ahead of you: it's anything but. Along the way, we get gleeful shadow dance, capoeira-esque movement sequences, tongue-twisting monologue delivered with sure-footed ease, and even a choreographed routine performed by sudden neon furries. At times it's like being in the anxious inner world of a woman just trying to navigate herself home at night; at others it's like watching the most fun pop video ever, created live (music and all) in front of our eyes.
Regular RashDash collaborator Becky Wilkie again provides musical direction and composition, and her soundtrack is something I would happily listen to on repeat. Weaving complex, often impressionistic and poetic lyrics together with poppy, punky or classical tunes and arrangements, she has a Björk-like ear for complex but catchy melody lines and trilling elongated vowels.
Wilkie is joined by Christella Litras and Cherie Johnson in the band, bashing percussion and switching between keys and guitars to suit the chameleonic range of musical genres on offer. Greenland and Goalen contribute ever more beautiful and intricately intertwined vocals, with often spine-tingling harmonies.
Katharine Williams's lighting design is similarly inventive and effective, linking fixed floodlights with handheld spots and even a line-up of cars in the ominous shadows, to cast light into these darkest corners. And Oliver Townsend's design scales beautifully to the wide open space of the car park.
The rest of the cast is headed up by Madeline Shann as the central female figure trying to find her way home, the constant victim (of both her own terrors and their grim, inevitable, and sensitively portrayed realisation). Alongside her, Jami Quarrell and Reuben Johnson perform as a plethora of all-too recognisable—by no means always antagonistic—male figures, embodying the fears, hopes, myths that are peddled about men and what they might do to women.
This exploration and interrogation of violence and fear walks a fine and troubled line. But one thing you do know you'll get from RashDash is an intelligent, compassionate, probing and self-confessedly open-ended piece of theatre which will live in the memory long after the album's spun out. Don't miss its sadly short run.
Listen to Abbi Greenland and Helen Goalen of RashDash speak about their work and the process of making The Darkest Corners in the British Theatre Guide podcast.
Reviewer: Mark Smith