The Deep Blue Sea
Terence Rattigan
National Theatre
National Theatre Live
–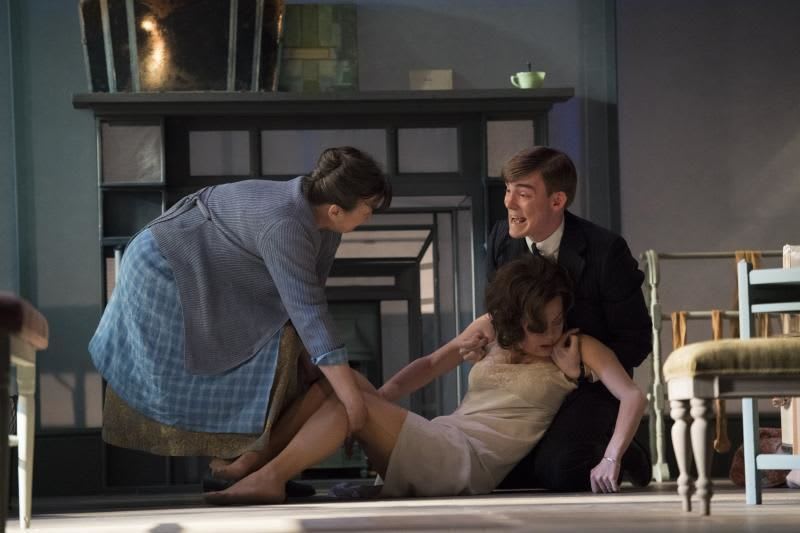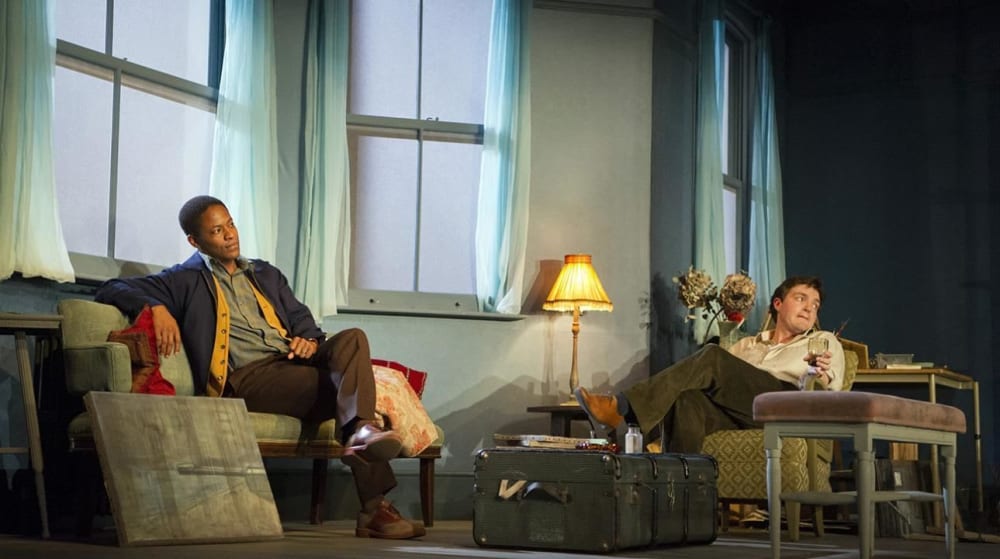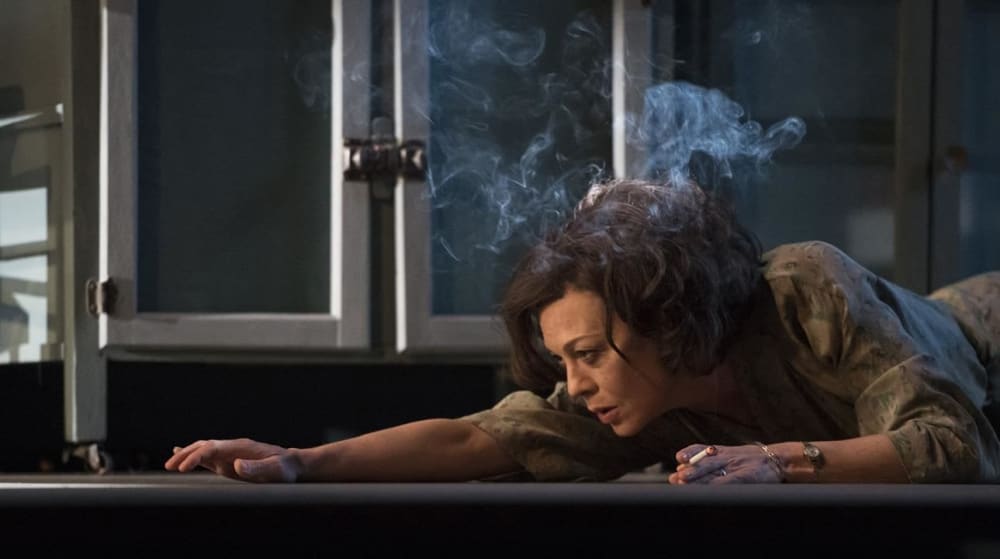 Rattigan's beautifully written play is set in a seedy flat in Ladbroke Grove in 1952, the year it was first produced, and when that was a rundown part of London. Tom Schutt's set for this 2016 production by Carrie Cracknell gives us a whole house divided into flats and bedsits, very different from the upper-crust Eton Square home Hester Collyer used to live in not much more than a year ago. But here she is not Mrs Collyer but Mrs Page, living with former Battle of Britain fighter pilot Freddy Page, a test-pilot post-war until he lost his nerve.
We first see Hester under a quilt in front of a gas fire where she is found by her landlady and neighbours. She'd be dead if the gas hadn't run out. This is the story of what drove her to suicide and its continuing trauma. It is a penetrating look at relationships, at love's depths and inequalities, when, as Freddy puts it, "A loves B but B doesn't love A in the same way. He wants to but it is not in his nature."
It is a situation most of us know at sometime in our lives and one we see here not just with Hester and Freddy but Hester and Bill, her upper class husband, a knight and High Court Judge, and her neighbours.
The set fills the Lyttleton stage with the whole house, gauze walls let us glimpse other residents moving through the rest of the house and the pages when they move go to another room. It's a reminder of how isolated you can feel despite the nearness of others but makes for an unrealistically large flat. Here the video makes this less obvious as it focuses on performances that are brutally honest.
Helen McCrory's Hester is precisely the polite clergyman's daughter now overcome by an attraction and a need that she can't control. That makes her desperate. "What has happened to you?" Sir William asks her. "Love, Bill. That's all."
Sir William isn't a monster, just brought up with establishment values. Their marriage wasn't unhappy and Peter Sullivan makes him seem very human, hiding his own hurt, though when being most serious he can't stop himself sounding as though he is giving a judgement. There is a moment when he embraces Hester and you see how good their marriage was and what it still could be.
Freddie also cares but he has been marked by 1940, is stuck in that mindset. Nick Fletcher doesn't present him as a sex object; his charm and his vulnerability are part of Freddy's attraction but he can't cope: "I hate getting tangled up in other people's emotions," he tells his old RAF mate Jackie Jackson (Adetomiwa Edun).
Mr Miller, a former doctor but struck off the register for an unnamed misdemeanour and survivor of wartime internment on the Isle of Man as an alien, provides discreet medical help and a calm voice of detached reason, but Nick Fletcher's performance makes you feel his understanding comes from experience: "to love with your eyes open," he tells Hester, "can make life very difficult."
Carrie Cracknell's direction draws out fine detail; these people seem as perfectly in period as the Craven A cigarettes that Hester is smoking. Hubert Burton and Yolanda Kettle as neighbours Philip and Ann Welch may be less affluent but are full of their respectability (she carefully telling him not to mention he works at the Home Office when he phones Sir William), and it isn't just the upper classes and bourgeois that Rattigan observes so well. His landlady isn't the cliché of the mid-century West End and Marion Bailey is able to make her a flesh and blood character.
As is well known, Rattigan drew on his own life in writing this play and here is well served by a sensitive production with a stunning central performance along with a fine cast. This is a great chance to see a fine play.
Reviewer: Howard Loxton