The Deep Blue Sea
Terence Rattigan
The Watermill Theatre Company
Watermill Theatre Newbury
–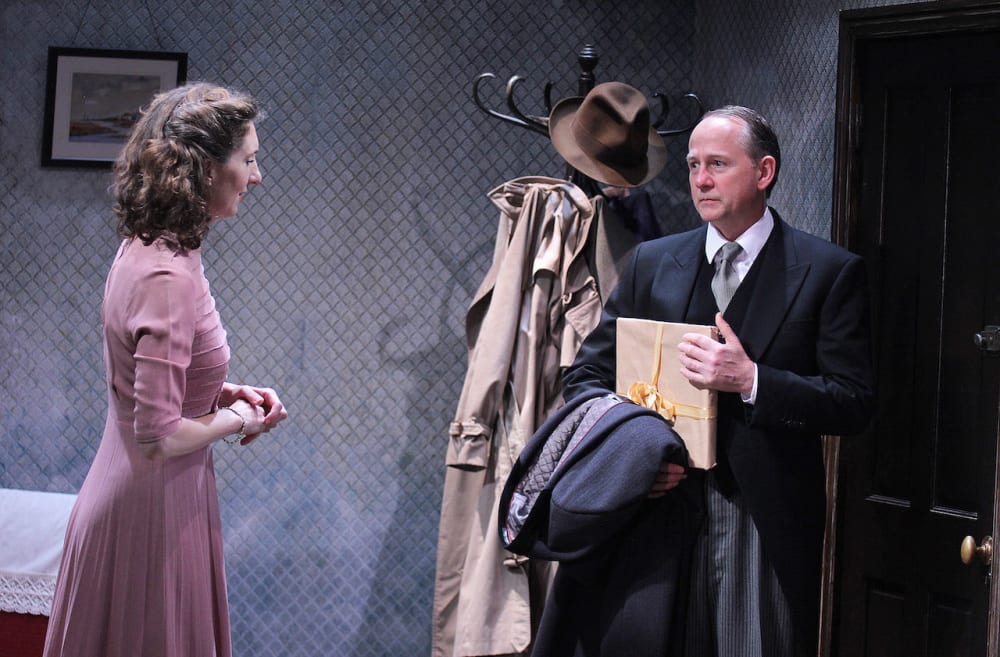 Terrance Rattigan's The Deep Blue Sea, written in 1952, is a sensitive and compelling exploration of human relationships. In this impeccable production from The Watermill Theatre, skilfully directed by Douglas Rintoul, the very core of the meaning of love and marriage is exposed.
The play dramatically begins with a young woman, Hester, slumped over a gas fire in a dingy Notting Hill flat attempting to commit suicide although she hasn't fed the gas meter so the gas runs out.
She is found by her homely, concerned landlady, Mrs Elton, delightfully played by Eliza Hunt.
It is widely believed that Rattigan based Hester on his lover Kenneth Morgan who killed himself by the same method in a time when homosexuality was illegal and so he switched the gender.
Hester, superbly played by Hattie Ladbury, is a passionate woman who is desperate to seek a divorce from her serious-minded, stiff upper-lipped husband, Sir William Collyer, a highly regarded Judge, resolutely portrayed by Adam Kotz.
She has fallen in love with the flamboyant, handsome ex-RAF WWII fighter pilot Freddie, splendidly depicted by Adam Jackson-Smith, and has left the comfort of her marital home to passionately live with him.
But all is not going well with their relationship as Freddie's addiction to alcohol and his fiery spirit to furrow his own pathway following the war leads to insurmountable tensions between them, especially when he forgets her birthday.
He is desperate to escape from their relationship and finds a new job as a test pilot in South America. In a tense, dramatic scene, he informs Hester of his decision much to her torment and angst, made worse by visits to her from Collyer.
You can't help but feel sympathy for the loving Hester who desperately clings to a future with Freddie.
James Hillier plays the mysterious Doctor Miller who appears to have been struck off the medical register and spent some time in prison, but still volunteers to help in a children's hospital and is the first to assist Hester, bringing some sense of reason to Hester's plight.
There is sterling support from Adam Best as Freddie's wartime pal and the upstairs neighbours Fred Lancaster (Philip Welch) and his young wife Ann (Bathsheba Piepe).
With designer James Turner's superbly detailed period set and impressive lighting by Tim Lutkin together with an emotive jazz soundscape designed by Helen Atkinson, this is an excellent revival of a classic play that should not be missed.
Reviewer: Robin Strapp