The Department of Distractions
Alexander Kelly, Stacey Sampson and the Third Angel Company
Crucible Studio
–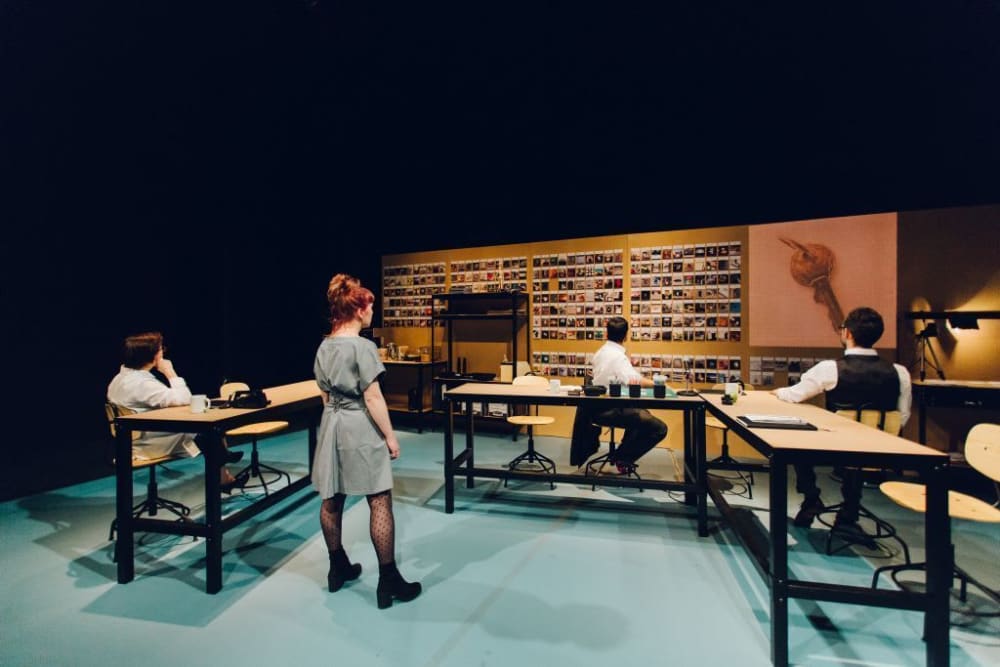 The 'Department of Distraction' is a 'clandestine organisation' in an Orwellian world.
The purpose of the institution is to ensure that the public is sufficiently distracted by compelling stories in the news, TV or social media as to have no inclination to dwell on more serious and distressing news about government interventions or personal suffering.
The play was devised by Third Angel Company in co-production with Northern Stage with credits to Alexander Kelly and Stacey Sampson for text development and dramaturgy and directed by Alexander Kelly and Rachael Walton.
The action takes place in an unimpressive office where a new employee, Daphne (Stacey Sampson), has been fast-tracked from work as a reader of traffic information to join a small team involved in the dissemination of information.
As the short play develops, Daphne becomes increasingly uncertain about how to distinguish between Truth and Lies so seeks out a Professor of Beauty and Truth (Nick Chambers) to further her education.
In the final section of the play, Daphne assumes the role of Laura and we watch as her colleagues develop Laura's story. She has disappeared. Why? Could she have died? Could she have killed her boyfriend? Did her boyfriend die? The story could go in any direction because it's an invention. Meanwhile Daphne (or Laura) is becoming increasingly uncertain of her identity.
The four actors present a world which is not unfamiliar to us at the present time. There is a lot to listen to and sometimes sequences in the text are lost through inadequate vocal projection.
On the other hand, there is effective use of visual projections which provide interest and add variety and occasional humour. Similarly, sound effects help to illustrate the wordier passages. I was particularly impressed by an innovative stage convention where the audience was persuaded that an actor leaning on a wall was in fact lying on the floor. All part of the smoke and mirrors that the play was dealing with.
Reviewer: Velda Harris