The Devil's Passion or Easter in Hell
Justin Butcher
Passion Pit Theatre UK
Crypt on the Green
–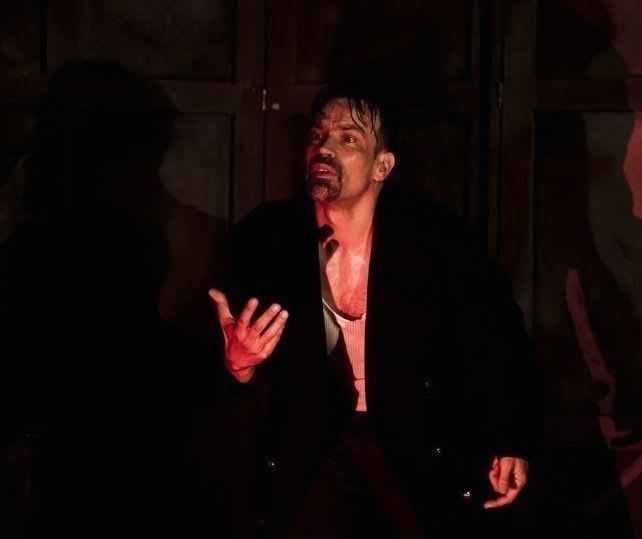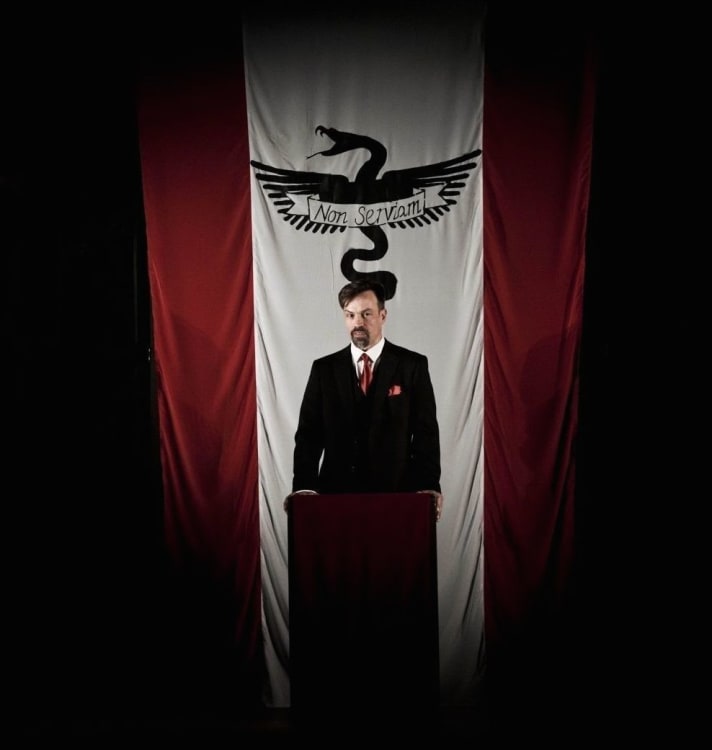 An orator stands at a red-draped lectern in front of a banner inscribed with a black on white symbol of a winged serpent and the Latin motto "non serviam" (I will not serve). It is an expression that has been used by radical political and cultural groups who rebel against established authority or belief but 20th-century experience links the colours and style with Fascism and Nazi rallies: it is a warning. It was also the phrase with which Archangel Lucifer is said to have rebelled against God.
This is the Devil addressing us but not with the hysteric, harsh voice of Hitler and his demagoguery. Satan seems wonderfully reasonable and progressive as he describes a situation in the Middle East that sounds very contemporary: an occupied country where self-determination, fundamentalism and increased emphasis on religion are causing unrest.
"We stand at a crossroads in history," he says, "facing extremism and fanatical ideology. We in the Free World must stand firm against the onslaught." He goes on with the reassurance that the anti-terrorist organisation has things under control and an operation this very night will see their net close on the radical leader.
Shedding his smart suit, the Devil then outlines what has been discovered by the intelligence service about the life of this dangerous terrorist from the time his mother, a girl in the occupied territories, became pregnant, through his radicalisation until the latest developments since his recent arrival in Jerusalem are reported even as they are happening.
It follows the story as told in the New Testament Gospels recounted with some excitement, almost as though the Devil were on the side of Jesus, but then pointing out how he undermines stability and, with his outrageous behaviour in the Temple, a trap has been set to secure his removal.
It is a vivid piece of storytelling in which Butcher plays multiple characters as part of the narrative. There are moments in the first half when the pace needs more variety and attention slips, but as the characterisations are more strongly marked by modifications to costume and greater variation in voice quality this becomes increasingly powerful.
He points out the terrorists' conscious tactic of "ostentatious humility" as he rides on a donkey and tries to exert influence over him. Now begins a battle between them until it becomes clear that this is no terrorist bomber but a sacrificial suicide.
For the committed Christian, this will be a visceral version of the Christ story in which, as Butcher suggests in a programme note, Easter is not about the death of the Son as a form of atonement but rather the time when the Devil is defeated and people offered released from the hell that they live in.
For the non-Christian, it is a version free of self-conscious piety that is dramatically presented in a bravura performance that draws interesting parallels between biblical Palestine and today's situation.
Reviewer: Howard Loxton