The Devil's Passion
Justin Butcher
The Crypt of The Priory Church of the Order of St John
–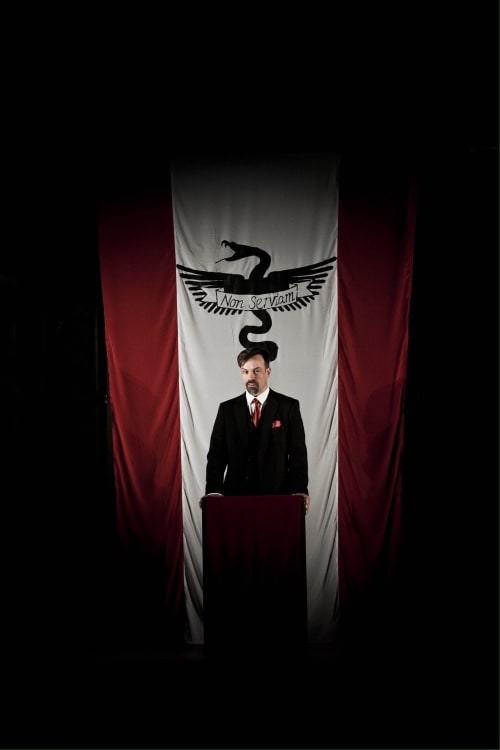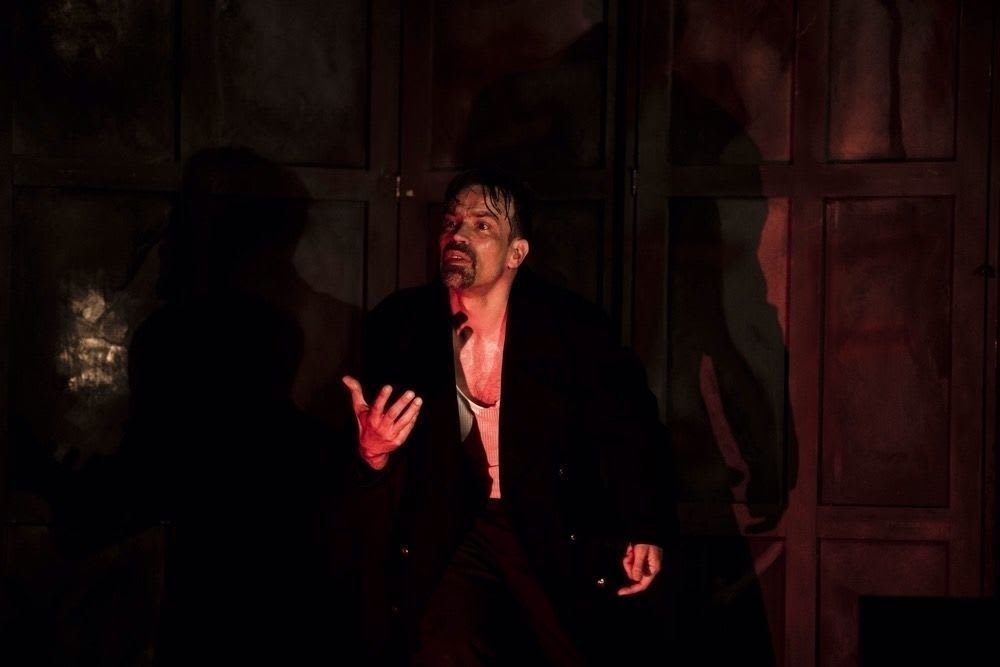 A man in a black suit stands at a podium. Behind him hangs a flag. The emblem is disturbing and unfamiliar. However the short speech he makes about security and terrorism to a gathering of the world's media is all too familiar.
This is the opening to Justin Butcher's play The Devil's Passion. The speaker is the Devil (Justin Butcher) and the purpose of his statement at the podium is a very particular security problem.
In an authoritative voice, using the Imperial language of freedom and democracy versus the backwardness of the Middle East, the Devil tells us that after three years of intelligence gathering they are now planning a counterintelligence sting in which they will capture or kill the target of the radical preacher Jesus.
Justin Butcher's clear and often poetic monologue tells the story of Jesus but with a very precise and contemporary relevance.
The empire the Devil is defending is threatened by the increasing 'radicalisation' of those who come into contact with Jesus.
The media conference over, the Devil tells us less formally the story of Jesus from his birth to "a school girl in the occupied territories". He describes the temptations placed in his way and of their failure to stop his suicide path that he was going to use as an act of terrorism against the system.
It is a riveting, witty performance with a fine attention to detail directed by Guy Masterson. We may have heard the various elements of the story before but Justin Butcher makes them seem fresh, and occasionally funny. Jesus entering Jerusalem on a donkey is described as "ostentatiously humble as always".
An ominous and disturbing tension to much of the story is shaped and emphasised by the tight low underscoring of Jack C Arnold's soundscape.
There are moments when the Devil is a little surprised about the effectiveness of the radicalisation process even in difficult circumstances.
He gives the example of Zaccheus, the hated collaborator with the occupation forces, who has grown rich taking tax from local people.
When Jesus decides to stay with Zaccheus, the Devil talks about the way this might have discredited him as a radical preacher. Instead it is Zaccheus who is radicalised, giving away half his possessions to the poor.
Even in the final moments of making the ultimate sacrifice of death, Jesus cannot be deflected by the Devil's argument about how the death will later be transformed into something much safer and in many ways the opposite of what he has stood for.
Justin Butcher's powerful monologue about the dangerous terrorist Jesus who helped to undermine a huge empire by radicalising millions does not mean that people in today's Middle East are going to defeat the empires of the West. But it does remind us that it can sometimes take more than massive military superiority to defeat a radical idea.
Reviewer: Keith Mckenna