The Dirty Talk
Michael Puzzo
Royal Row
Jermyn Street Theatre
–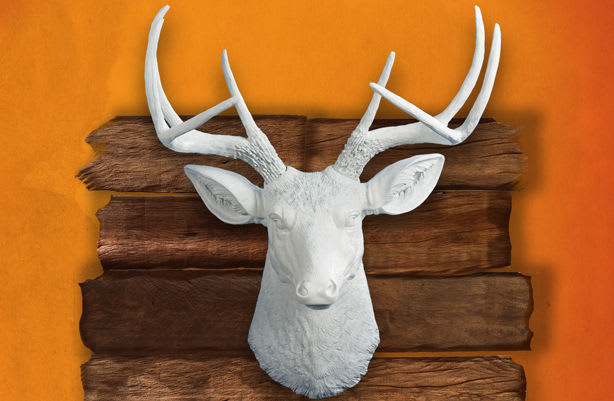 After five years together, Mitch's girlfriend had had enough and she split. He let her have their apartment so he's moved into his dad's hunting cabin in the New Jersey mountains. He has arranged an assignation there with someone he met on an Internet sex site, a big-busted blonde whose chat gave him the best orgasm ever.
So who is this rather camp young man with his backpack and Fair Isle, bobbled beanie hat? Mitch must have just arrived and let him in, now he himself comes in drenched. It's raining torrents outside. Mitch had to drive with dodgy wipers, now he's ripped them off in a rage, discovered the engine is flooded and found this guy waiting, who's arrival it seems has unnerved him.
On the Internet, you can be whom you like, or be what another person wants, as Lino, the young man, reminds Mitch. Lino doesn't really have breasts the size of Baltimore but then Mitch isn't hung like Godzilla either. Lino's been here before, he can handle it. Mitch can't. Even his umbrella is useless and he tries to snap it in two, as he'd quite like to do to this fella who's a threat.
Puzzo exploits this situation, the men trapped by the weather and a broken down 'phone line, for frisson as well as for farce. There are home truths behind those Internet lies and some deeper digging behind the edgy comedy.
The gay guy who lives above his sister's garage doesn't think he's "hot" enough to compete on the scene but he can handle his life while Mitch, after five years of being over-compliant in a partnership, admits he now doesn't know how to be single.
The deer heads on the wall bring up past conflicts with Mitch's macho father who made him hunt (that too had comic consequences) and the play seems about to get into much deeper water when, after less than an hour, at a particularly tantalising moment, Puzzo brings an arbitrary end to it.
There is nothing director Charlotte Westenra can do about that, but she draws lively performances from Nicholas Hammond as Lino and James Sindall as Mitch. Perhaps Hammond is a little too good looking for Lino but he gets the edgy awareness of someone adept at dealing with dodgy situations and, though Mitch may be destructively angry, Sindall makes it clear it is really himself he's annoyed with.
Both these men are having to deal with aloneness and one cold wish that that the play took its exploration of how to deal with it much further—but then it might have stopped being funny.
Reviewer: Howard Loxton