The Doctor
Robert Icke, very freely adapted from Arthur Schnitzler's Professor Bernhardi
Ambassador Theatre Group Productions and Almeida Theatre, Gavin Kalin Productions, Wessex Grove, Dawn Smalberg and Richard Winkler Theatre Royal Bath
Duke of York's Theatre
–

Listing details and ticket info...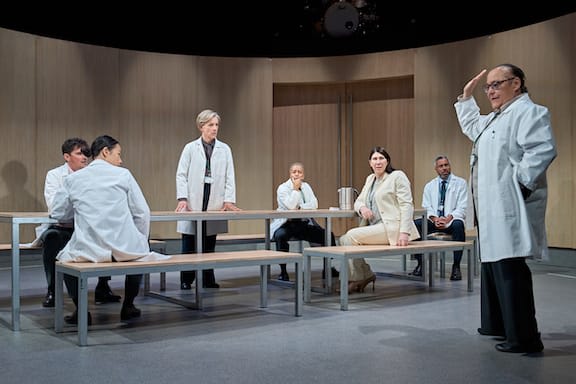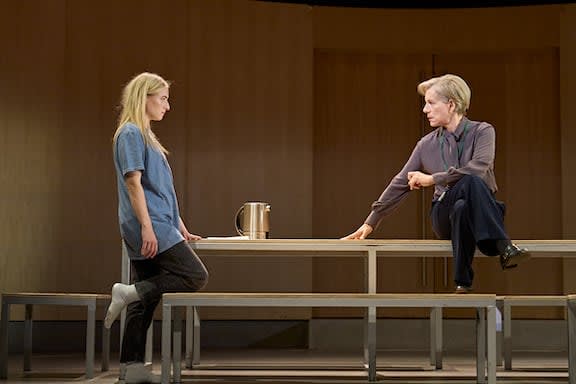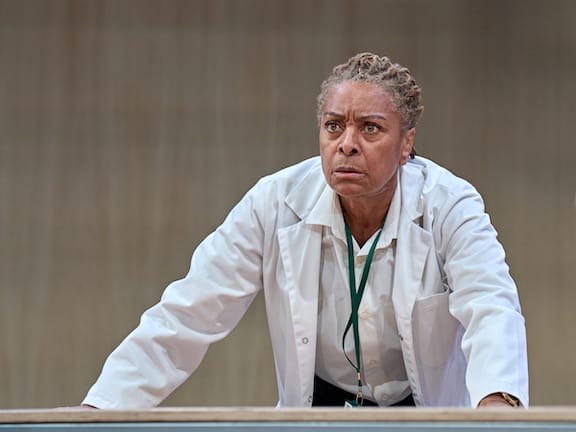 This production, first seen at the Almeida in 2019 before COVID and now in the West End with some cast changes, takes the core plot of Schnitzler's 1912 drama Professor Bernhardi (which was banned by the Austrian censor) to create a play very relevant to our own time. At the centre of both is a the refusal of the director of a medical institute to allow a Catholic priest access to a girl dying of sepsis following her attempt at self-abortion and the repercussions when that becomes public knowledge.
There is the obvious confrontation between religious and scientific values, and Professor Ruth Wolff (Icke makes his doctor female) is a staunch upholder of medical ethics, but in this updating, identity politics play an important part.
That aspect is emphasised by the casting. It isn't gender and colour blind but often deliberately casts opposite race and gender. That becomes apparent as the play progresses when, for instance, you hear the priest played by a white actor referred to as a black man. Ethnicity, gender, sexual orientation or religious faith are revealed only when they become part of the argument. That bold decision makes its point very effectively.
Juliet Stevenson sustains a thrilling performance as Ruth Wolff, on stage for nearly three hours. There is pride, even arrogance in this doctor's determination; she may be intolerant and pedantic (correcting 'who' when it should be 'whom') but she is a respected practitioner passionate in her beliefs. We feel the effort as she contains her anger; we see the frustration behind the apparent control as she faces a media interrogation on TV by a panel of opponents, her back to the audience but her face projected huge on the set wall.
We get a glimpse of her private life with her lover, played very tenderly by Juliet Garricks. They are called Charlie but their gender isn't specified and they may be dead, just a memory, as they try to get her to relax and just dance. There's a relationship too with teenage Sami (Matilda Tucker) who calls her mum (though that seems not true) and feels let down.
Professor Wolff's institute appears to have a special line in Alzheimer's research. They are about to get the funding for a new building, so this is the worst possible time to have their image damaged by a scandal. Should she apologise to the religionists as some other colleagues suggest, led by her deputy Hardiman, who had tried to intervene and take over the case, formidably played by Naomi Wirthner. The Health Minister (Preeya Kalidas), a former junior colleague who respects Wolff, seemed supportive until things become public, but now abandons her.
There is a new appointment to make to a senior medical post. The top contenders are a Jewish woman and a black man. Institute PR (Mariah Louca) wants the black doctor to aid its image because critics have pointed out that most of its staff are female and Jewish. Professor Wolff insists the woman is better qualified. Supporters are Cyprian (Doña Croll) and Copley (Chris Osikanlu Colquhoun), who delivers a well-reasoned speech about identity.
John Mackay plays both the priest and the dying patient's father, the priest father so insistent that Wolff gets accused of assaulting him, the biological father breaking in in full fury. After the witch hunt has concluded, the priest will offer a kind of reconciliation.
The argument moves on as the furniture on the set very slowly turns on a revolve, high above the set, drummer Hannah Ledwidge underscores the tension; when things become violent, the action is frozen momentarily. This is a production that holds the attention drawing fine performances from the whole cast with Juliet Stevenson its vibrant centre, whether tense with her back to us or rushing round the stage like a mad thing when the strain gets to her. It develops Schnitzler's study of anti-semitism into a play that also embraces other urgent contemporary issues.
Reviewer: Howard Loxton