The Dog Walker
Paul Minx
Jermyn Street Theatre production
Jermyn Street Theatre
–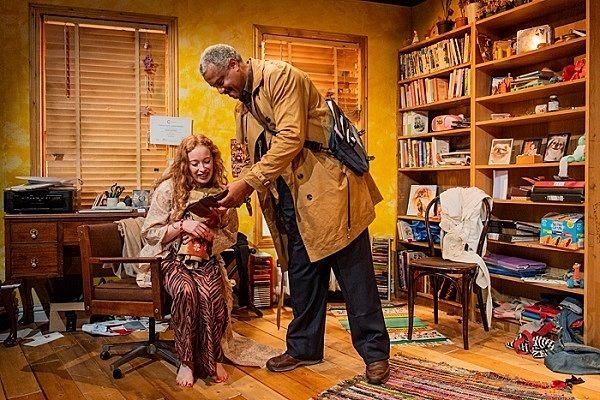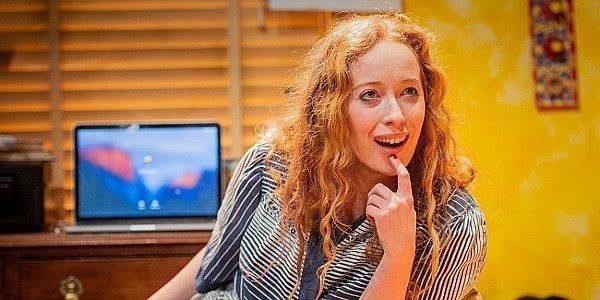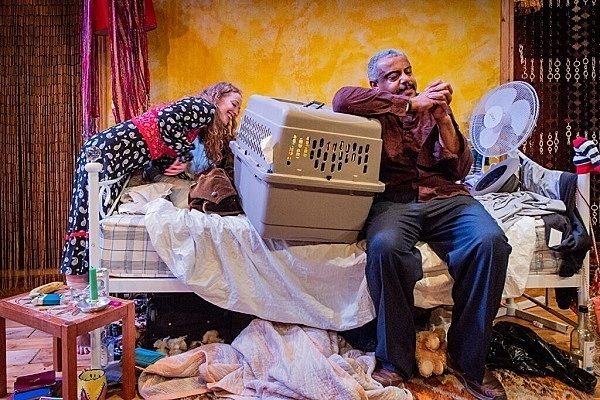 Paul Minx's new play, The Dog Walker, currently showing at the Jermyn Street Theatre (directed by Harry Burton), might have been titled The Odd Couple. What are Keri Levin—a bookish, bereaved, self-loathing agoraphobic—and Herbert Winston Doakes—a pedantic, alcoholic, Caribbean Bible-basher—doing in the same New York apartment?
One might assume they are brought together by the dog that needs walking. Except that there is no dog. Keri's Pekingese, Wolfgang Amadeus Mozart—a bitch, of course—has snuffled off to dog heaven two days before the arrival of Doakes, who's been summoned for walkie duties by the needy and neurotic Keri, whom he describes as a 'pariah' of the dog-walking community.
Wolfy is now just a ball of scruffy fur bundled in a smelly blanket which Keri clutches to her chest. The only barking is of the mad variety as Keri gets down on all-fours and waggles her posterior to welcome the officious Doakes into her unkempt abode.
The improbabilities of the 'relationship' between the unlikely pair over the next three acts are hard to put aside. Keri has suffered a tragic loss, courtesy of US gun culture and, she believes, her own failure of care. She's so traumatised by grief that she can't leave her apartment. Yet, she leaves her front door unlocked so that Herbert can come strolling in as and when he pleases.
Her only contact with the human race comes via the windowsill onto which she climbs—wearing a grubby, torn housecoat, ouzo bottle in hand—to yell at her neighbour in the street below. And, to her mother who calls by each day with a casserole (both unseen roles taken by Debora Weston), her ever-more complex culinary creations serving as a substitute for emotional sustenance. Implausibly, Keri writes award-winning self-help books and saves others marriages, even though she can't save herself.
Herbert takes bureaucratic officialdom, Christian self-righteousness and rum drinking to equal extremes. He's scored 4.8 out of 5 in the City Empathy Test, he tells us. He's desperate not to have a second dog die on his patch: that way spells professional doom. He's also emotionally constipated, and reappears in act 2 desperately pleading with Keri to show him how to touch a woman so that he can win back his wife Julia who bolted eight years earlier, lured by the corpulent allure of bus-driver colleague Stanley.
Herbert seems to have internalised colonial contempt and sometimes the stereotyping strays too close to 1970s sitcom. He professes himself to be a poet and a "gentle man" but when Keri's letter of complaint about his second unsolicited visit results in the termination of his employment, Herbert morphs into a drunken aggressor. Any sympathy we may have had for this "loser" drains away as quickly as the liquor he slurps.
Isabella van Braeckel's set looks like a domestic variant of Tracy Emin's bed—even the condoms make an appearance, blown into balloons which festoon Keri's 'Welcome Home' banner for her dead daughter. Keri's apartment is a filthy mess: a tumbledown jumble of hard-bound tomes, children's toys, dying pot plants, ouzo bottles, ashtrays, pill packets and dirty clothes. There's a baseball bat under the pillow. Psychological trauma made manifest.
Victoria Yeates really captures Keri's intellectual and self-flagellating sharpness. It's painful to watch at times, but there's a fine progression from cynicism to despair, without the wit ever losing its edge. Andrew Dennis has a harder task as Herbert Doakes, whose pompous piety and infantile neediness become wearying. His repeated "Mummy says …" is not funny.
There are some witty one-liners but not enough, and they're all in the first ten minutes. At times we seem to be in an Ayckbourn farce but without the ache of compassion, as when the expired Wolfgang is given CPR, or Herbert woos Keri with frozen portions of his mother's goat curry—she slaughtered the goat herself, of course.
But, there is pathos too. Keri's recollection of the abrasive last words she exchanged with her daughter, Marta, and Herbert's account of the cry of the bus passengers when his wife, Julia, serves up the divorce papers on public transport—"Sign it! Sign it!"—do bring a lump to the throat.
I wasn't disengaged from their suffering. I just couldn't really believe in it, or them. By the end, I could have done with a glass of that ouzo …
Reviewer: Claire Seymour