The Domino Heart
Matthew Edison
First Sight in Association with Neil MacPherson for the Finborough Theatre
Finborough Theatre
–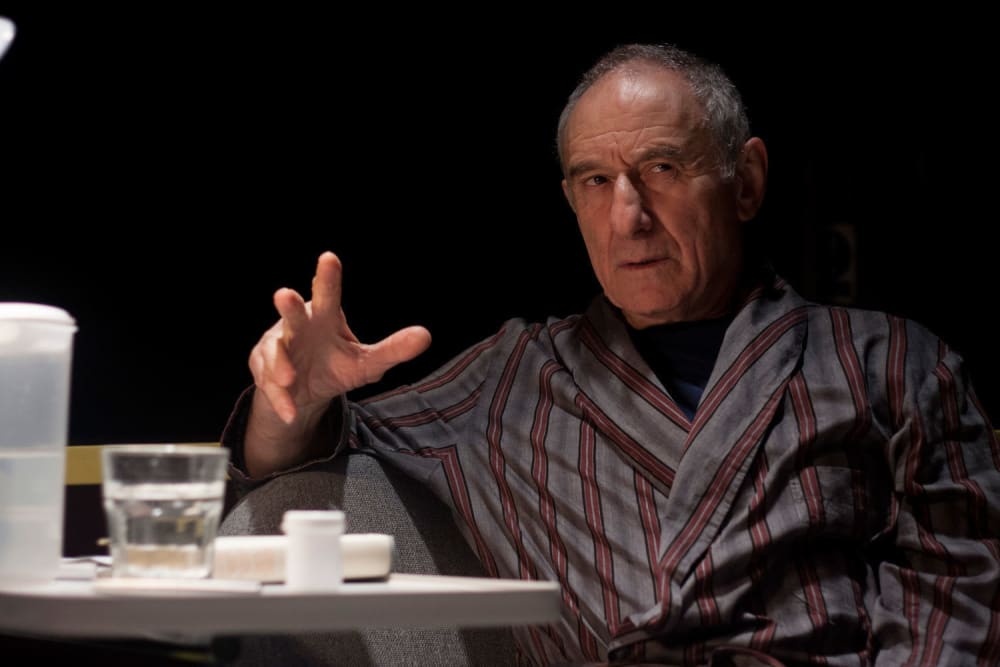 Canadian dramatist Matthew Edison makes his UK debut with this play, which has its European première in this production.
The title may sound like an Ivor Novello musical but it this isn't romantic fantasy. The heart here is the literal blood-pumping organ, the context is replacement surgery.
The Dominant Heart, played over eighty-five minutes without interval, takes the form of three separate monologues and a coda, set in different places and times and not in strict chronological order. Director Jane Jeffery puts all three characters on stage throughout, sitting quietly reading, writing or dozing in the corners of the simple traverse acting space—designer Jacob Hughes provides just a seat and small table for each of them plus a central table easily accommodated on the set of Carthage with which it plays in repertoire.
For each section, that character can use the whole area while the others remain in their corners. There is no dialogue and no interaction between them. To that extent this is a sequence of story-telling rather than any dramatic action. It is not necessarily theatrical and could be read from the page or played to a camera for these people are not talking to any specific person or sharing thoughts in their heads. You could say this isn't a play in that it has no dramatic action or conflict, but is beautifully written and it provides the opportunity for three interesting and forceful performances: and that is what this cast delivers.
Amanda Hale, as Cara Fortree, tells of a smash up when they were driving home from a party. A deer ran into the road, a pick jammed on the brakes and in the car behind Peter, her husband, drove straight into it. He died. What made it even worse is they had just had a row about a man he saw at a party, a student she'd had a brief affair with a decade before. There are toy cars on the floor as a reminder and Cara is knocking back the vodka and the pills. She is not easily coping. Was it just the deer or her that led to the accident?
Next, though in time is somewhat earlier, is the Reverend Mortimer White. He is in hospital in dressing gown and pyjamas and appears to be writing a sermon and to have an almost chatty relationship with is God. Lawrence Werber plays him with warmth and intelligence and a breathing problem as he muses about the heart as an organ, one he hopes they "will make sure is in tune and keep the pipes clean".
He feels guilty about some things, particularly concerning one girl, long before he became a priest. He speaks of the way that a baby is quieted and comforted when held on the breast in touch with a heartbeat, a beat that is sometimes subtly heard on Dan Jefferies's sound score. When he stops writing, he folds the page into an envelope and leaves it on the centre table and the lights fade. He wasn't writing a sermon but a message: a message to the family of the donor of the heart that will soon be his.
The third story is set six months later by a young advertising executive, Leo Juarez, born of a poor Mexican mother who was raped by a Ukrainian. He has shot up in the world. He has some moments of actual conversation on the telephone before telling the audience his story.
It is a tale of achievement and ambition: in that 3 minutes and 42 seconds that he's been on the telephone, he has $76,000 buying in one market and selling in another without actually parting with a cent in reality. He's grabbed opportunity and knows how to take advantage of his position but, seeing the cynical operation of the system, he's amazed at other people's naivety in failing to see through his industry's seductive and misleading messages.
Why is he in the play? Because the Rev Wright's body rejected Peter's heart but it was still in good shape. For Leo his money is oxygen: he jumped the queue to receive it and now six months later he is thriving.
For its ending, the play again moves back in time to Cara. The pills and the vodka she reveals were deliberate. She picks up Rev Wright's letter and reads it out in the garden where birds are singing.
It is obvious perhaps why Rev Wright and Cara can move us but more surprising that Leo too, though so ruthless, also elicits compassion. He is so like the rest of us, knowing the system is bad and yet playing along with it and because, like his fellow performers, he brings such sincerity and immediacy to his playing.
The Domino Heart is in repertoire with Carthage and plays only on Sunday and Monday evenings and Tuesday matinées.
Reviewer: Howard Loxton