The Dover Road
A A Milne
Close Quarter Productions in association with Jermyn Street Theatre
Jermyn Street Theatre
–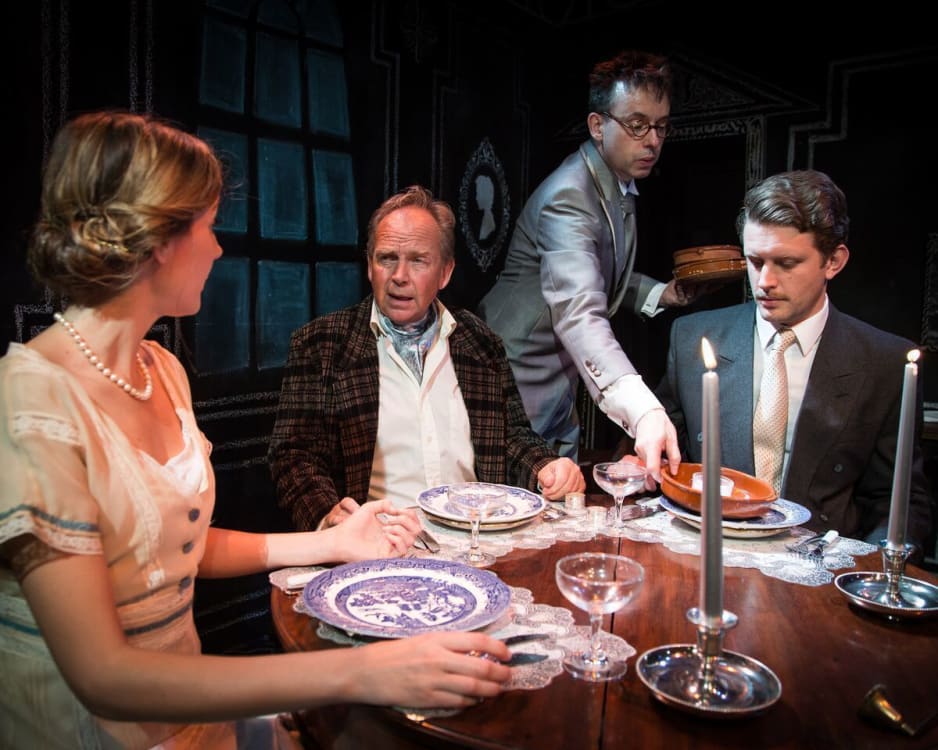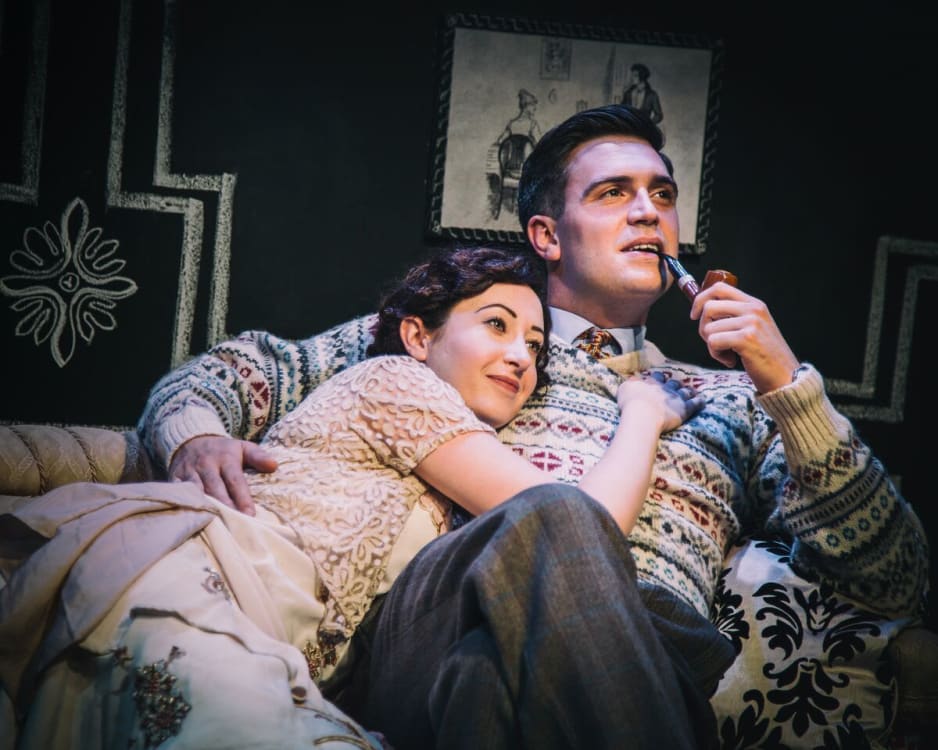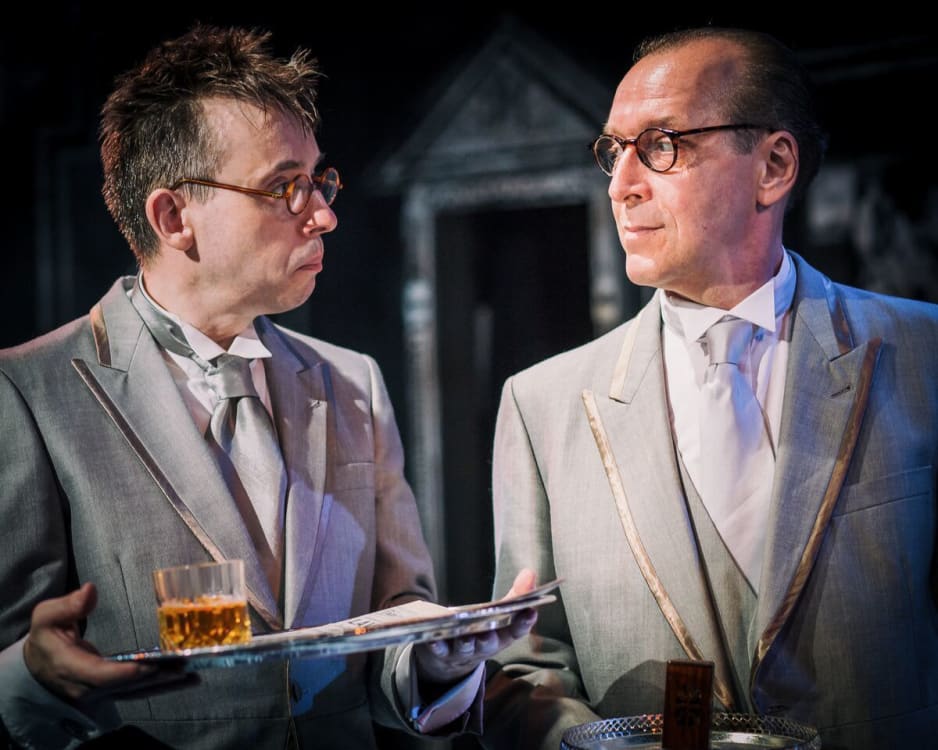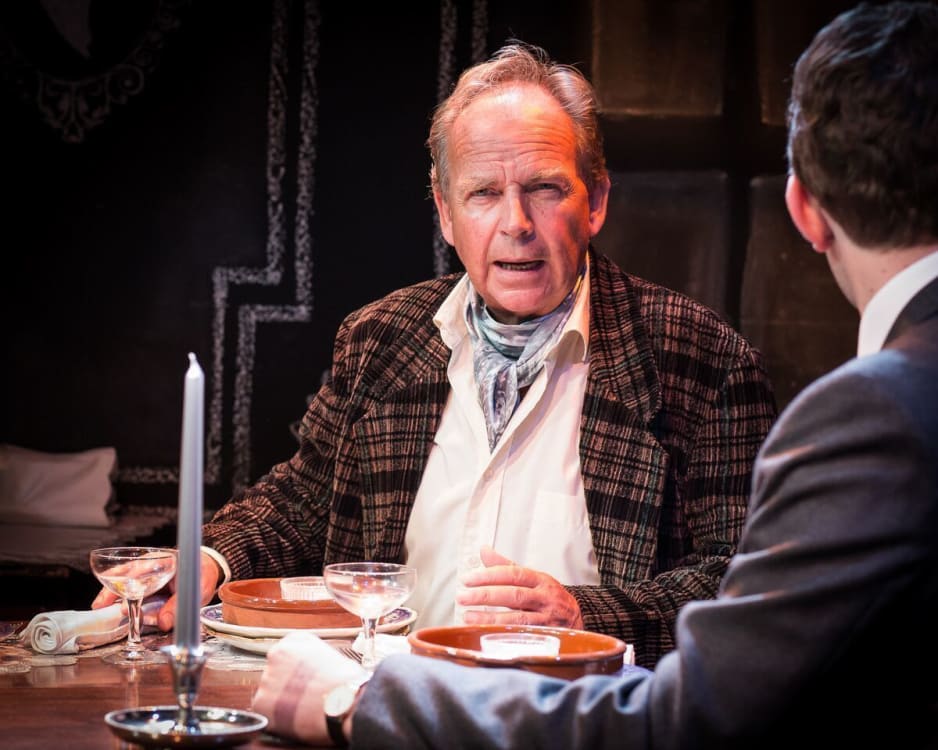 In the first half of the twentieth century, fashionable theatre-goers seem to have liked plays in which people were waylaid or cut off in a remote country inn, a boat or a railway station and made to look at their lives by mysterious figures who seem to know all about them or represent something like death or justices. This is one of them.
Today, A A Milne is largely known for his Winnie the Pooh stories and children's verses—even the once Christmas favourite Toad of Toad Hall has been supplanted by more recent adaptation of The Wind in the Willows—but he was also a popular playwright with many West End successes. This one dates from 1921, when it premièred on Broadway with a London production a few months later. It is typical of the light-hearted entertainment that pleased contemporary audiences.
It is still very entertaining. It is a piece with no pretentions to profundity and director Nichola McCauliffe gives it a lively, light-hearted production. There is a black and white setting by P J McEvoy presenting the drawing room in the house of the mysterious Mr Latimer at which his visitors arrive believing it to be a hotel.
It looks like an elegant engraving in negative, its classical panelling bearing a number of pictorial engravings that include Garrick and Mrs Pritchard in Macbeth, some gentle erotica and what might be a Gainsborough landscape in which the main male figure disappears as soon as Mr Latimer enters, reappearing at the end of the play.
Who is this affable fellow who knows all the couples who arrive at his door and for whom he has everything ready? I don't know whether it is Milne or McAuliffe who decided to herald his entrance with flashes of lightning and rumbling thunder and accompany his appearance with billowing smoke but there is something of the supernatural about the way he seems in control of things.
When his staff pour champagne it leaves the bottle as dry ice vapours but I suspect it is the director having fun rather than something more significant and when one of Mr Latimer's guests has to remove a swallowed breakfast kipper bone there's an OTT visual that leaves no doubt nobody's taking this too seriously.
Not too seriously; but the play isn't entirely frivolous for it concerns two couples, both eloping (it just happens that the man in one couple is the escaping husband of the woman in the other) who are encouraged to reconsider their actions, to take a little time to discover what a partner is really like and reassess their relations.
If it seems just a little misogynistic, the playing of Tom Durant-Pritchard as Leonard, an English aristocrat, and James Sheldon as Nicholas, his wife's younger choice, makes them sufficiently obnoxious to give balance. Georgia Maguire as Anne, Leonard's new love, thrilled at the idea of escaping to the Côte d'Azure and uncaring of her reputation, is completely charming (could that get too much?) but his wife Eustasia likes to smother her men with attention and Katrina Gibson makes you see exactly what they have to put up with.
As Latimer, Patrick Ryecart is an urbane manipulator. He always seems about to do something more important than the play actually delivers but it is a delicious performance.
Gareth McLeod plays his quirky footman Joseph and Stefan Bednarczyk butler Dominic, also contributing considerably to creating atmosphere with his forays on the piano, mainly Mozart, absolutely in key with the comedy, and a delightful rendition of Noël Coward's "Forbidden Fruit": "Every peach out of reach is attractive," another appropriate match.
Perhaps we take theatre too seriously sometimes. Comedies like this were once a staple as musicals seem to be today and a little light entertainment doesn't go amiss when played as attractively as here. It may not be profound but McAuliffe ensures it all has a light touch and punctilious timing.
Milne didn't write a masterpiece but it is an intriguing revival and this production does it well.
Reviewer: Howard Loxton