The Dowager's Oyster
Music by Louis Mander, lyrics by Jack Cherry, additional dialogue and lyrics by Gena G Gloreo
Belsize Opera
The So & So Arts Club
–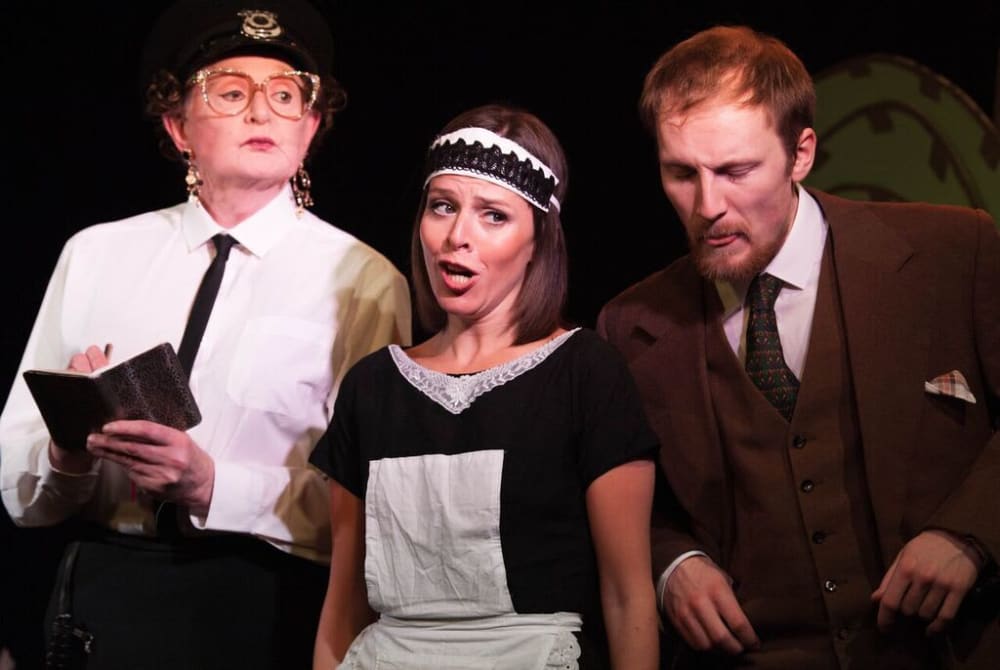 Although described on its programme as "a new jazz operetta", this light-hearted entertainment, which had its first performances in the Grimeborn Festival at the Arcola Theatre last August, doesn't sound very jazzy in the arrangement for accordion (Iñigo Mikeleiz Berrade) and double bass (Liz Faulkner) played here—but it does mix jolly tunes with more operatic arias and point numbers including a lively Charleston, a boisterous song to match a bouncy car ride. It is more G & S than avant garde.
It is set in the 1920s and seems to be trying to capture a "bright young things" period naughtiness. It starts off as a camp caricature of the upper classes and then turns into a murder mystery led by a self-styled Hercule Poirot.
Persephone, Lady Tindale, the Dowager Countess of Upper Dicker is prevailed upon by her daughter Cynthia to go with her to France for a holiday. The young lady's fiancé, the Hon Freddy Marriott, is vacationing elsewhere with an attractive young Frenchman called Christophe. They're exploring what's on offer in Algeria's hammams.
The tone is tongue-in-cheek shocking (think Ronald Firbank, though it lacks both his bite and his outrageous imagination). Libretto and lyrics could be very much bolder and it doesn't help that when trying to sound witty the vocal line stretches out words on long notes and pitches them too high for quick comprehension.
That doesn't help Caroline Kennedy express the bad-tempered frustration of Lady Persephone's maid Genevieve in a performance that is strong in two ways, for she gets the job of lugging a cabin trunk on stage or off at most of the scene changes.
David Jones as Dr Gibaud, doctor, coroner and police chief, gets faster rhythms and his own signature song, but I had some problems understanding how he had solved this particular murder when it came to his final Agatha Christie-like explanation.
There's a German couple, over-padded Marta Grinzig (Joanna Gamble) and husband Karl (Richard Naxton) who has his eye on young Cynthia, among the suspects and the gay couple are also under suspicion—you can get across from Algiers on a day trip. We are told Freddie (Anthony Harris) turned up at a costume ball as Elizabeth I with Christophe (Grégoire Mour) as Mary Queen of Scots—what a pity we don't get to see that! Their antics need to be much more outrageous now gay life isn't so secret but they do get a nice romantic duet and Mour gives his role real feeling, perhaps a little too real for the intended style of the comedy.
The coup of the production is to have coaxed out of retirement Dr Evadne Hinge (aka George Logan of former Hinge and Bracket fame) to play Lady Penelope. The script is not really caustic enough to match Dr Evadne's waspish persona, and if we are supposed to believe that everyone in the operetta could have a good reason to want her dead she needs to be much more vicious instead of just intolerant and patronisingly upper-class English. More telling is Mr Logan's other avatar Gena G Gloreo playing Dr Gibaud's police assistant Sgt Lefèvre, a silent role that is very effective.
Directing his own libretto, Jack Cherry makes the simplicity of Anna Driftmier's colourful setting with seagulls overhead play its part in the humour with its stylish symbolic Mediterranean palm tree used to hang sign boards indicating location and turning rather clunky scene changes into a joke in themselves.
However it doesn't help the humour that when dialogue gives place to music it comes to a full stop, a hiatus before the conductor raises his baton and then often an instrumental introduction before the vocal line pitches in instead of it growing organically out of the dialogue.
If the text needs more wit and extravagance to deliver the camp comedy for which it seems to aim, the music needs a much better sense of comic timing.
Reviewer: Howard Loxton