The Drawer Boy
Michael Healey
Snapdragon Productions
Finborough Theatre
–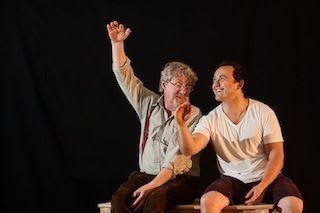 Given Michael Healey's recent break with Toronto's Tarragon Theatre, which was prompted by a decision not to program the playwright's latest offering due to alleged concerns over potentially libelous content linked to Canada's prime minister, the Finborough Theatre's superb production of Healey's original full length play, The Drawer Boy, is particularly timely. Not only does this production highlight Healey's Governor General's award-winning script by assuming a minimalist design aesthetic but the Finborough's interpretation also underlines the importance of giving artists the freedom necessary to tell stories as they see fit.
The Drawer Boy is inspired by a group of young Canadian artists who temporarily abandoned big city life in 1970s Toronto to create a new play based on their experiences living and working alongside farmers in rural Ontario. The action kicks-off as young Miles asks to take up residence and research life at a local farm owned by Morgan and Angus, a pair of ageing farmers and WWII vets. Miles's city boy naïveté soon becomes the source of much amusement for Morgan, who cheekily puts him through his paces via a litany of farm 'chores', including hay burying shifts beginning at 3AM.
As The Drawer Boy's narrative unfolds, Morgan's long-time friend and housemate Angus is prompted by Miles's questions to piece together the events surrounding the war and the devastating brain injury that has severely limited his memory. Angus's actual past, it seems, deviates substantially from the melancholic fairy-tale spun by Morgan over the years. This leads to broader questions surrounding Miles's right to use the story in his production and drama's role in recording the highly-personal, individual histories that collectively define major world events.
Healey's poignant story is deftly realized in Snapdragon Productions' current interpretation. Eleanor Rhodes's direction is nuanced and appropriately economical as she faces the challenges of a circular playing space adeptly, capitalizing on the intimacy this set-up affords. As Morgan, Neil McCaul embodies the gritty, spirited farmer whose loyalty is far-reaching while John Bett brings truth to Angus's struggles with his fragmented reality. Both actors capably handle the journey crafted by Healey, making the most of comic bits while digging into dramatic confrontations. The same can be said of Simon Lee Phillips as Miles; Phillips's thwarted attempts at performing a traumatized cow's inner monologue are delightful while his concern over Angus and Morgan's troubled past is sincere and palpable.
Snapdragon's The Drawer Boy is further complimented by design choices. Instead of fussing over a detailed recreation of the farmstead in 1970s rural Ontario, Rhodes and the design team opt for a minimal aesthetic, keeping the text and character relationships at the forefront of this production. Scenery is kept to a minimum while lighting and sound design work subtly but effectively towards evoking Healey's rural milieu.
Overall, my queries here are minor. While Rhodes's direction is generally strong, at times the production's pace is off, lagging slightly behind in moments demanding rapid-fire dialogue. As well, though certain scenes become intensely heated, the actors' deference to yelling is uninteresting and ill-suited to the Finborough's modest space.
In the end, though, the talented artists behind Snapdragon's The Drawer Boy have crafted a funny and moving interpretation, which serves as a welcome reminder of Michael Healey's importance as a national storyteller whose unique voice deserves a venue, be it in the UK or Canada.
Reviewer: Melissa Poll