The Dresser
Ronald Harwood
Mark Goucher, Mark Rubinstein and Jonathan Church
Festival Theatre, Chichester
–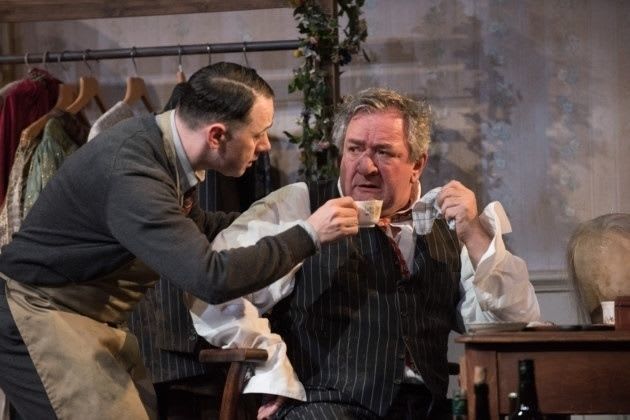 In the past, Ronald Harwood spent five years as dresser to Sir Donald Wolfit and, although he assures us this play is not autobiographical, the experience must have shaped his views of the relationship between the two men here and their total dependence on each other.
Ken Stott is a majestic and magnificent 'Sir', the actor manager of a fading Shakespearean touring company trailing round the provinces during the second World War, but age and time have taken their toll and the man is now totally exhausted and on the verge of a breakdown. It falls to his faithful dresser, Norman, to hold him together and make sure the show goes on, and quite a job that is!
Due to play King Lear that evening, Sir arrives at the theatre soaked to the skin having discarded his coat and hat and, in obvious distress, he sinks onto the chair in his dressing room sobbing uncontrollably. Can the show possibly go on that night? Norman is determined it will, despite the fact that Sir cannot remember which play he is due to perform, can remember no lines and is totally without the will or strength to cope. Asked what he would like, his response is, "oblivion".
Reece Shearsmith, in an exceptionally brilliant performance, scolds, cajoles, encourages, feeds him tea and eventually begins to lose patience. "The whole world is struggling for bloody survival. Why can't you?" Part sycophantic, part scathing, but there is obviously affection for this man he has looked after for so long which makes the dénouement particularly bitter.
The play focuses on the relationship between the two, and it's a terrific double-act, but there are other interesting relationships and characters too in this "one big happy family". Harriet Thorpe is Her Ladyship whom Sir refers to as his wife though they never married. Theatrical and regally imposing, she sweeps around the stage belonging to it.
Madge (Selina Cadell), the stage manager, has been hopefully, yet hopelessly, in love with Sir for years. Young (and not so innocent) Irene (Phoebe Sparrow) is a girl with ambition even if it means sleeping her way to the top. Adam Jackson-Smith plays would-be writer Oxenby as if mere acting is really beneath him and Simon Rouse is Geoffrey Thornton, a retired older man and ridiculously funny as a very large Fool.
I found it hard to define this play. Is it a tragic comedy or a comic tragedy as both seem equally mixed, and director Sean Foley winkles out the comedy whenever possible.
Her Ladyship's love of chocolate is derided by Sir as he has to carry her as the dead Cordelia and Irene is delighted when Sir picks her up and carries her, but he's only checking the weight. Norman's mistake in his announcement during an air raid is funny but rather gallows humour, and Sir complained that the bombing came too late and it would have been appreciated during his King Lear storm scene.
The best comic scene is the finally prepared King Lear ignoring his entrance cue and the frantic attempts by the cast to carry it off. "Methought I saw the King".
Fascinating, touching, comic, emotional yet sad, this is a production to remember.
Reviewer: Sheila Connor