The Dresser
Ronald Harwood
Theatre Royal Bath productions and Everyman Theatre, Cheltenham
The Lyric, Theatre Royal Plymouth
–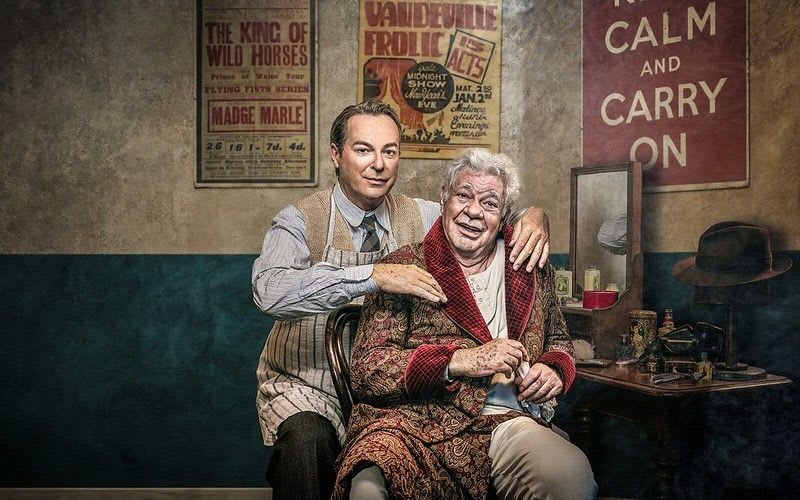 Julian Clary and understated in the same sentence is not something I ever expected to write, but the master of double entendre and flamboyancy is indeed beautifully understated as Norman, the eponymous dresser.
Sporting a brown apron and worsted trews, and with a secret bottle of hooch to ward off the ennui and keep calm, Clary (Sticky Moments, Joan Collins Fan Club, BBC 4's Just A Minute regular) portrays Norman as an endearing, gently spoken (but quite acerbic) launderer, ego-massager and coach (plus timpani maestro). He has homilies aplenty, friends to fit every occasion and is fiercely loyal while experiencing daily heaven and hell in the dank dressing rooms of far-flung regional theatres.
Clary makes unhurried sense of the exceptionally wordy script, adding wry humour and quietly throwing away lines with sharp observations and costume-filled reminiscences delivered without a change in pace. Almost too samey which, added to the almost palpable hiss of the gas hob, is quite soporific at times.
Years of service behind the crushed velvet curtain and the crucial supporting role is poorly recognised by luvvie Sir, who is teetering on the edge of breakdown and dementia. With Matthew Kelly side-lined with a positive COVID-19 PCR, understudy Peter Yapp stepped up and made the role his own. Completely believable, Yapp's Sir is melancholy, feisty, weary and tyrannical. Excellent.
Traipsing around the tatty provinces of a war-torn Britain with his young able-bodied actors in uniform somewhere in France, air raid sirens calling the audiences to safety and his 227th performance as King Lear imminent, Sir can't remember his lines and his greatest wish is for a lighter Cordelia and a troupe of more than the "limping, the lisping, old men, cripples and nancy boys".
One play melts into another in his increasingly addled mind, blacking up for Othello and seeking his cue. But he remains sharp enough to offer a casting couch to nubile, fame-hungry Irene (Natalie Servat) and make scathing comment to the super-grateful Geoffrey (Pip Donaghy).
Tim Shortall's set is a dingy dressing room with a rickety make-up table, whistling kettle, rack of costumes and chaise longue for lingering upon, all under the blank-eyed stare of numerous wig stands and (presumably) Yorick's skull; and sight of the dim passageways and stairs beyond. A flyaway wall reveals the area behind the stage complete with sound effect equipment, waiting actors and prepping for a grand entrance.
Wry humour abounds within a tale of quiet and unrequited love, as Her Ladyship (Goodnight Sweetheart's Emma Amos) just can't get Bonzo to retire, Madge (Michaela Bennison) has tough decisions to make and the aloof Mr Oxenby (Samuel Holmes) is tested.
Ronald Harwood's perennial piece is born from years as dresser to Shakespearean actor Sir Donald Wolfit, although he swears this is no biography despite similarities. Rather his past was an inspiration he says: a great actor preparing for dozens of classical roles, demands from management, responsibilities and the ultimate goal of producing a sufficiently tempestuous storm that would indeed crack your cheeks.
Fun, poignant, but so very wordy.
Reviewer: Karen Bussell