The Dressing Room
Bobby Ball
Playriety Productions
Charter Theatre, Preston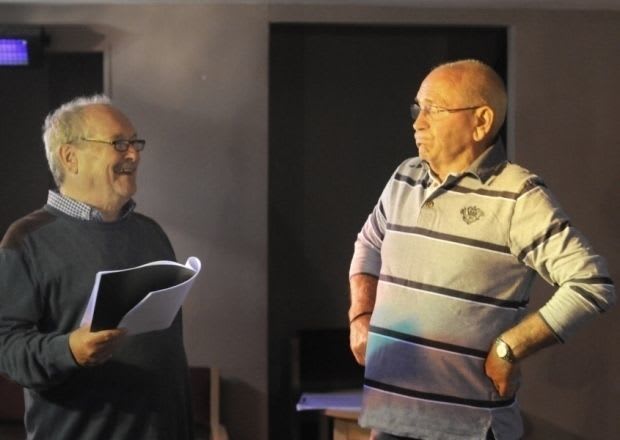 Bobby Ball is not the first comedian to have a play 'wot he wrote'.
Or—like Ernie Wise before him—to rope in his partner Tommy Cannon besides other showbusiness friends.
The Dressing Room is essentially the same sort of comedy vehicle, a sketch stretched out to two 55-minute acts, following the antics of four clubland comedians joshing and squabbling backstage before each goes on to perform 'front of house'. So it's more of a Dressing Up of their respective time-honoured acts, and no less funny for all that! It's a long time since a 'play' audience has laughed out quite so loud.
Along with Stu Francis and Johnnie Casson, these four performers have honed their craft the hard way. In the case of Cannon & Ball, an apprenticeship that began 54 years ago in Preston's Piper Club.
The showbusiness gulf, between then and now, is perfectly exemplified on this night by the fact that Britain's Got Talent auditions are offering instant fame in the Guild Hall next door.
Of course the comedy in The Dressing Room harks back to pre-PC days (some would say BC!) when few subjects were taboo, and wives and mothers-in-law were top targets. Johnnie Casson, in particular, trades on the apparently innocent delivery of some classic near-the-knuckle one-liners. He will always be one of the funniest people that too few people may have heard of...
Stu Francis is expertly cast as the camp compère to proceedings, and there's even a cameo role—as stage manager—for a long-time friend of the foursome, Blackpool hotelier AnneMarie Slack.
The second act is pretty well thrown over to instantly-familiar Cannon & Ball routines that they still seem to serve as much for their own enjoyment as ours. In the lifetime of most of the crowded audience here, the duo were once able to fill summer season theatres for months on end.
Times may have changed, but for professional comedians there's still nothing like having the last laugh.
Reviewer: David Upton