The Duchess of Malfi
John Webster
Royal Shakespeare Company
Swan Theatre, Stratford-upon-Avon
–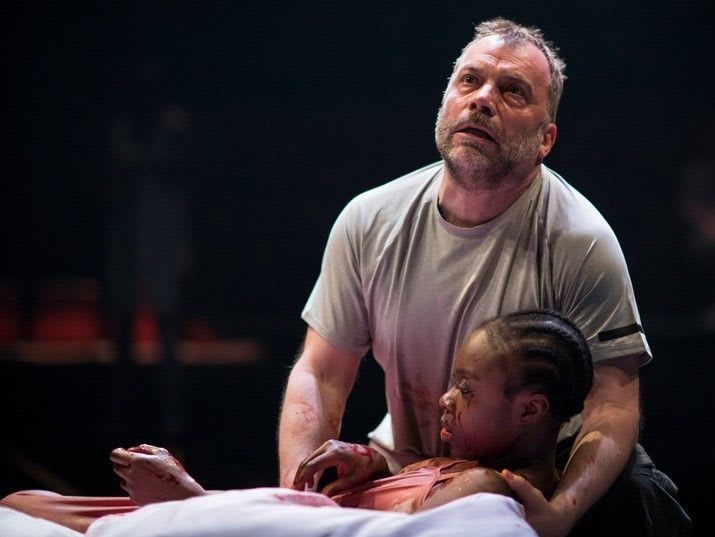 Blood, blood, goriest blood. There's no-one quite like Jacobean playwright John Webster to wallow in the stuff and make the pulses race, so to speak. He's the one feeding live mice to cats in Shakespeare In Love who says, "I like it when they cut the heads off."
Even so, he cannot have envisaged many productions in which it flowed so freely that the front row audience were given splosh-proof blankets.
The cause of so much mayhem is that the widowed Duchess has committed the social sin of marrying beneath herself, to her commoner steward, thus disinheriting her brothers. Their response is to assume she is motivated only by lust, and their revenge is terrible.
By the end, eight characters have been despatched, most of them blood-wrestling, or sliding across a slipper-bath of blood that gradually expands across the stage.
Inevitably, it's this gruesome spectacle that grabs the headlines, even on the RSC's own publicity. But Maria Aberg's production is gripping throughout, even more so in the mercifully bloodless first half, which opens with the Duchess dragging a bovine carcase that then hangs throughout the play like a great symbol of castrated power.
Joan Iyiola captures the tender / tough Duchess wonderfully, emboldened by love and pride in her rightful status to stand her ground against the masked and macho demons who confront her. Paul Woodson is her bespectacled steward, Antonio, ordinary and decent, in contrast to the certifiable cases around him.
Alexander Cobb throbs with sinister, incestual violence as Malfi's brother Ferdinand, a seething pot of vituperation against women, often shouting to the rooftops at one moment, occasionally scratching himself as if to tear away imaginary scabs.
Standing aloof, but just as murderous in intent, is brother number two, Chris New's cardinal, dressed here in fashionable slacks and white gloves that remain unbesmirched until the end by the wholly deniable slaughter he has instigated.
The turns in the plot can be sudden: that they are so well understood is largely thanks to an outstanding performance and impeccable diction by Nicolas Tennant as the venal yet conscience-stricken double agent Bosola, who "has done much ill well."
Orlando Gough's music is brilliant. I have rarely heard a stage score so well integrated into the action, the searing notes of the electric guitar and percussion adding to the tension, and with a version of "I'll Put A Spell On You" delivered in great style by Aretha Ayeh that perfectly suited the moment.
Toward the final catastrophe, an army of lunatics—gathered in a failed attempt to drive the Duchess mad—form into a choir, keening an African-sounding dirge for the dead and dying. The effect, like so much else in this disturbing production, is tingling and terrifying.
Reviewer: Colin Davison