The Duke
Shôn Dale-Jones
Hoipolloi
HOME Manchester
–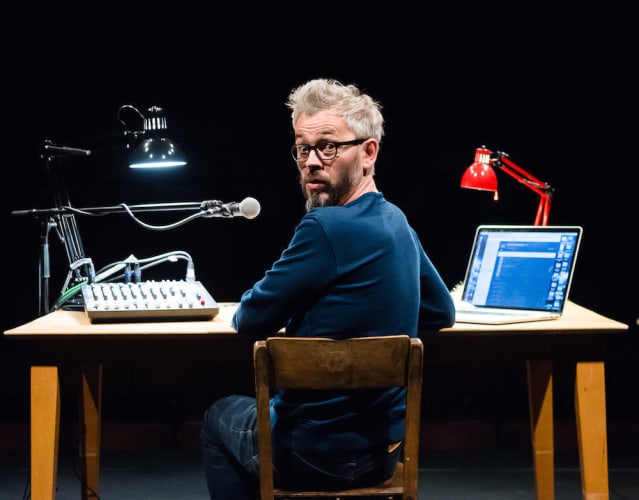 For the first of two HoiPolloi shows at HOME this week, Shôn Dale-Jones warmly welcomes audiences into Theatre 2 with a firm handshake for a show which, as he says at the start, he has been touring for two years.
To explain the title, Dale-Jones takes us back to 1974 when his father bought a Royal Worcester porcelain figure of the Duke of Wellington (it was one of a set of four, but the full set would have cost the equivalent of £30,000 in today's money) which he kept in a box under the bed, claiming it'll be worth something one day. Moving forward to the current millennium after his father's death, his mother has somehow managed to break her husband's nest egg, in which she has found an odd companionship, so loving son Shôn tries to track down a replacement.
However, what he should be doing is working on a film script, which he has been writing for ten years but he has now found someone prepared to finance its production—as long as he makes some changes. It tells a story remarkably similar to previous Hoipolloi show Floating, in which the island of Anglesey floats away and goes on an epic journey around the world. He is e-mailed a 15-page document by his new producer containing 53 changes, some of which he reveals gradually throughout the show and which are major compromises that would fundamentally change the story.
This is just one occasion when he is backed into a corner and forced to question his principles and his willingness to compromise them; another is when he is presented with an offer followed by a threat relating to the much sought-after figurine, which again is a choice between money and sticking to his original aim.
A parallel is drawn with the choices faced by refugees fleeing war and famine in their homelands and having to negotiate with profiteering traffickers and place their lives in their hands. The links with the rest of the play are a little tenuous, but news reports about refugees regularly puncture the story and stop the hero in his tracks to reflect on his own life and decisions.
The refugee crisis is, however, the motivation behind the show and the reason it has continued touring. The production raises money for the Save The Children Emergency Fund Campaign and is close to its £50,000 target on Just Giving.
It's a fascinating web of tall tales that could be at least partially true—there are elements that Dale Jones insists are true—but rely on an unlikely series of coincidences involving porcelain figurines, an off-duty policeman and porcelain expert and an Audi TT Coupé. It's all told rather charmingly by its charismatic hero and is all in a very good cause.
Reviewer: David Chadderton