The Duke
Shôn Dale-Jones
Hoipolloi, PBJ Management and Theatre Royal Plymouth
Unicorn Theatre (Weston Theatre)
–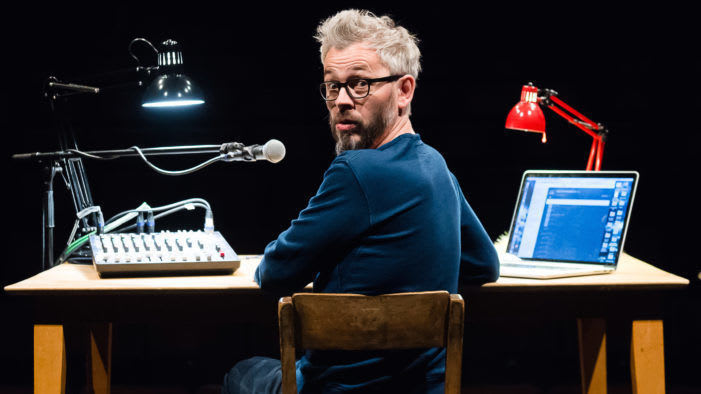 This is a delightful piece of storytelling for adults and eight-year-olds upward that questions our values with a tale of a film script, antiques, acquisition, love and loneliness involving a collectable porcelain equestrian figure of the Duke of Wellington.
There is an ironic comment on the straightjacket of commercial cinema's artificial requirements and the incursion of the grim world realities through radio bulletins from the Aegean and Italy and an accidental encounter with a real life refugee and her children that puts all those values into perspective.
As a bully of a bulldog-faced police inspector quotes in an awkward encounter, the value of something is what the person who wants it is prepared to fork out for it, whether it is him or the trafficker fleecing a refugee who is desperate. For a porcelain figure, it may run into thousands but for a refugee seeking safety and freedom, it may be a life's savings, or even their life.
Dale-Jones's story is full of amazing coincidence. He says it really happened and tells it so sincerely it could be true. His presentation—himself cueing all music and effects from his laptop and occasionally leaning into a mic to quote pieces of dialogue—is very direct and in complete rapport with his audience.
It is intriguing and funny. At just over an hour, it is good entertainment. Carefully worked out but seeming entirely spontaneous. And it is free (though tickets are best booked). It leaves the audience to decide on its value and give what they think it is worth after the performance (with the hope that you will up the ante for all takings go to Save the Children's Child Refugee Crisis Appeal).
There will further performances of The Duke at Unicorn Theatre (17 November), Theatre Royal Plymouth (27 September to 1 October), Soho Theatre (17 to 22 October), Cambridge Junction (27 and 28 October, 1 November), The Invisible Dot (2 November), Royal Court Theatre (28 November to 2 December), Barbican (15, 16, 17 December).
Reviewer: Howard Loxton