The Easter Rising and Thereafter
Christopher Bland
Hartshorn-Hook Productions
Jermyn Street Theatre
–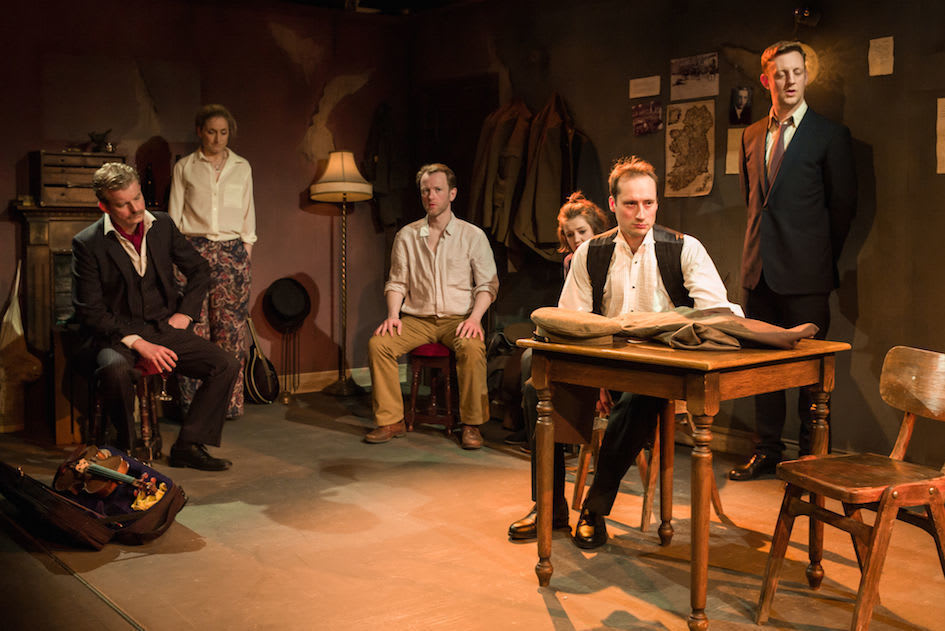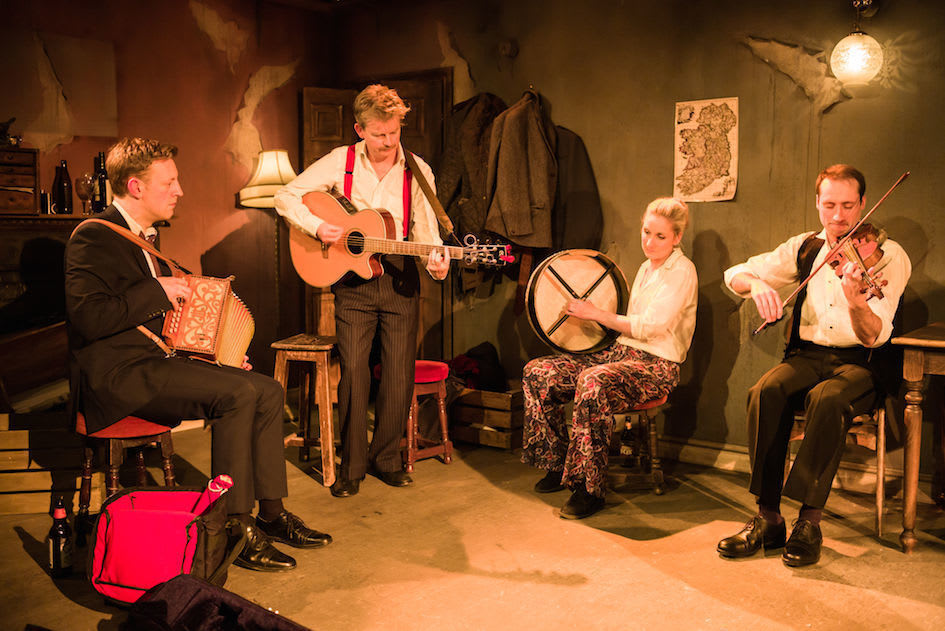 This play is "part drama, part revue, part anthology, part history lesson. It includes some great poems and speeches by Ireland's great men… and there are lots of ballads and pub songs thrown in for good measure."
That is the dramatist's own description and it's certainly true, but it gives no idea of how effectively they have been brought together in this centenary telling not just of the 1916 Easter Rising but earlier protest and later conflict.
It was Easter Monday 24 April when a group of Irish Nationalists staged an armed rebellion against the British Government seizing the General Post Office in Dublin as the centrepiece of an attempt to establish an independent republic. It has become a glorious piece of Irish mythology but Bland presents facts and gives them context.
Along with the emotional reactions in poetry and song are parliamentary speeches, proclamations, letters and journal extracts, even photographs, documentation pinned up on the wall as its evidence is presented or re-enacted.
Designer Petra Hjortsberg has provided a setting halfway between a pub and parlour with peeling wallpaper where musicians are already playing before the play proper, their number increasing until there are a fiddle, a squeezebox, a pipe, three guitars and a pair of bodhrán that make a grand sound.
The play begins by looking back to the 1830s when poet James Mangan wrote his "My Dark Rosaleen". Donning a green jacket, Keith Dunphy becomes him and delivers this patriot's poem that he disguised as a love song when nationalist ideas were supressed by the authorities.
This Catholic nationalist is answered by Ruairi Conaghan as twentieth-century poet Louis MacNeice, with a poem from that Protestant Ulsterman. These two Irishmen call up the past evidence quoted or acted out by the company.
Through the potato famine and mass emigrations, things move on to the boom of the guns on the Somme and the plotting of rebellion in 1916. The music may be emotional but Bland doesn't romanticism things. There is first-hand evidence from a Quaker on the famine, and a vivid presentation of the confusion leading up to the Rising, as factions differ and Roger Casement arrives without the men and the arms he was bringing from Germany.
The Irish Volunteers and the Irish Citizen Army gained control of the Post Office and other places in Dublin, but not for long. Patrick Pearce make his Proclamation from the GPO, and James Connolly, the Countess Markiewicz and the other rebels are all brought to life but without heroics. Yeats may write of "a terrible beauty" but Bland also gives us the cold, hard facts of the tragedy. Within a week, the Rising is suppressed, at least 2000 dead or injured, surrender the only way to end more bloodshed. Executions follow.
Gráinne Kennan is a belligerent Markiewicz, Michael Mahony poignantly reads a letter written by Michael O'Rahilly to his family as he lies dying in the street and there is Tim van Eyken as Casement speaking from the dock at the end of his trial.
Bland doesn't stop with that immediate aftermath but continues through the War for Independence and the coming of the Black and Tans, through Michael Collins dilemma, Partition and then Civil War and on to the Irish Free State.
There are speeches from Churchill and de Valera (Jack Beale) and to the rich traditional songs are added the words of Brendan Behan's "The Patriot Game". Bland himself has not only skilfully arranged all this material but adds his own ironical comment in a parallel number, "The Martyrdom Game".
This is much more than a dramatised glimpse into Irish history. Bland has chosen his material carefully to tell his story so adroitly. It is brought to life by a fine cast of actor-musicians that also includes Maeve O'Sullivan and Stephen Cavanagh and Donnacadh O'Briain's production, often borne on by song, becomes an engaging mix of information, debate and entertainment; it's a stimulating ninety minutes.
Reviewer: Howard Loxton